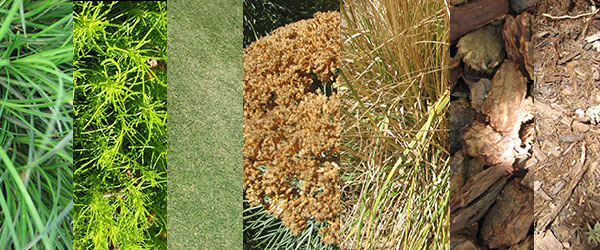 Gorilla Hair was not part of artist Robert Irwin's original plan when he designed the Getty Center's Central Garden in the early 1990s. Made of shredded redwood, the oddly named mulch preserves moisture in soil and can replace grass. It is currently spread over several parts of the Getty gardens in a continuing attempt to use less water during California's severe drought.
"When Robert Irwin selected the plants for his design, some of them were native or drought tolerant," garden supervisor Michael DeHart told me. But others weren't, and Michael has had to rotate out certain water-hungry flowers, like petunias and corn-cockle, replacing them with low-irrigation plants like purple cut-leaf daisies. On the Museum's upper terrace, birds of paradise were removed and replaced with shrubs and succulents.
Fortunately, Irwin's instructions for plantings are relatively flexible. He established distinct aesthetics for summer, spring, and winter plantings, with room for variation. For the first decade after the Central Garden opened, in 1997, Irwin was a frequent visitor and observer of its progress. He made a list of specimens he liked, and refined it over time based on which ones thrived and which ones struggled. "The one thing Irwin wouldn't allow though, is pastels. No pastels!" laughs Michael.
Despite some changes to the Central Garden, much remains the same. The lawns alongside the zigzag path in the Central Garden are planted with short, tough Bermuda grass, which is the most resilient drought-tolerant option, and those lawns will remain lawnlike—a favorite site for picnics and rolling down the hill.
Although water has been turned off at several ornamental pools at the Villa and Center, recirculating water will continue to flow down the ravine into the Azalea Maze because the Central Garden is considered a vast outdoor sculpture. It's even part of the Museum's permanent collection.
Irwin was intrigued by the different challenges that working with plants—as a growing, changing, mortal material—offered. Planning the Central Garden caused him to reflect: "Gardening requires the ultimate hands-on, everyday 'attending'…a process, where we optimistically set in motion our desires for how we want things to be…and in turn discover how things actually are…and then we learn to work at keeping them in play." It seems especially fitting that the artist had the following phrases inscribed on a stone in the Central Garden's path: "ALWAYS CHANGING / NEVER TWICE THE SAME."