UPDATE: See highlights from the chat on the National Gallery of Art's Storify.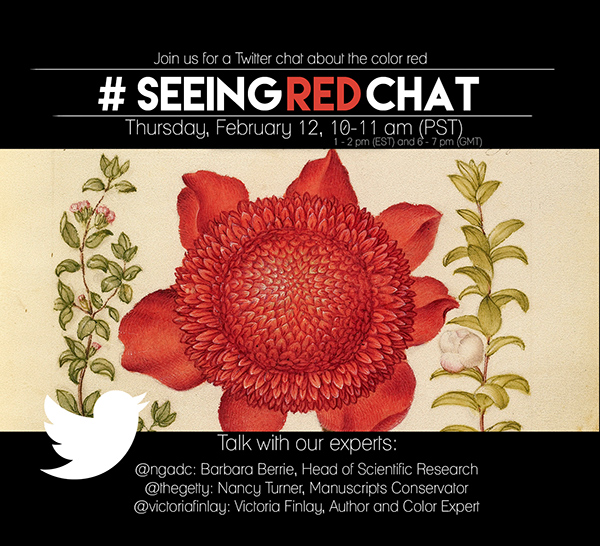 Why is red the color of love? What is the hidden science of red paint? And what if a certain artist's famous white roses were actually once pink?
Join us this Thursday, February 12, 10–11am PST (1–2pm ET, 6–7pm GMT) as we team up with the National Gallery of Art and noted writer Victoria Finlay to answer these questions and more in a live chat about the art and science of red. The chat is part of the Gallery's #ArtAtoZ project, a yearlong social media exploration of 26 topics in art.
Join the conservation, pose a question, or just tune in live using the Twitter hashtag #SeeingRedChat. At keyboard during the hour will be:
Barbara Berrie, head of scientific research at the National Gallery of Art in Washington, DC, and an expert on the paints and pigments of the Old Masters. Find her during the chat @ngadc.
Nancy Turner, conservator at the J. Paul Getty Museum and a specialist in medieval and Renaissance manuscripts and the materials used to make them. Find her during the chat @thegetty.
Victoria Finlay, writer and color expert whose latest book The Brilliant History of Color in Art offers an amazing tour through millennia of colorful paints, pigments, and potions. Find her during the chat (and all the time!) @victoriafinlay.
To pose a question for our experts, tweet with the hashtag #SeeingRedChat any time between now and the end of the chat (we'll note your question and answer it during the hour). Follow the hashtag on Thursday, when you can chat live with Barbara, Nancy, and Victoria.
The National Gallery of Art will archive the tweets after the chat, and we'll post a link here. See you on Thursday!