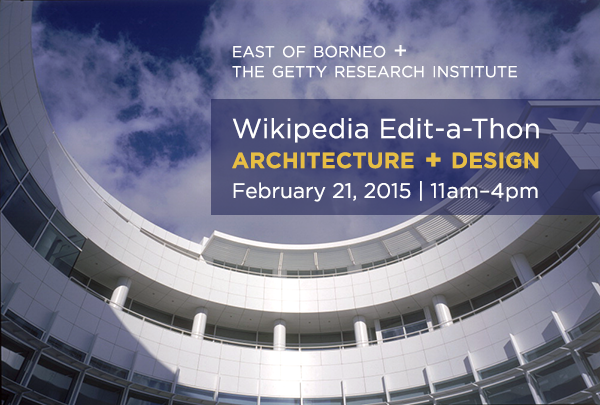 Join online magazine East of Borneo and librarians and other staff from the Getty on Saturday, February 21, 11am to 4pm to learn how to edit Wikipedia and to help fill gaps in its coverage of architecture and design, people and places in Los Angeles. The event is part of the magazine's Unforgetting L.A. project, which aims to build a better online history of art in Southern California—a history anyone can contribute to and access, entirely for free.
How to Participate
Bring your laptop and power supply, and we'll provide tables, lots of power strips, snacks, and resources to guide you. You can see the articles we've identified as priorities here. We'll provide resources drawn from the strong architecture and design holdings of the Getty Research Institute, including books and research files, as well as hands-on help from our librarians in diving deep into our online digital resources. Drop-ins are welcome, but please let us know you're coming so we have an idea of how many people to expect. (Free parking for attendees who register in advance.) Come for an hour or stay for the whole day—the Getty Center is open till 9pm on Saturdays.
Don't know how to edit Wikipedia? No problem: Stacey Allan from East of Borneo will offer how-to sessions for new users every hour on the hour.
Why Edit Wikipedia?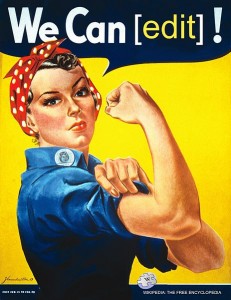 Where do you typically start to look for information about a subject that interests you? More often than not, probably Wikipedia. The online encyclopedia anyone can edit, Wikipedia is the world's starting point to discover more about nearly any subject. Supported by the nonprofit Wikimedia Foundation, Wikipedia's mission is to provide free access to the world's knowledge.
The English version of Wikipedia has over 4,700,000 articles, but there are many subjects that either have no entry, or have only a "stub"—Wikipedia-speak for skeletal records awaiting additional content. Many important figures, movements, publications, artworks, and other parts of the L.A. art story are missing from Wikipedia. Why? Simple: Wikipedia reflects the interests of the people who contribute to it. For example, a very small minority of Wikipedia editors are women—a fact that is reflected in the content of articles.
The good news is that everyone (you, me, your best friend) can be a Wikipedia editor and create and edit articles. The more diverse the editors are, the more diverse Wikipedia subject matter will be.
Many cultural institutions in the GLAM community (galleries, libraries, archives, and museums) are participating in building the world's knowledge in Wikipedia by organizing edit-a-thons on a subject matter focus, for example, "art and feminism" or "L.A. art + culture."
More Edit-a-Thons in L.A. This Spring
The Los Angeles Wikipedia community is growing, and more edit-a-thons will take place in Los Angeles and Southern California during March and beyond. Here's what is coming up:
Thursday, March 5, 2015
Art + Feminism Edit-a-Thon
Hosted by DigLibArts and Wardman Library at Bonnie Bell Wardman Library, Whittier College
Friday, March 6, 2015
Ms. Fembot Edit-a-Thon at the Ms. Foundation for Women (Hollywood)
Sunday, March 8, 2015
Art + Feminism Edit-a-Thon at LACMA
Presented by East of Borneo + Women's Center for Creative Work
Wednesday, March 18, 2015
Adrianne Wadewitz Memorial Edit-a-thon at the Westin Bonaventure (Facebook page)
Presented by the American Society for Eighteenth-Century Studies
To stay up-to-date on Wikipedia events in Los Angeles, considering joining the Wikipedia Los Angeles Facebook group and following the Wikipedia LA Meetup page.
We look forward to seeing you at these events, and to greeting you at the Getty Center on February 21!