This is not your run-of-the-aristocratic-mill cupboard. J. Paul Getty, who had a passion for French decorative arts, listed this cabinet—our current Masterpiece of the Week—among his eight favorite pieces of furniture in the world.
This sumptuous cabinet epitomizes that great UK expression 'OTT' (over the top) in its scale, decoration, and costly materials. It's even extreme in its take on the rococo style—it's been called "as ornate as a Mardi Gras float." Commissioned in 1744 by a Polish count named Jan Klemens Branicki, it is positively towering in stature, overflowing with C-shaped and S-shaped curves, and laden with heavy gilt hardware.
The cabinet was made in France, but its exuberant design by Jacques Dubois, a celebrated Parisian cabinetmaker, is a far cry from the elegant taste of Louis XV society. Those 18th-century aristocrats, ever conscious that the acquisition of luxury goods reflected one's elite identity and rank, would have ordered cabinets much more petite in proportion and less encrusted with ormolu (gilt bronze).
This sumptuous cabinet stands almost ten feet tall. It's replete with leaf and nature motifs rendered in gilt bronze and is flanked by spiraling candelabra and two playful cherubs atop lions espousing the allegorical theme of "love conquering strength."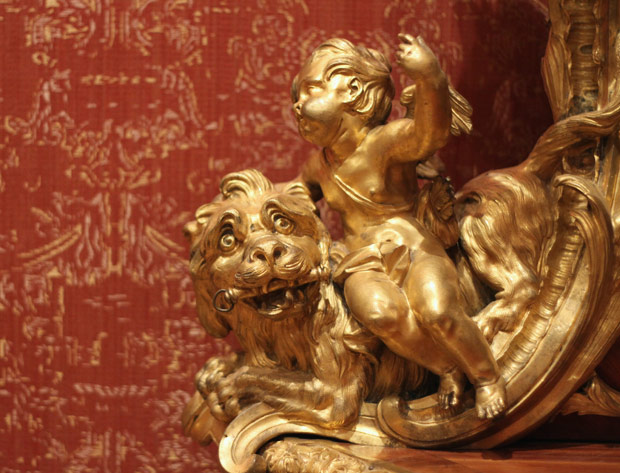 The marquetry features precious woods, such as tulipwood, bois satiné, and rosewood, and the piece terminates in a monumental clock weighing 65 pounds, on top of which sits an allegorical female figure that perhaps represents Poland, fittingly for the count's motherland.
Some would say less is more, but clearly Count Branicki would not have agreed. He waited eagerly for eight long years for his cabinet to be created. J. Paul Getty waited even longer; in fact, he didn't live to see his coveted cabinet join the Museum's collection in 1979.
What do you think: Is this cabinet over the top? And, if so, is that necessarily a bad thing?