A new Online Scholarly Catalogue, Monet Paintings and Drawings at the Art Institute of Chicago, offers an engaging new entry in scholarly publishing
The museums participating in the Getty Foundation's Online Scholarly Catalogue Initiative have taken up the charge to transform museum publishing by reinventing the scholarly collection catalogue for the digital age. They have left behind the constricted space of the printed page and, by using new tools and technologies, have developed elegant and compelling solutions. The Walker Art Center, which launched its catalogue On Performativity last week, offers a blend of book and magazine, reinventing the page.
And now the Art Institute of Chicago, with its new, fully realized Monet catalogue, reimagines the book.
The Monet catalogue reads much like a book, from left to right, and by advancing page by page. But don't be lulled into thinking this is a glossy PDF.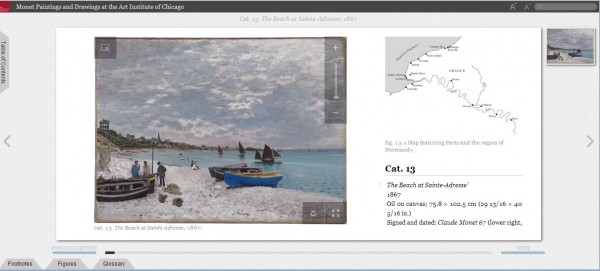 The first clue is the interactive image viewer that begins each catalogue entry. This allows you to zoom in to study each brushstroke of this Impressionist artist. Click in the black box in the upper left-hand corner, and you see a guide to the exact point where you've zoomed in the painting.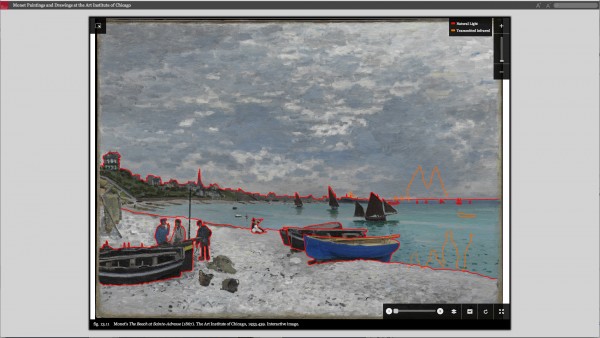 The interactive image viewer reappears throughout each catalogue entry, allowing readers to examine paintings under different lighting conditions, as well as related conservation documentation such as X-rays and infrared reflectograms.
Don't know what a reflectogram is? Check out the hand-dandy glossary – the tab for which is always present, no matter where you are in the catalogue. In other words, you can have your cake and eat it too. The material that is usually found at the back of a book – footnotes and glossary—can remain at the "end" of the publication, or can be brought up as you read each page.
And, yes, for the scholars out there—this "book" was peer reviewed. But note the new level of transparency the Art Institute of Chicago brings to this process by calling out their reviewer in their "About this Catalogue" section.
Stay tuned for the release of Renoir Paintings and Drawings at the Art Institute of Chicago later this year. You can preview the catalogue here.
To read more on the Monet catalogue, see this post on the Art Institute's blog, ARTicle.