Photographer April Rocha sent us an excited e-mail a while ago, sharing her enthusiasm for the Diana camera, which she noticed was available at the Museum Store at the Getty Center. We asked her to tell us more, and she obliged with this appreciation:
The Diana camera was originally produced in the 1960s as an inexpensive camera given away, usually, as a promotional item. The camera is made of plastic and takes size 120 film. The lens is made of plastic, so the camera produces images that are not always in focus, giving the images a specific look. Lomography now produces a replica of this camera called the Diana+.

Why I love the Diana camera can sometimes be difficult to explain. I see an image shot with one and I just fall in love. Maybe it's the vignetting of the image, or that parts of the image are out of focus, giving the shot a sort of mysterious feel, or maybe it's the square negative. All I really know is that I love shooting with the camera.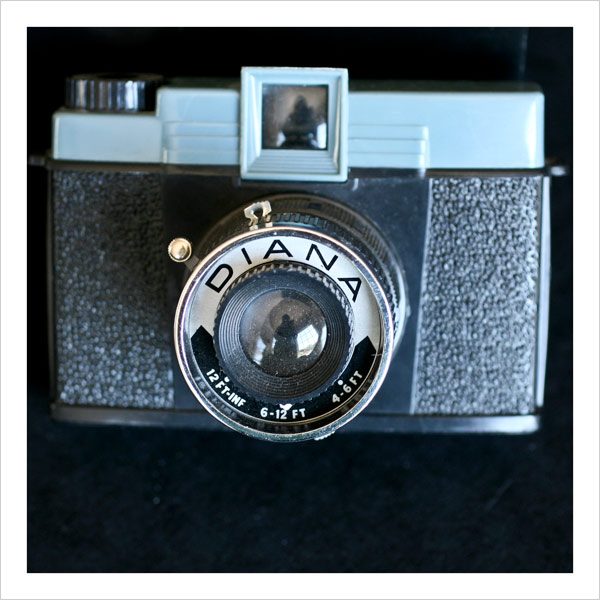 Our friends at Wikipedia offer a somewhat less lyrical assessment of the Diana, noting its "plastic viewfinder of questionable utility," "crude lens," "poorly designed camera body latching mechanism, predisposed to light leaks," and construction of "low-quality…plastics of the type commonly found in toys imported from Asia during the 1960s."
But take a look at these moody and mysterious shots of the Getty Center that April took with her Diana and you can see how the camera's limitations create magic. You can see more toy camera artistry in these prize-winning photos from the "Plastic Fantastic Show" at LightBox Gallery in Oregon.
Thanks for sharing your images with us, April!