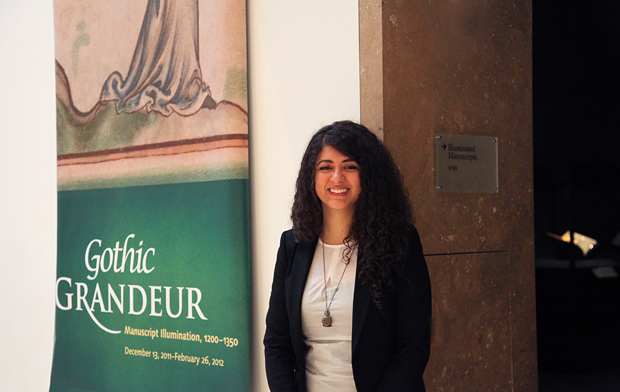 My relationship with the Getty began when I was still an undergrad studying architecture and the history of art. As a junior I applied for the Multicultural Undergraduate Internship offered by the Getty Foundation, and was thrilled to receive an internship with the Manuscripts Department at the Museum.
There was only one problem: I didn't know much about manuscripts.
My education in this art tradition started on day one, as I began an intensive exploration of the Getty's outstanding collection. The collection focuses primarily on western medieval manuscripts but embraces a variety of rarities ranging in period and geography from a 10th-century Coptic devotional leaf to an illuminated British storybook from the early 20th-century.
The internship provided me with an intimate look at this fascinating medium, and gave me a behind-the-scenes glimpse at how a museum operates. I worked with the large group of people who work collaboratively to put on an exhibit. I learned more about our artworks through conversations with the manuscripts conservator and the Getty Conservation Institute scientists who also work on them. And I helped piece together bits of content for a variety of exhibitions.
A little more than a year after my internship, the Manuscripts Department had an opening for which I applied, resulting in the opportunity for me to return as a curatorial assistant. I've been involved in a variety of projects in our busy group, including co-curating the show Gothic Grandeur: Manuscript Illumination, 1200–1350.
In my current post, I refer to the introductory knowledge of manuscripts my internship offered two summers ago. More importantly, however, I draw on the opportunity it gave me to put the pieces of my experiences together, combining the academic subjects I studied at college with the real-world roles I've played at the museum.
As another group of students submits applications for the Multicultural Undergraduate Internship (the deadline for the 2012 program is February 1), I realize that I didn't necessarily need an extensive background in manuscripts to benefit from my internship here. I just needed the willingness to jump into something new, the chance to consider all the pieces of my studies and career, and the freedom to put them together.