On October 25, students from Torres High School in Los Angeles flashed their photographic skills at the Getty Center with guidance by acclaimed photographer Eileen Cowin.
The visit was part of Community Photoworks, an annual project offered by the Getty Museum's education department in collaboration with 826LA and L.A. high schools. The project uses the work of Southern California artists as inspiration for the students' own artwork, and offers an opportunity for the students to exhibit their work to the public.
The education specialist in charge of Community Photoworks, Ami Davis, told me that Cowin was the perfect match for the program. "Her expertise as a teacher and her ability to clearly convey the intent of her work made her the ideal photographer to work with our students," she said after the visit. "They came away prepared and inspired to create their own photographs."
Cowin's series I See What You're Saying is on view in the exhibition Narrative Interventions in Photography through March 11. During the visit, Cowin asked the students to look at her photographs and write down their initial thoughts and interpretations. Cowin also suggested looking at written clues, such as the title of the series, to unravel the meaning of the work.
Cowin's work provides a visceral experience. From a picture of a mustached man biting into a luscious cupcake, to a woman's tongue pressed onto a cold fork, the images are meant to awaken your senses and convey the relationship between fact and fiction through visual storytelling.
Cowin encouraged students to develop their own points of view. "Rather than lecture to the students," she told me at the end of the discussion, "I sought to engage them and have them actively participate. The goal isn't only to introduce students to art and provide interaction with an artist, but also to encourage them to become thoughtful, considerate viewers of art."
After the exhibition tour and analysis, students formed groups with Museum educators, who equipped them with digital cameras and invited them to take photographs around the Getty Center. This was a warm-up exercise designed to allow students to experiment with different compositional strategies and subject matter, preparing them to later create photographs on their own. While some students chose subjects within the galleries, others looked out, capturing the city and coastline.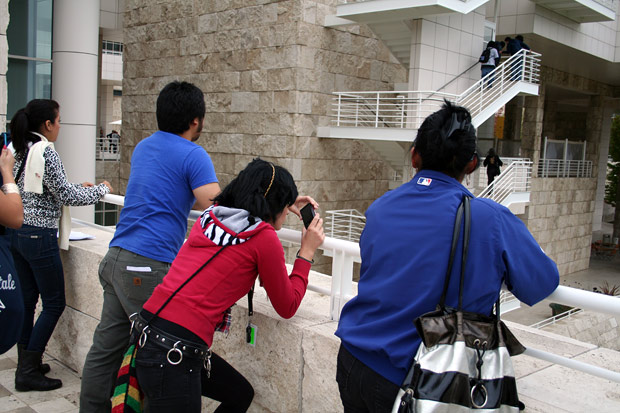 Here's a sampling of the photos students took during the exercise.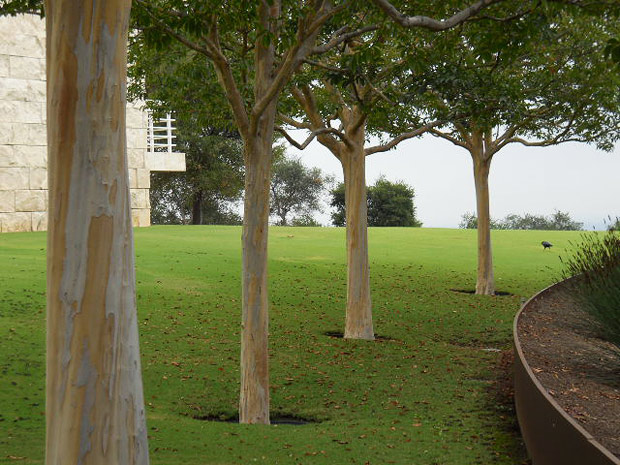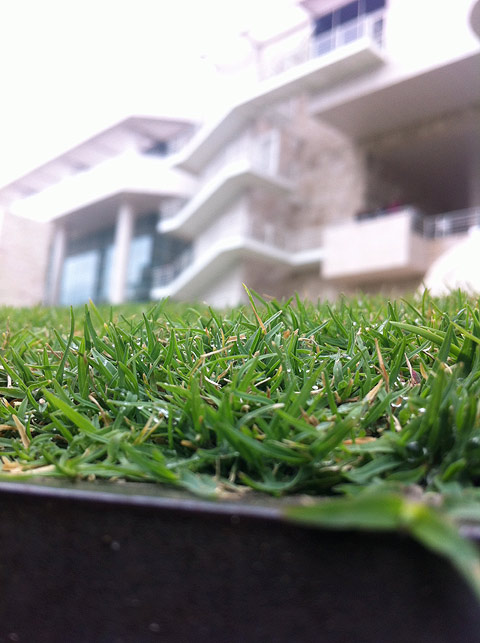 After the shoot, the photos were critiqued by Cowin, and the students were given an assignment to work on for the next several weeks. They'll explore their communities and take photographs based on the theme of cultural intersections.
Each student will select a photograph for a one-day student art exhibit to be held at the Getty Center on December 3. This culminating event, called "L.A. Intersections: Student Artwork Inspired by Southern California Artists," will also feature live performances, a film screening, and mixed media art. It's free and open to all.