When I walked into the Getty ten weeks ago, I could never have expected all the amazing experiences that I'd have this summer as the intern in the Web Group. During my internship, I've done everything from interviewing Getty staff for the Iris, to building Web pages, to dancing the electric slide at Getty Underground.
It's been great working with all of the fantastic people in the Communications Department, as well as meeting the other 14 wonderful interns who have made this summer unforgettable. Today may be the last day of our internship, but I think I speak for all the interns when I say that this is not the last the Getty will see of us!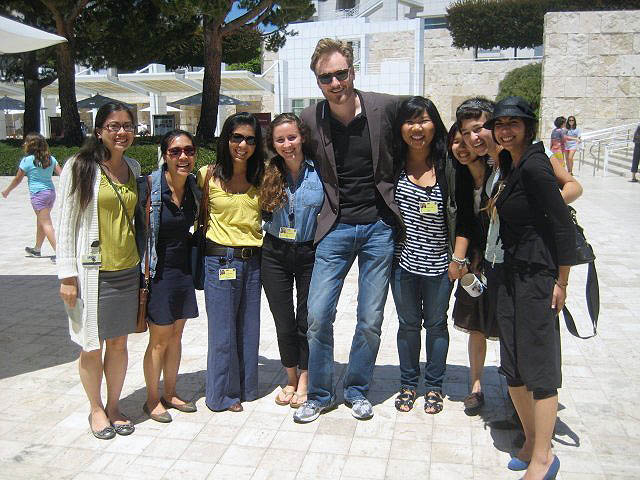 Jamie Kwan | Museum, Department of Photographs
Amazing moment: Meeting Conan O'Brien on the tram.
Unexpected lesson: Helping with the installation of Engaged Observers. It was a great behind-the-scenes look at how an exhibition goes up and all the work involved.
Melissa Liu| Getty Foundation, Grants Programming
Amazing moment: Seeing the development of Pacific Standard Time, which will be a milestone in Southern California art history.
Unexpected lesson: All Getty employees are young at heart and possess secret talents. I was surprised to learn that my co-workers are all great cooks and foodies.
Lauren James | Getty Research Institute, Department of Architecture & Contemporary Art
Amazing moment: Being introduced to a GRI colleague who used to work in the film industry. She's helping me with networking and making my résumé more presentable.
Unexpected lesson: How much I enjoyed digging through the GRI's special collections. It was like detective work, and it was so satisfying to find what I'd spent hours looking for.
Carolyne Hoey | Getty Conservation Institute, Communications Department
Amazing moment: Finally finishing our video on the Conservation of the Valley of the Queens and showing it at a staff screening. It's nice to come away with a final product that I can be proud of. And getting to know the other interns so well! Having a group to share stories, eat lunch, or just chat—it enhanced the experience a lot.
Unexpected lesson: Conservation work is more interdisciplinary than I thought. I was excited to find out that art, science, history, documentation, and management all come together in one field.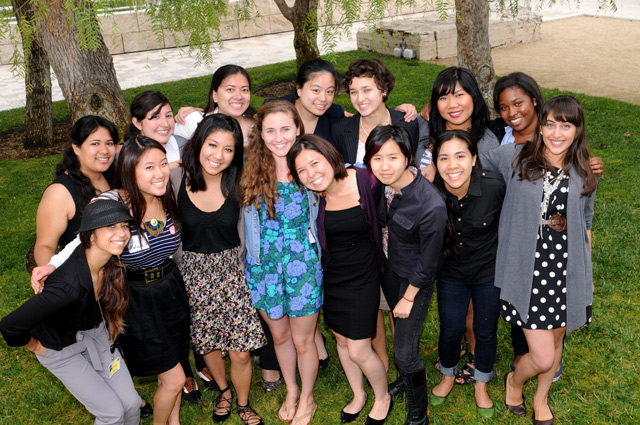 Jasmine Magaña | Museum, Getty Center Education Department
Amazing moment: Giving a tour—I got to do my own research and be part of a great conversation. On top of that, I was able to work past my nerves. Also, my supervisors inviting me to a "meeting" that was actually a birthday celebration.
Unexpected lesson: There are lots of career options in museums—and the great thing was that I learned it from people who have gone through it before.
Yvonne Danh | Museum, Getty Center Education Department
Amazing moment: Being able to walk around the galleries. I really enjoyed going on tours with our very own talented gallery teachers and curators.
Unexpected lesson: Learning about the Getty's abundant resources and the inner workings of the Museum Education Department.
Amanda Wada | Museum, Getty Villa Education Department
Amazing moment: Being personally thanked by visitors who came on my tour of the Gela Krater, which made me feel like all my hard work really paid off!
Unexpected lesson: Commuting for two hours, in addition to working a lot, made me appreciate sleep.
Lindsay Ward | Museum, Department of Paintings
Amazing moment: Actually enjoying the tour I gave on the Gérôme exhibition. I'm usually so afraid of public speaking, but I really enjoyed taking people around the galleries. Also, eating pizza at my supervisor's house. It offered me a chance to hear what curators' lives are like outside of work.
Unexpected lesson: How to research family crests and heraldry that appear on wax seals on the backs of paintings. It was really interesting and totally different from anything I've learned before.
Marie Faye Barrera | Museum, Department of Sculpture and Decorative Arts
Amazing moment: Observing the re-installation of the West Pavilion. Also, watching people pose like Maillol's Air on the Museum steps.
Unexpected lesson: It's not easy to write those little 75-word labels you see in the galleries. Quite a bit of research goes into them!