Surrounded by glowing laptop screens and the curious, Stacey Allan begins her presentation with a question. "Have any of you edited before?" One hand cautiously rises. A second hesitantly joins. This is where Allan, editor of East of Borneo and organizer of Unforgetting L.A., springs to life.
About 40 editors joined Allan at the Getty Research Institute this Saturday for the Getty's first Wikipedia edit-a-thon, a gathering of Wikipedians, librarians, editors, and the curious to contribute to Wikipedia on the topic of Los Angeles art history. The focus of the day was architecture and design, a major collecting area for the Research Institute. The result? Twenty-five articles started or significantly updated.
"A library is a perfect place to hold these events because we have so many resources, but also because of our own unique collection," said Sarah Sherman, a librarian at the Getty Research Institute, who spent the event working on an article about William Krisel, an architect represented in the Getty's collections but not previously listed on Wikipedia. The goal of Unforgetting L.A. is to "to build a more complete online history of art in Southern California," by acknowledging artists and architects, like Krisel, who were not yet represented in Wikipedia.
For Allan, encouraging the public to contribute to Wikipedia isn't just about making more scholarship available or adding to histories long since forgotten.
"For me, it's kind of an activist project," she says.
Wikipedia bills itself as the democratic encyclopedia edited by anyone. Still, most editors are men; in 2012, an astounding 90 percent, according to the Wikimedia Foundation, which runs Wikipedia. Those are numbers Stacey is trying to change.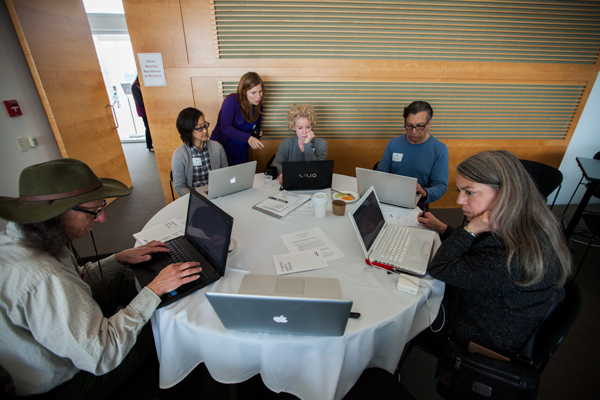 On Saturday, those who know the drill immediately dove into two book trucks full of architecture and design catalogues, monographs and other resources. California Design by Wendy Kaplan? Check. Birth of the Cool by Elizabeth Armstrong? Done. Historic Adobes of Los Angeles County by John R. Kielbasa? All there. Overdrive by de Wit? You bet.
For the uninitiated, Allan spends most of her day tutoring. She also covers what Wikipedia is not. You want a neutral point of view, Stacey tells a table full of new editors. No opinions. No criticism. Strive for objectivity. Just the facts.
"So, no Brian Williams kind of stuff," says Sheri Newcomer, a first-time Wikipedian.
This kind of shared Wikipedia boot camp is better than going at it solo, says Allan, because the platform can sometimes be unwelcoming even for well-meaning editors. "It can be intimidating if you don't have a social environment in which to learn," she told me. "I really enjoy teaching people how to participate constructively in this platform and I love seeing that knowledge passed on."
That knowledge was passed on to Sheri Newcomer, who came from Newport Beach to attend her first Wikipedia edit-a-thon. "I love Wikipedia. I use it all the time. and I thought, I needed to give back."
"We almost take Wikipedia for granted now," said Newcomer, who donates to the website when she sees banners asking users for a donation. "It's our responsibility to each other to help inform each other about what's going on in the world. It's our obligation. And it's fun."
All day Saturday, the Research Institute Lecture Hall had a consistent flow of conversation, with sudden bursts of fluttering fingers on keyboards. Another participant, Marilyn Nix, told me that participants have already done the hardest part: getting started.
Nix, who taught herself how to edit, wants better representation on Wikipedia of artists of color and women. Something bigger is at stake for Nix, who has joined Allan at other edit-a-thons. "I'm looking for the little guys." Filling the gaps left by critics, amateur editors like Nix can also provide more context and understanding. For her, the platform is about "letting regular people and professional people impact what is knowledge."
Raul Garza also came to create and update pages. Keeping articles up to date creates yet another challenge for Wikipedians, especially for those just starting out. "It's easier to start things than to finish things. It's just human nature," says Garza.
"I don't care whether my fingerprints are evident or anything like that. The idea that it's democratic is awesome."
Wikipedia doesn't have any hard and fast rules. Instead, it offers guidelines. In training, Allan covered these guidelines and then added one of her own. She advised editors not to edit articles in Wikipedia's sandbox, an area where editors can draft text without the pressure of "going live."
Information drafted there usually never sees the light of day, explained Allan. Many new Wikipedians leave material there to come back to in the future, only to never return. Histories get forgotten twice.
_______
Find out about future Wikipedia edit-a-thons on East of Borneo's Unforgetting L.A. page.