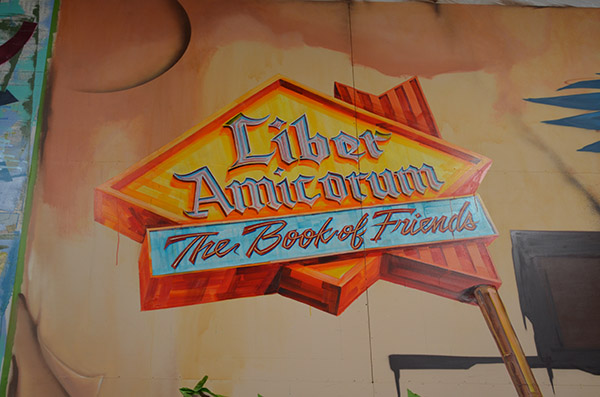 Work by Krush, featured on a wall curated by Axis at ESMoA's "Scratch" exhibit
When Johnny Cash covered Nine Inch Nails, he revealed the beautiful dissonance of kindred spirits from two different worlds interpreting a single piece of art. "Scratch," a new exhibition opening tomorrow at the ESMoA art laboratory in El Segundo, puts that same sensibility on display through the work of street artists inspired by rare books from the 15th to 18th centuries.
In 2012, art collector Ed Sweeney noted that the street artists he knew often carried black books filled withideas for and drafts of their own art, plus tags by other graffiti artists. He approached Marcia Reed, chief curator at the Getty Research Institute, to see whether the institute would be interested in creating a compendium of works on paper from local graffiti and tattoo artists. The book would provide a snapshot of the ideas bubbling up on the current Los Angeles-area street art scene.
The answer was yes—with a twist. Reed brought in rare books curator David Brafman, who saw similarities between a contemporary street artist's black book and a liber amicorum ("book of friends") from centuries ago. European emissaries and members of royal travel groups filled their books with coats of arms or drawings from the people they encountered throughout Europe. Brafman showed Sweeney a 400-year-old book of friends owned by a Nuremburg merchant, Johann Heinrich Gruber, and a handful of other rare books that he thought might have resonances with contemporary street art. What would happen if the black books and these books collided? The collector and curators hatched a plan to invite about 25 graffiti and tattoo artists to the Research Institute that summer to discover tomes from the Renaissance and Enlightenment.
With the help of assistant curator Lisa Cambier, artists Big Sleeps, Chaz, Heaven, Prime, and others poured over emblem books, examples of Arabic calligraphy, Albrecht Dürer's Introduction to Measurement (which demonstrates how the artistic imagination can transform lines, circles, and S-curves into 3-D illusions), and Wenzel Jamnitzer's Perspective of Regular Bodies (which features engraved illustrations that progress from the imagined shapes of the elemental particles of fire, air, earth, and water to surreal, complex, imaginary geometric molecules).
Over the course of a few months the artists came back with 143 works on paper that were bound together alphabetically in a book they proposed to call L.A. Liber Amicorum, also known as The Getty Black Book. The book inspired the ESMoA exhibition, in which six artists (Axis, Cre8, Defer, Eyeone, Fishe, and Miner) were invited to bring crews to paint the laboratory's walls with works loosely based on the L.A. Liber Amicorum. Pages from that book—and the inspirational rare books—can be seen on iPads in the exhibition hall. Seventeen of the actual rare books and manuscripts will be displayed in cases, too.
"It's exciting to have such a variety of artists from different parts of the city that once might have been in rival gangs in the '80s and '90s who are all bound together in this book and on these walls," Cambier said. "The viewer can see the inspiration of these rare books on form, shape, and lettering, and see these street artists are part of a long tradition of writing and creativity."
Text of this post © Zócalo Public Square. All rights reserved.
The exhibit at ESMoA opens on June 8 and runs through September 21.