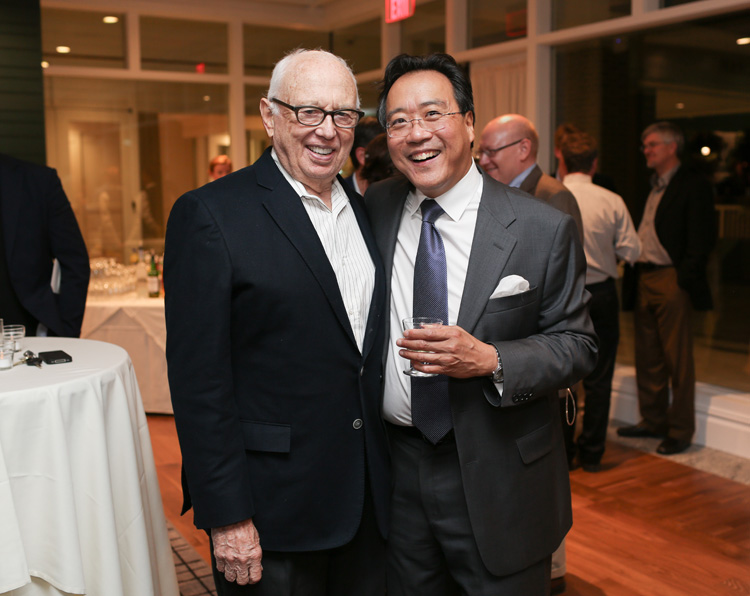 Ellsworth Kelly and Yo-Yo Ma attend a reception hosted by the Hopkins Center for the Arts at Dartmouth College on Thursday, September 13, 2012. Photo: Rob Strong
We're thrilled to be honoring Yo-Yo Ma and the late Ellsworth Kelly with this year's Getty Medal.
Ellsworth was one of our generation's greatest artists. Everything he touched was marked by keen visual intelligence and mastery of craft.
I first met Ellsworth twenty-seven years ago. In 1991, when I became director of the Harvard Art Museums, I called him to ask his advice on conserving Two Curves: Blue, Red, his 1964 sculpture at Harvard that had been damaged due to years of exposure to New England's harsh winters. He responded that he had rarely done multi-colored sculpture and had never been very happy with the Harvard one. And if we were going to work on it, why didn't we have it painted white?
I was flabbergasted. Change it from blue and red to white? It's true he'd mostly made monochrome sculpture (painted aluminum, wood, or steel) but he had made multi-color sculpture and besides, changing the color of the sculpture was like making a different sculpture.
That was characteristic of Ellsworth. He'd moved beyond his earlier interests and saw his older work in the frame of new ideas.
In a way, this happened again fifteen years later, when I was director of the Art Institute of Chicago. We commissioned Ellsworth to make a large, white fan sculpture for the garden wall of our new Renzo Piano-designed Modern Wing. I imagined that it would have a matte surface like all his other sculptures I knew. But when it came off the truck, it had a glossy surface and beautifully reflected the dappled colors of the garden's plantings. When I asked him about it, he said, "Well, I'm not so interested in matte surfaces anymore."
Near the end of his life, I called Ellsworth to ask how he was and he said he felt great. He'd been in the studio painting, so I asked, "What color were you working on?" He said he hadn't yet gotten to the color. He'd been putting the ground on his canvases. That was Ellsworth, a celebrated artist in his tenth decade of life, a master in every medium, still putting ground on his canvases himself because it was central to his practice. And he was the master of his practice.
As with Ellsworth, Yo-Yo Ma is one of our greatest artists.
I first met Yo-Yo when I was in graduate school. He had graduated from Harvard two years earlier and despite a busy concert schedule often came back from time to time to perform with students. I would run into him in Cambridge, at one event or another. Then in 2004 I moved to Chicago to assume the directorship of the Art Institute.
The Art Institute is across the street from the Chicago Symphony Center, where the orchestra plays. Yo-Yo would come through town from time to time, and in conversation we hatched the idea of the Symphony and the Museum co-hosting a residency of the Silk Road Ensemble.
Yo-Yo formed the Silk Road Ensemble in 2000 as a way to bring together innovative performers and composers representing the world's diverse musical traditions. By the range of nationalities and ethnicities of its performers and the cultural references in its music, the Ensemble represents the truth about art, that it has always crossed political borders and been inspired by new and different stimuli of all kinds. As the Ensemble describes itself, "We believe that exploring our differences enriches our humanity…We strive to create unexpected connections, collaborations, and communities in pursuit of meaningful change."
The range and beauty of the music I heard was spellbinding. On one occasion, as a Mongolian throat singer stood alone on the stage and filled the hall with the echoing, haunting sounds of her voice, a sung response came from the back row. We all turned to see a diminutive Mongolian woman answering the singer on stage. It was a deeply moving moment: the diversity of players on the stage matched by that of the audience and the city it represented.
This is the magic of the Silk Road Ensemble and of Yo-Yo's vision for the arts: they are testimony to the truth of our common humanity and of our native curiosity about the richly textured history of human existence.
The Getty shares this vision and, like Yo-Yo and the Silk Road Ensemble, is dedicated to the conservation, interpretation, and presentation of the world's artistic legacy as a vital part of the richly textured history of human existence.
For this reason, and in recognition of the importance of beauty in our lives, we are honored to bestow the J. Paul Getty Medal, the Getty's highest honor, on Ellsworth Kelly and Yo-Yo Ma.
_______
The 2016 Getty Medal will be awarded at a celebratory dinner at the Getty Center on October 17, 2016.