recommended photo activities?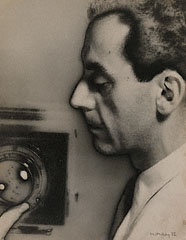 Our next workshop for current Art & Language Art participants (on Saturday 11/7) will focus on photography.
Share your successes and challenges with incorporating photography into the elementary classroom. What activities have worked well with K–5 students? Do you have recommendations for cameras you've used with your students? Which photographs from the Getty's collection have your students responded to?
Self-Portrait with Camera, Man Ray,
1932, Gelatin silver print (solarized),
11 1/2 x 9 in.
© Man Ray Trust ARS-ADAGP