This silver fountain, featured in the exhibition The Life of Art and our current Masterpiece of the Week tours, is a survivor of one of history's greatest meltdowns. Created in France in the 1660s, it was brought to England by 1694 and thus spared the mass melting of silver ordered by Louis XIV in 1701 to replenish the French royal treasury, which had been depleted by wars.
Lavish fountains such as this one—which is decorated with an ostentatious display of acanthus leaves and a boy riding his pet dolphin—symbolized a taste for luxury among France's rich and fashionable. As opulent water vessels, fountains stood on buffet side tables in palatial dining halls. In the mid-seventeenth century, French table manners had become more refined. By the end of the century, each guest had his or her own matched fork, spoon, and knife known as a couvert. Servants would carry these utensils to silver fountains, where valets would wash them.
It's difficult to imagine all the glint and reflection of countless objets d'art created by French silversmiths ending up as some fifty tons of bullion.
Though spared from being melted down into coins in France, the fountain underwent many changes in England. A silversmith replaced the fountain's original handles with smaller ones, and the fountain's owner had one side engraved with "his and hers" coats of arms. The square base, which sports a Greek key design, is an eighteenth-century replacement, as is the spigot with the French fleur-de-lis symbol. You can explore the fountain's artistry in greater detail in an online interactive here.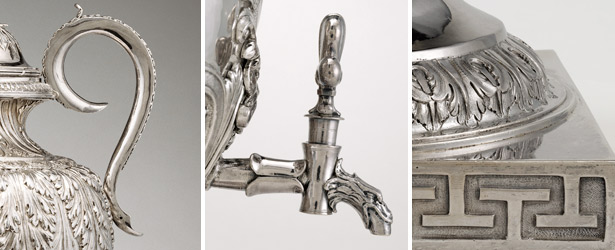 I wonder, had King Louis XIV spared all his and his aristocrats' silver, would it have made an enormous difference to the royal treasury? Was Louis's short-term gain worth art's long-term loss? And what luxury item could we do without to support a national cause?