As a fourth-grade teacher, I take every opportunity to integrate art into the classroom. So when I was asked to be on the Teacher Advisory Group for the new Performing Arts in Art curriculum for K–12 teachers, I was thrilled.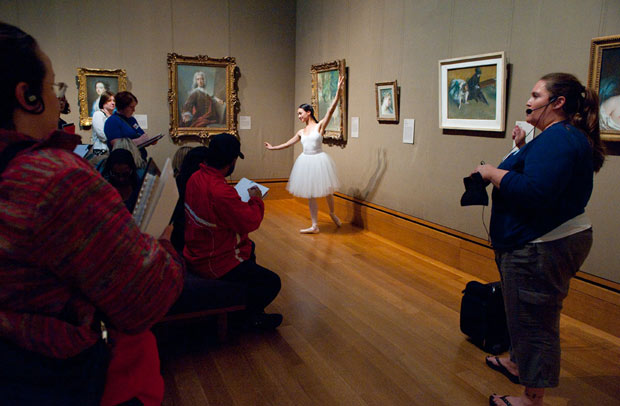 One of the perks of being part of the teacher advisory team for Getty curricula is that I get the chance to pilot the lessons with my own students. I decided to step out of my comfort zone and try the lesson "The Art and Depiction of Dance." The lesson is so easy to follow that dance suddenly became a snap to teach to my fourth graders!
Luckily, instructional videos complement the curriculum. My students were enchanted with Vanessa Sah, one of the ballerinas featured in the video "Degas and the Art of Dance." We followed along as Vanessa taught us how to do a tendu and a plié. Even my fourth-grade boys couldn't resist being a ballerina for those few minutes.
Another video, "Warming up to Dance," helped the kids practice sketching and sent home the message about the importance of a sketchbook for artists. The Getty website also provides support with a sketching activity in the online lesson Framing the Landscape.
In my classroom, I decided to do the lesson directly from the curriculum because I wanted to make sure that any teacher, seasoned to not-so-seasoned, could pick up the guide and do the lesson with integrity. As I followed step by step, I did have trouble keeping within the suggested time allotments. I have a very chatty bunch, and they wanted to stop and talk, especially during the discussion about dance and why we dance. My students are also highly gifted, and they tend to go off on tangents. They became very interested in the history of dance, so I had to reel them back to the lesson at hand, promising that we would research the beginnings of dance at a later date.
When it came time to introduce the Degas sketches, I was impressed with how much detail my students noticed. They were able to point out different lines and shapes they recognized in the sketches and correlate those back to the lines and shapes they had made with their bodies while learning the tendu and plié. I didn't have to encourage this connection. They made it all on their own!
We also took a look at Degas's pastel Waiting. Because my students had experienced being dancers, they were able to relate to the young ballerina massaging her ankle in the pastel. One of my students commented, "She probably did one too many tendus!"
The students did an excellent job of posing for each other to sketch, too. Some students got a bit frustrated with the process, so I had them sketch their partner without looking at the paper. This helped lower their anxiety and made them realize that sketches need not be perfect. I also gave the students thicker pencils. That helped too.
When I do this lesson again next year, I plan to play different types of music and just let the children move about the room before we start talking about dance. I also plan on creating some extension lessons for my highly gifted students. It would be amazing to invite some ballerinas to our school to demonstrate some poses, or to do a warm-up while our students sketch them.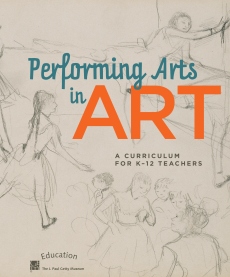 I had the great pleasure of presenting this lesson to teachers at the Performing Arts in Art Curriculum Launch on April 2. Teachers were treated to a special opportunity to see some of Degas's bronze sculptures on loan from the Norton Simon Museum. And Vanessa the ballerina made a special appearance in the galleries! She joined us back at the Museum Studios, leading the group in some warm-up activities. She also posed for us as we wrapped up the session with some sketching.
The teachers in the workshop had fantastic suggestions for adding to the lessons to make them more relevant in their own classrooms. Teachers suggested to show the children all different types of ballet and to play several different pieces of music for the students. One teacher, whose class consists mostly of students who are acquiring English, plans to keep a word bank posted throughout the lesson, categorizing the words as she goes. Another teacher of upper elementary students suggested that teachers show their students ballet that included male dancers.
After doing just one lesson from this guide, I can say that I am definitely excited about doing more. Using teacher input from the advisory group, as well as numerous teacher surveys that assessed lessons developed in prior years, the Performing Arts in Art curriculum is designed to make art integration quick and easy. In these "slash and burn" times for the arts in education, this curriculum helps teachers keep the arts alive for their students.
Text of this post © Kimberly Garcia. All rights reserved.