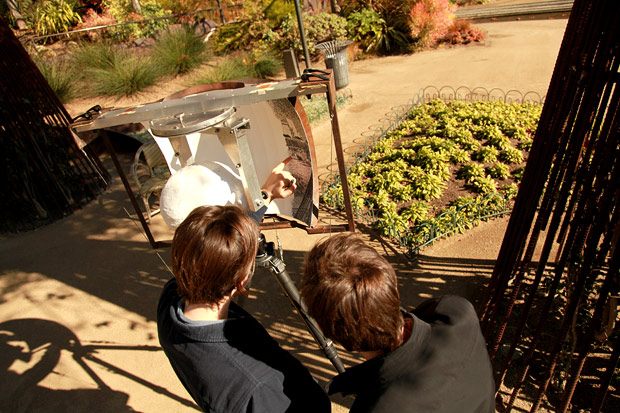 Twin brothers and artists Ryan and Trevor Oakes have similar interests, which isn't really unusual for twins. However, the brothers have taken their mutual fascination with vision, light, space, and depth to a whole new level, and have built their careers on exploring these concepts through drawing. Through December 24, the brothers are bringing their unique drawing technique to the Getty Center's Central Garden, where they'll be publicly working every day from 10:00 a.m. to 4:00 p.m.
I was able to get a sneak peak of their first official day of public drawing this Tuesday and see their special self-designed tools.
First, they spent a few days choosing an exact view of the Getty—squaring and leveling their the easel, locking their tripod into position, and adjusting tensioning cables. The end result is the following drawing station.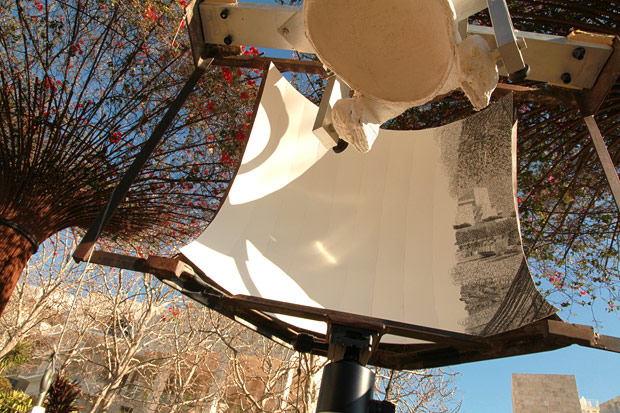 When I asked why they'd chosen that particular location for drawing, they said they wanted to incorporate both the beauty of Robert Irwin's Central Garden and the architecture of Richard Meier. With the last of the autumn leaves fallen from the trees, the Oakes have an excellent view of the Getty Center's architecture through the bare branches.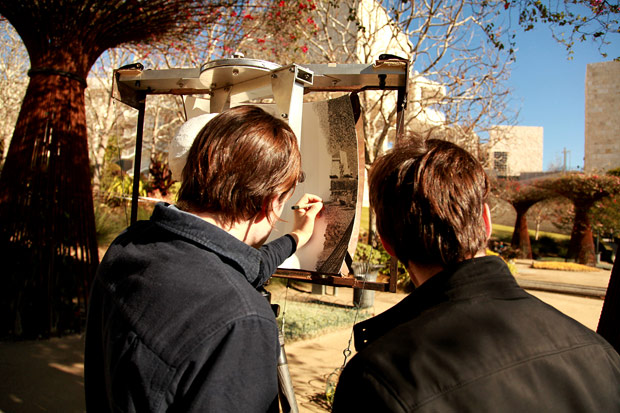 The brothers are already hard at work, and have completed several vertical panels. The tools they use include a concave metal easel and paper, as well as a plaster head cap to steady their vantage point. I have to say, while the plaster cap is not high fashion, it is an ingenious contraption!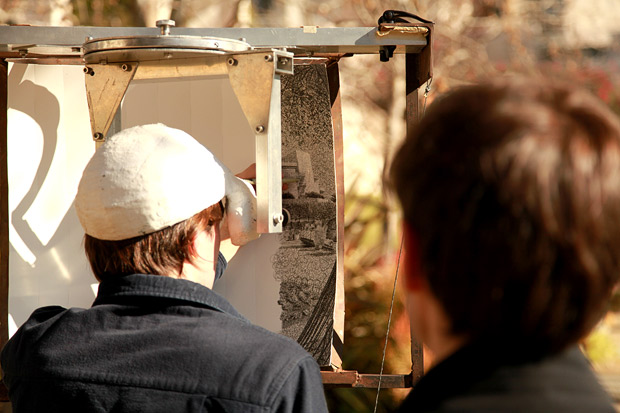 "We designed the tools ourselves, and our second cousin was able to weld the materials," said Ryan. "He told us 'anything you can draft, I can build.'"
While one brother draws, the other often interacts with visitors, discussing their techniques and answering questions. The brothers have several visual experiments that they demonstrate in order to explain their artistic process to audiences.
I'll continue to check in with the Oakes as they slowly reveal their masterpiece over the next three weeks. Visitors are welcome to ask questions and watch the magic unfold!