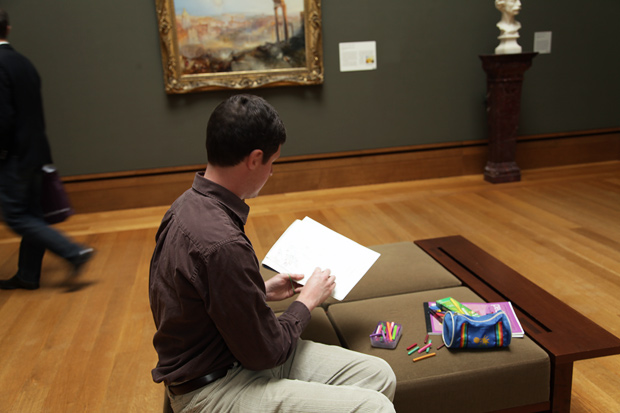 Whether drawing to express yourself, to discover rich patterns or details in art, or to create lasting memories of being with an object or view, drawing trains the hand, eye, and mind—all while relaxing you!
No wonder many of the free programs offered by our Education Department feature opportunities to draw. Family Drawing Hour invites families to investigate materials and techniques in a series of fun guided exercises, Getty Drawing Hour provides in-depth guidance on sketching from works of art, and Drawing from Antiquity extends the long tradition of sketching from classical sculpture and architecture. Plus, this October the Museum has been participating in The Big Draw LA, an initiative that has even more drawing events happening throughout L.A.
Whether you join a program or prefer to strike out on your own, here are five tips from my experience as an artist and gallery teacher to help you enjoy drawing at the museum.
1. Gather Supplies for Line and Color

You are welcome to bring your own drawing supplies into the galleries. To protect the art, liquid materials like paint, markers, and ink are "out"; so are pastels, which tend to leave a dusty mess. But "in" are a great variety of dry materials found at general or art supply stores. Be adventuresome with color and draw with crayons or woodless colored pencils. Or bring your graphite or soft charcoal pencils. Either kind is time-honored and good to use at a museum. Or, keep it simple and just use the first pencil and scrap of paper you can find!

Don't have supplies? No problem! At the Getty Center, there's an entire room devoted to drawing, the Sketching Gallery in the East Pavilion. Draw alongside other visitors using supplies provided by the friendly docents.

2. Get Comfortable

Find an artwork that strikes your curiosity. Drawing takes time, so make sure you are comfortable with the artwork and your surroundings. Galleries with benches offer you a place both to rest and to set your materials. Take advantage of the floor, too, if so moved.

3. Set Limits

Challenge yourself by setting a time for how long you want to draw or what amount of detail will satisfy you that you've "finished" or, at least, "started." Limits, whether short or long, help to contain an experience and make it feel whole.

4. Let Your Hand Follow Your Eye

Practice by continually looking up at an object and back down to your drawing. Follow the lines, shapes, shadows, and colors that you see, whether expected or not. Surprises are often in store in the relationships between and within objects.

5. Get into the Flow

Listening to favorite music can making drawing feel like a dance. Use the rhythm of the music while you play with your materials on the page. (Wear headphones so onlookers know you want an uninterrupted experience, and appreciate theirs!)
Perhaps you'll find a knack for drawing and will make sketching at museums a regular practice, and find that your skills and enjoyment will improve and improve. Come try your hand at it!