Imagine you're an avid print collector. You have a massive collection of prints—woodcuts, engravings, etchings, etc.—about every conceivable subject, including history, religion, architecture, distant lands, and famous people. How will you display these works of art?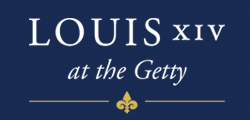 You could hang them on the walls in your home, of course. But what if you have tens of thousands of prints and only a dozen walls? You'll need a better way to organize, showcase, and protect your vast collection.
Enter the album. Here you can house many hundreds of works within a single bound volume, which can then be stored on a shelf as the perfect complement to the books in your library.
One of the most celebrated print collectors in history, Michel de Marolles (1600–1681), is highlighted in the Getty Research Institute's current exhibition A Kingdom of Images: French Prints in the Age of Louis XIV, 1660–1715. Over several decades, this French abbot and author collected tens of thousands of prints—123,400, to be exact—which he carefully organized into more than 500 albums.
For print collectors, an organizational system is of the utmost importance. It must reflect the collector's unique interests and needs, while allowing convenient access to the works. Marolles expertly assembled volumes devoted to specific printmakers, like Claude Mellan; painters, like Charles Le Brun (featuring reproductive prints made after his works); and subjects, like triumphal entries. He also knew the contents of his enormous collection extremely well. Marolles once encouraged a friend to name a print, any print—and when given the title of a totally obscure work printed in only a few impressions, to his challenger's astonishment and delight, the collector quickly retrieved a volume from a tall shelf and located the print with consummate ease.
In 1666 Marolles authored a catalog of his works, suggesting in the introduction that his prints would fit very well into a royal library. The very next year, he sold his collection to the French Crown. The albums were later rebound in rich red Morocco leather, with covers embellished with the French coat of arms. Marolles's prints are still held today in the Department of Prints and Photographs of the Bibliothèque nationale de France (French National Library) in Paris. While dozens of the volumes remain intact, including one devoted to the works of 16th- and 17th-century Italian printmakers, most were disbound and their contents integrated into other areas of the library's vast print holdings.
Marolles's collection was one of the largest in history, but his flair for organization wasn't so different from that of modern-day print collectors, photo buffs, or scrapbookers. For those of us who love our paper treasures, arrangement can itself become a form of art.
_______
Twenty-five prints from the Bibliothèque nationale de France are on view in A Kingdom of Images. This exhibition was organized by the Getty Research Institute in special collaboration with the Bibliothèque nationale de France.