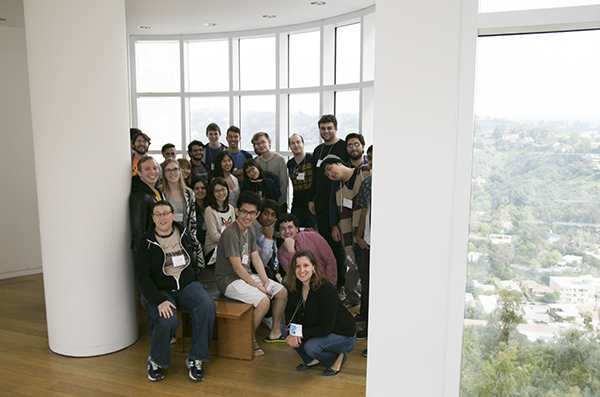 Bright and early this past Saturday morning, 24 students from USC arrived at the Getty Center with their sleeping bags, laptops, and mobile devices. Their challenge: spend the next 30 hours creating games that will give visitors to the Getty Museum a unique experience and encourage them to look closely at the artworks in the galleries. I was there most of the time, along with my colleague from the education department, Rebecca Edwards.
Much of the action was documented on Twitter using the hashtag #GettyJam.
After wandering around and being visitors themselves, the students got a brisk a walkthrough of the Museum from Rebecca so they could see the wide breadth of European sculpture, paintings, and decorative arts on view, as well as the gardens, architecture, and views. Then they were shown their workspace and left to their own devices (literally). Some students worked on their own; others teamed up in groups of four or five, dividing the work of coding, creating graphics, and writing storylines.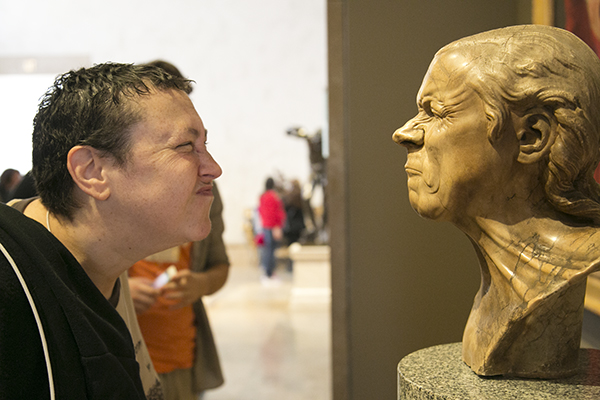 The students then made themselves at home in one of our largest conference rooms. Laptops were open, whiteboards were used to organize teams, and loads of snacks and coffee were on hand. Most of the students slept for a few hours, but some pulled all-nighters.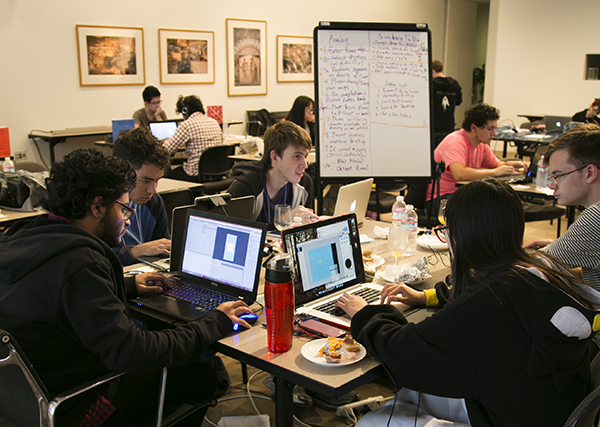 Bedtime for @baldurtangvald @bobademon and @neilsonks #GettyJam pic.twitter.com/NrCBg7pAjV

— Colleen (@cdimmer) February 22, 2015
Sunday morning, several Getty staff helped playtest the games. I tested two and was really impressed. Both were much more complete than I expected from just 24 hours of work!
One team built the app Guessture, which is a lot like Pictionary. One player holds their phone up to a work of art. An image of the artwork appears on screen, slightly greyed out, and you have 10 seconds to draw over the image and create a drawing that the other player can guess. The other player then has to guess which painting was drawn, and can hold the phone up to paintings in the gallery to see the drawing overlaid on top of the images.
I also tested an augmented reality game, Getty ARtPG, that overlays a story over the artworks, and connects objects in different galleries to one another.
All 12 Games at a Glance
Here's a complete list of the amazing games students created:
ARtPG by Steven Li, Theodore Park, Aditya Radhakrishna, and Kyle Vaidyanathan—A game using augmented reality software to give visitors the opportunity to interact with paintings without touching them. Images and text are overlaid on works of art and viewed through the phone's camera, give visitors quests and puzzles to solve.
Curator by Brian Edelman and Trevor Dietz—An app that allows visitors to collect artworks in the galleries by scanning QR codes, and curate their own galleries in a virtual 3D space.
Echoes at Getty by Chris Velez—An augmented reality experience with interaction points that give visitors contextual information about artworks and the Getty Center site. For example, the app could show visitors to the Central Garden in the winter what it looks like in the summer, or listen to the music that the artists listened to.
Framed Introspection by Alexander Mathew—A 3D portal into a work of art. Envisioned as a kiosk-based experience, it allows visitors to virtually step through the picture frame, walk into the work of art, and explore the space.
Getty Defendy by Jocelyn Kim, Nielsen Koerner-Safrata, and Baldur Tangvald—An arcade game that gets players to empathize with security guards. You play a guard that has to keep a relentless stream of visitors away from the artworks. Guide visitors towards the bathrooms, make them happy and save the art. You can even give visitors hugs.
Getty Thieves by Malika Lim—A Twitter alternate reality game in which players role-play as art-loving thieves and buyers on the black market, posting descriptions and photos on Twitter to buy and sell.
Guessture by Andrea Cao, Keenan Mosimann, Aditya Sareen, Zach Suite, and Chris Toczauer—An interactive drawing game in which players draw works of art for others to guess (shown above).
Look Closer, Look Farther by Todd Furmanski—A game of "identify the artwork." Players see a zoomed-in view of a painting, which slowly zooms outwards to reveal more and more of the image. Players compete to see who can identify the painting quickest. See an image of the game.
Outliner by Colin Windmuller—A mobile app that shows an outline of a 3-D artwork, such as a sculpture or a piece of furniture. Players have to move around the object to find the right angle to match the outline around the silhouette of the object. See a demo video of Outliner.
Selfie Scramble by TJ Darcy—An analog game inspired by #MusePose that asks visitors to work together to pose like characters in the artworks, creating complex tableaux with multiple people.
Story Walk by Natalie Gravier and Yuting Su—An interactive tour in which the artist François-Thomas Germain calls you on the phone and leads you through the galleries and into a digital interactive exploration of his Machine d'Argent.
The Judgment of Paris by Colleen Dimmer—An interactive narrative created with Twine, which tells the ancient Greek story about the start of the Trojan War, by exploring several works of art in the Getty Museum's collection.
#GettyJam Winners!
After playtesting, students spent time preparing to present their games to the judges. Preparing the presentations was big part of the challenge—in just five minutes, students had to explain and demonstrate their game to judges who didn't actually have time to go into the galleries and play. Some students created videos of the gameplay, some created digital simulations, and some used photos taken during the play testing to illustrate their games.
We intentionally chose judges who are not involved in museums, but who are familiar with the development of digital experiences through games and interactive media. Peter Marx is the City of L.A.'s first chief innovation technology officer and has experience working in the games industry. Todd Martens is a reporter for the L.A. Times who covers interactive media. And Sara Thacher is a transmedia producer and experience designer who works in commercial spaces, sometimes builds games, and creates artworks as well.
The judges noted that the games divided into roughly two camps—those that were based in a narrative or story, and those that were more experiential. They decided to give awards for both types of experiences, and give one of these the grand prize.
Grand Prize went to Getty Thieves by Malika Lim. The judges really liked the use of role-playing and social media in this game, and the use of a narrative about collecting. They also saw a lot of potential to extend the in-gallery experience beyond the museum visit.
Best Narrative Game was awarded to Story Walk, the interactive phone tour starring an 18th-century French artist.
Best Puzzlers yielded a tie: Outliner by Colin Windmuller, the outline-matching challenge, and Look Closer, Look Farther, by Todd Furmanski, the "name that zoom" game.
Best Creative Player Game went to Guessture, the drawing game played on a phone.
Congrats to all our @thegetty #GettyJam winners, as selected by our judges from a pool of amazing teams and projects pic.twitter.com/ghZsxSYSvH

— Jeff Watson (@remotedevice) February 23, 2015
All of us at the Getty were deeply impressed with the students' hard work and creativity and the wonderful games they produced. In addition to the winning games, we saw many great ideas and approaches to games for museum visitors, which will advance the Museum field, and our own game-development efforts at the Getty. And everyone had fun!