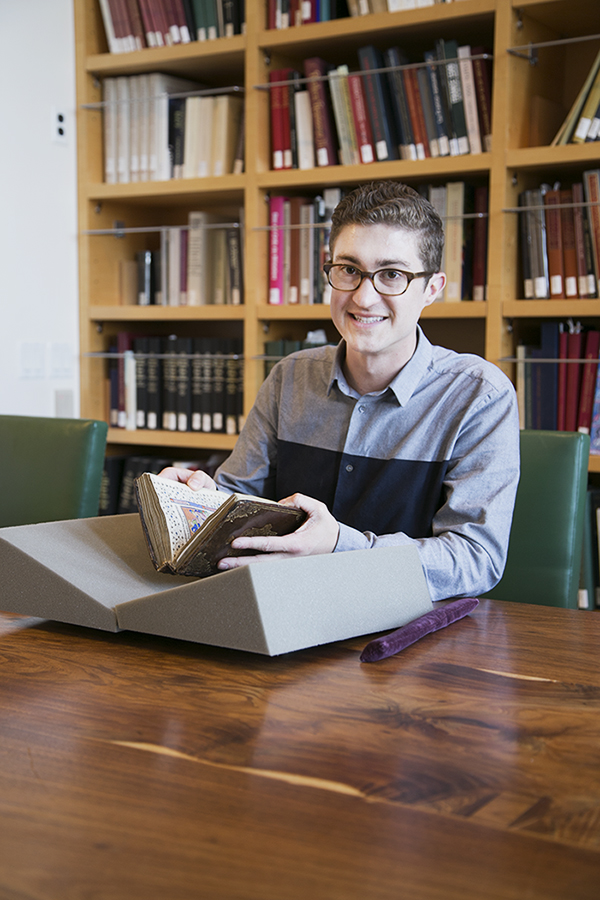 As the grad intern in the Museum's Department of Manuscripts this year, my duties have been twofold. I assisted with the department's ongoing digitization of information related to the collection, and I organized an exhibition featuring manuscripts in the permanent collection. With a background in late medieval and Renaissance material culture, I have enjoyed researching manuscripts in the collection from the perspective of the significance of their materials and the techniques enriching their bindings.
Proudest of: I'm very excited for the exhibition I've organized, entitled Things Unseen: Vision, Belief, and Experience in Illuminated Manuscripts. Drawn from the permanent collection, the exhibition will focus on spiritual experiences—including divine visions, complex systems of belief, and the private communications of prayer—that can be difficult to translate visually. Mark your calendars for July 12, 2016!
Favorite moment: During my study trip to England in January, I had an incredible one-on-one tour of Canterbury Cathedral, re-creating the footsteps of the 12th-century martyr-saint Thomas Becket. After experiencing every possible combination of frozen precipitation earlier in the day (apparently called a "wintry mix"), my host and I stepped outside just as the clouds parted for a brief moment to drench the cathedral in late afternoon light. Then it began to hail.
World adventure: The inspiration for my study trip was a manuscript in the Getty's collection with an unusual binding. The French manuscript dates to around 1400, but seems to have been rebound in England in the late 1500s, when bits and pieces were added in. This later binding also has two different English coins (one from about 1350 and the other from about 1450) cut into ovals, painted with gold, and applied to the covers.
Because of my interest in manuscripts and coins, this was the ideal research project. I was curious to know what might have brought these disparate elements together and what their significance might be. I was fortunate to be granted access to special collections in London at the British Museum and British Library, and in Cambridge at the Fitzwilliam Museum and Emmanuel College to answer these questions.
Crystal ball: My hands-on experiences at the Getty have prepared me to contribute to the research of museum collections and to pursue higher training in the field.
Internship in three words: Make it happen!
_______
For more info on the Getty Graduate Internship Program, including dates and how to apply, head over to the Getty Foundation website.