What forces shaped J. Paul Getty into the man portrayed in his diaries?
The Getty's Institutional Archives recently acquired a collection that illuminates Getty's formative years. In addition to many other things, the J. Paul Getty Family Collected Papers (1880s–1989) provide insight into Getty's youth through photographs and letters he wrote to his parents.
Before he was hobnobbing with the rich and famous, "Paul" Getty was just a kid. He enjoyed sunbathing at the beach, fast cars, and sporting events, and like most of us, he got into a bit of trouble with his parents. In the following letter, he unapologetically defends himself for taking out his dad's car (the Chadwick) without permission.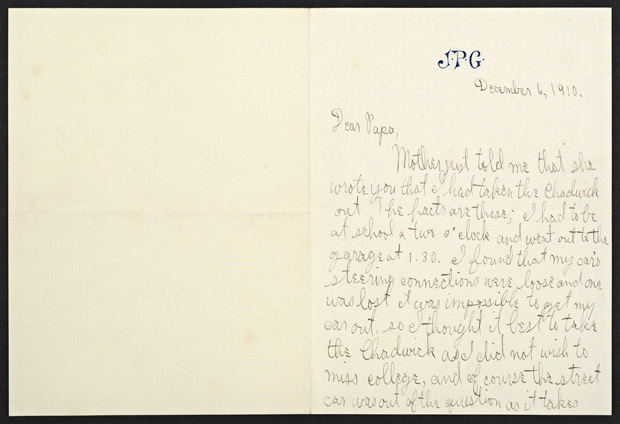 Getty's parents clearly held him accountable for his actions and his spending. Ironically, young Getty, the future billionaire, asks for money in nearly every letter he writes to his parents!
The following note shows that his parents taught him to record even the smallest financial transaction, a habit he continued throughout his life, as seen in the diaries he kept as an adult. But really? Who asks for a receipt for $2.60 from their own kid?
Though the collected papers on the Getty family aren't comprehensive, they allow us a glimpse into Getty's youth and the origins of his passion for European art and culture.
The collection contains photographs from a European family vacation around 1909 and letters and photographs from the Grand Tour Getty embarked upon around 1913–14 after completing his studies at Oxford University. The collection also includes a leather valise Getty used for traveling, as well as personal odds and ends, such as this French driving permit.
Considered together, the J. Paul Getty Family Collected Papers and the J. Paul Getty Diaries offer researchers the most complete personal perspective on Mr. Getty to date. Digital versions of the diaries are available online, and the collected papers are available to researchers by appointment at the Getty Research Institute.
All images from the J. Paul Getty Family Collected Papers, The Getty Research Institute, IA20009. Contact Reproductions and Permissions at the Getty Research Institute for additional copyright information and permission to publish.