Taking one's own city for granted is perhaps not uncommon, but next spring Angelenos will have a fresh lens through which to reconsider our recent past with Pacific Standard Time Presents: Modern Architecture in L.A.
Announced just a few weeks ago, the Pacific Standard Time Presents collaboration is a smaller-scale follow-up to last year's Pacific Standard Time: Art in L.A. 1945–1980, and will focus on another of Southern California's lasting contributions to postwar cultural life—modern architecture.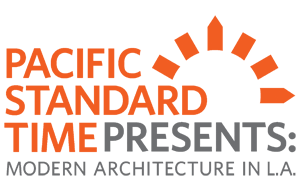 How did Los Angeles become the unique, polycentric megalopolis that it is today, equal parts beloved and trying? Since becoming project manager for this new initiative a few months ago, I've realized that there is much that I don't know about my adopted hometown.
Los Angeles certainly enjoys an embarrassment of riches when it comes to modern residential architecture. Less well known, however, is the innovative nature of the city's infrastructure and urban planning, commercial and civic buildings, and low-income housing experiments. L.A.'s postwar development was shaped by myriad forces—government, industry, architects, and residents alike—and this initiative is an attempt to consider those influences and the city as a whole. The region's boulevards and freeways, car culture and transportation, cultural destinations, residential architecture, office towers, and more will be examined anew. Whether you're curious about architecture and design or a seasoned expert, or someone who just loves Los Angeles and its history, Modern Architecture in L.A. will have something for you.
Anchoring the initiative will be the Getty's own Overdrive: L.A. Constructs the Future, 1940–1990, organized by the Getty Research Institute. This survey will explore Los Angeles's rapid postwar evolution into one of the most populous and influential industrial, economic and creative capitals in the world. Also at the Getty will be In Focus: Ed Ruscha, featuring materials related to the artist's architectural series, Twentysix Gasoline Stations, Some Los Angeles Apartments, and Every Building on the Sunset Strip.
With Getty Foundation support, eight additional exhibitions are in development at LACMA, MOCA, the Hammer, A+D Museum, UC Santa Barbara, Cal Poly Pomona, MAK Center, and SCI-Arc.  From the lasting influence of Pritzker Prize winner Frank Gehry at MOCA to the fertile intersections between architecture and other visual forms during the 1970s at the MAK, the Modern Architecture in L.A. exhibitions will cover a diverse array of practitioners and topics.
UCSB's Art, Design & Architecture Museum, for example, will look at Whitney Smith and Wayne Williams, a team of lesser-known second-generation modernists whose work radically integrates indoors and outdoors, with a building's plan often appearing to be turned inside out, responding to the Southern Californian climate and landscape.
An exhibition at SCI-Arc will explore the highly influential Architecture Gallery, a temporary exhibition space held in the Venice home of Thom Mayne for three months in 1979. The Gallery featured works by then-emerging architects Frederick Fisher, Studio Works (Craig Hodgetts and Robert Mangurian), Eric Owen Moss, and others. The works promise a fascinating glimpse into the architects' early concerns as well as the development of the Los Angeles architecture scene. Exhibitions will run from April through July 2013.
Architecture Month, a concentrated period of related programming, is planned for mid-May through mid-June. Lectures, films, tours, and panel discussions are being organized by the exhibition venues and our additional programming partners: The Center for Land Use Interpretation, CicLAvia, The Huntington Library, Los Angeles Conservancy, Machine Project, Pasadena Heritage, and the UCLA Department of Architecture and Urban Design (details on the Getty Foundation's website). Together the programs will provide an opportunity for us to collectively reconsider the city's modern architectural heritage as well as its future.
In March our dedicated website will have a full exhibition and program schedule so that you can mark your calendars and plan to join the conversation! In the meantime, follow us on Facebook and Twitter for news and updates as the initiative moves forward.