Each year, the Getty Research Institute invites scholars and artists to work on projects that go hand in hand with a chosen theme. This year's theme is The Display of Art, a broad, deep topic examining how ideas and objects are brought together to create meanings.
Every scholar comes to the Getty with an individual project, which he or she explores through the Getty's library and collections at the Center and the Villa. Scholars come from around the world—including, this year, from China, Colombia, and Kazakhstan. Some stay for a few months, others for the full academic year, from October to June.
The topics are as varied as the scholars themselves: spectatorship and Chinese cinema, painting and poetry in the age of Augustus, and the political and religious use of monumental sculpture in early imperial China, just to name three.
As an intern at the Getty Research Institute, one of my tasks was helping staff get ready for the new arrivals. When they came, it was as though an international summit had hit the GRI! I was amazed by the multiple conversations in French, Italian, German, and languages beyond, making English the minority. My two years of Italian at UCLA were going to come in handy! And not only was there an exchange of language, but art, books, and even recipes were passed around.
What is it like for the scholars? I spoke to Isabelle Flour, a doctoral candidate at the Sorbonne in Paris, who will be staying with us until June 2011. Her research examines the reproduction of architecture in museums, the display of ornament, and period rooms. Not only is this Isabelle's first time at the Getty, it's her first visit to California. She was excited to come here, amazed by the depth of the scholarly resources available in the GRI's library and special collections, and delighted by how welcoming and friendly everyone has been. In addition to her research, she's had a great time exploring the Getty Center, learning about her fellow scholars, and going on great adventures throughout California.
Yes, the scholars are not only diving into art and research, but are also experiencing what California has to offer. They've visited Hearst Castle, hiked Temescal Canyon, and toured downtown Los Angeles.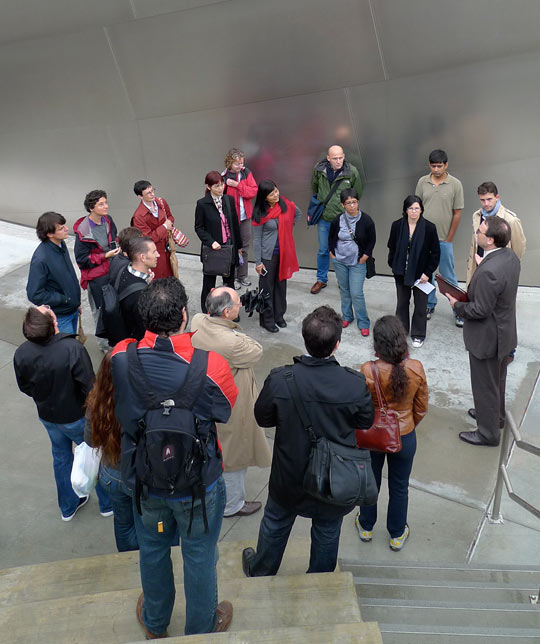 The GRI Scholars engage directly with their peers, Getty colleagues, and invited guests in special presentations of their research throughout the year. I'm looking forward to hearing from this entire interesting and diverse group, learning as much as possible about their research projects, interesting stories about where they come from, and maybe even polishing my Italian!