If a man wanted to put his best foot forward at the court of Louis XIV, it helped to wear the right shoes. In the seventeenth century, high heels were worn by men and women alike; along with lace, embroidery, and jewels, they were signs of status, not gender. The style is thought to have come to France around 1600 from Persia, where men had long worn heels for practicality's sake on horseback.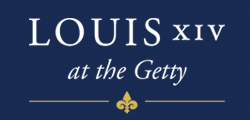 Historians disagree on the Sun King's height, but it is likely that he favored high heels because they were fashionable, not because he wanted to appear taller. Although he may have been short by modern standards, his sister-in-law, the duchesse d'Orléans, described him as "tall," while her husband, known as Monsieur, was "quite short." (Perhaps that is why Monsieur "wore such high-heeled shoes that he seemed mounted always upon stilts," as the duc de Saint-Simon recorded in his memoirs.)
Red heels—les talons rouges in French—were the ultimate mark of royal distinction. Louis wore the fashionable new style in his coronation portrait of 1654, and he continued to wear them until the end of his life, long past their natural vogue; they can be seen in Hyacinthe Rigaud's state portrait of the king, painted in 1701. In the early 1670s, Louis made it known that only a select group of noblemen were allowed to wear them at court, one of many instances of the king using fashion as a form of social control. As a result, the former fashion statement became a coveted badge of honor. In contemporary images, courtiers are often posed somewhat awkwardly for the purpose of displaying their red heels, as in Nicolas Arnoult's Portrait of the Family of the Grand Dauphin (1688).
Fancy footwear was an efficient barometer of royal favor. In Antoine Trouvain's Third Apartment, only the king and the comte de Toulouse, in the foreground, wear them. (It is the hat rather than the shoes that sets the king apart; no one would dare wear one in his presence.) It was not long before pied plat—"flatfoot"—became slang for a man of low birth, while the haughty, privileged young men of the court were nicknamed les talons rouges.
Red heels continued to be worn at court even after Louis died and men's heels grew lower, following the progression of fashion. They could be seen at Versailles until the French Revolution of 1789, by which time they had spread to other European courts. Red heels are still worn today by the British royal pages in the Order of the Garter procession and the State Opening of Parliament. But no one has managed to fill the Sun King's stylish shoes.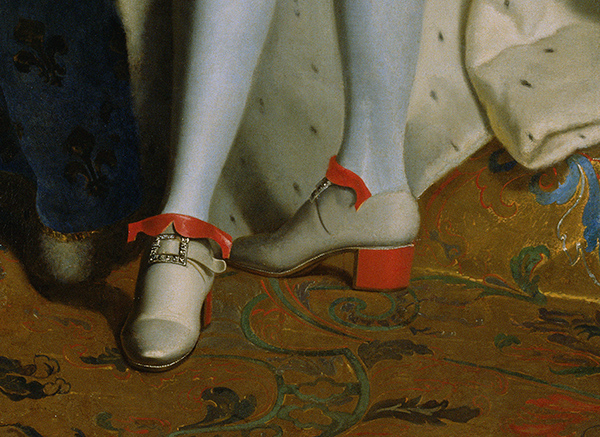 _____
Hear Kimberly Chrisman-Campbell discuss Louis XIV and the art of fashion in a free talk at the Getty Center on Sunday, August 23, 2015, offered in conjunction with the exhibition A Kingdom of Images: French Prints in the Age of Louis XIV, 1660–1715.
Text of this post © Kimberly Chrisman Campbell. All rights reserved.