If the Web existed in the Middle Ages and you googled "fusion cuisine," the top search result would no doubt be recipes from Byzantium. With its constantly shifting borders across a millennium, the Byzantine Empire (A.D. 330–1453) was a culinary melting pot of exotic textures, flavors, and aromas.
The foundations of Byzantine cooking were set in ancient Roman cuisine and combined with traditions inherited from Greece. But Byzantine cuisine developed its own character by adapting foods obtained through trade and political contact with neighboring cultures—and by engaging the curiosity of cooks who had a knack for adaptation and a taste for the unusual.
This hybrid cuisine and culture will be explored and celebrated during At the Byzantine Table, a talk and four-course dinner at the Getty Villa on Saturday, July 19. Historian Andrew Dalby, author of Taste of Byzantium: The Cuisine of Legendary Empire, reveals how this unique culinary culture can be illuminated from many perspectives, including texts, paintings, and antiquities, as well as the observations of medieval travelers—whether diplomats from East and West, Crusaders, pilgrims, or Viking mercenaries—who expressed in their own words how Byzantium tasted.
After the lecture, Villa dinner guests will meet at tables in the Inner Peristyle to indulge in a four-course meal inspired by this hybrid cuisine, enhanced with live music and by the beauty of the Getty Villa. The galleries of Heaven and Earth: Art of Byzantium from Greek Collections will be open after the meal, so you can savor Byzantium treasures of another kind.
Dalby, along with food historian and chef Sally Grainger and associate curator of antiquities Mary Louise Hart, consulted on the menu with chef Mayet Cristobal. The culinary team worked long and hard to prepare for the feast, testing recipes including a particularly complex one for oinogaros sauce, a synthesis of ancient and medieval tastes combining fish sauce, wine, honey, Mediterranean herbs, cinnamon, clove, pepper, and costus, a culinary spice also used for incense.
Dessert features a Byzantine culinary staple: rice pudding with honey and whipped cream. Called the "food of angels," the pudding is garnished with sugared almonds, cherries, and candied citron—all exotic ingredients brought to Byzantium from places afar.
To add a taste of Byzantium to your next dinner party, try this rice pudding recipe at home yourself!
Byzantine Rice Pudding—"Food of Angels"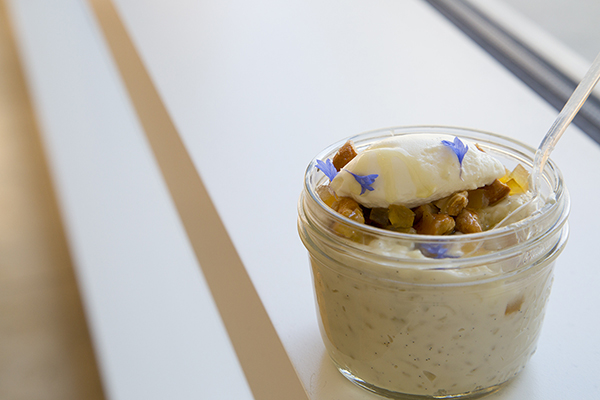 Makes 6–8 servings
1 cup carnaroli rice
4 cups milk
1 1/2 cups heavy cream
3 1/2 cups sugar
2 tsp. vanilla extract
1 each vanilla bean, seeds scraped
1/4 tsp. salt
1/2 cup heavy cream, lightly whipped
Optional: Dried cherries, candied almonds, confit citron, honey
Combine everything, except for the last measurement of cream, in a pot.
Heat the mixture over medium heat until it comes to a simmer.
Simmer 30–40 minutes, stirring constantly, until the rice is tender.
Remove the pot from the heat and stir in second measurement of cream.
Portion, and serve immediately if it is to be warm. Alternatively, the pudding can be chilled and served cold.
Garnish with dried cherries, candied almonds, confit citron, and a drizzle of honey.
_______
At the Byzantine Table; Greek Traditions, Roman Tastes takes place Saturday, July 19, at 5:30 p.m. Tickets are $175 each and include the private four-course dinner (with wine and pomegranate julep) in the Inner Peristyle of the Villa accompanied by live Byzantine music and a private viewing of the exhibition Heaven and Earth: Art of Byzantium from Greek Collections. Normally open on Saturday evenings throughout the summer, the Villa will be closed to the public for this private event.