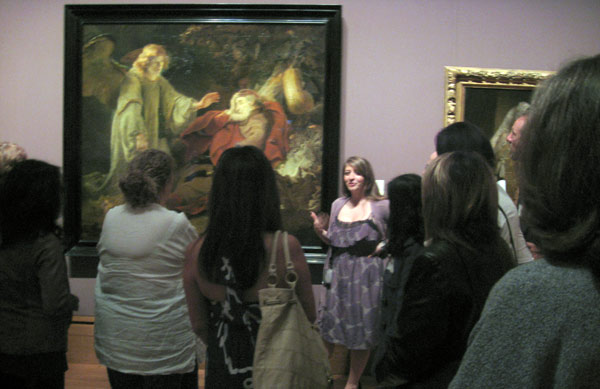 On a recent Saturday night, nearly 20 visitors tried to make sense of a huge, mysterious painting in the Getty Center's Flemish gallery.
Mysterious, because our leader, Lilit Sadoyan, had covered up the painting's accompanying wall text. We were forced to use our own powers of observation to determine what was going on within the frame.
There was an old man—Sleeping? Or dying?—in a garden. There was an angel by his side—Reviving him? Or shuffling him off into the next world? The painting was awash in golden light from an unseen source—Moonlight? Or a celestial presence?
We looked closely, noticing details like the intricate metalwork on the angel's gown, a huge gourd by the old man's head, and the cast-off shoes that looked too small for his feet. No observation earned snickers, no speculation was rejected.
Lilit let us look and talk for about an hour, as we wove our own narratives for the canvas. Finally she tore off the Post-it notes on the wall text. We were looking at The Angel Appearing to Elijah by Ferdinand Bol, a student of Rembrandt's. The angel was reviving the exiled prophet, who collapsed in the desert and prayed for death, but received life instead. (The painting is on loan to the Getty from a private collection through September 2010.)
Lilit leads Art Circles, a Saturday night event that draws regulars from as far as San Diego for dinner and a free-flowing discussion about one piece of art. This evening, the regulars were joined by a festive group celebrating a birthday and a few couples trying something new for date night. It took just a few minutes over soup and sandwiches for the group of strangers to bond, and after trooping over to the gallery, no one held back from offering their opinions on the canvas.
"It's a beautiful collective journey," says Lilit of this extended experience of looking at what the artist does in a painting, and how we derive meaning from it.
And as a birthday party, it's way better than bowling.
Art Circles is offered once a month at the Getty Center—the next session is coming up this Saturday, May 22. There's a fee of $20, which includes a voucher for dinner from the Cafe. You can enroll in advance online or sign up when you arrive at the Museum. And parking is free on the day of the event with your Art Circles reservation.