The mythology of artistic greatness tends to privilege the spark of creative genius over hard work, sacrifice, and experimentation. Traditionally, the biographies of famous artists have described naïve talents who achieved notoriety only after being fortuitously discovered. By contrast, Man Ray's life story is one of self-determination, ambition, and risk-taking.
Born Emmanuel Radnitsky, Man Ray grew up in Brooklyn, New York, the son of Russian-Jewish immigrants. Early in his career, he made the self-conscious decision to shorten his given name to the elegantly streamlined and ethnically indeterminate Man Ray. When he left New York for Paris in 1921 at the age of 30, he saw opportunity ahead. Having already befriended artist Marcel Duchamp in New York, Man Ray had entrée to the Parisian avant-garde.
Man Ray led a glamorous, bohemian lifestyle in Paris. He mingled with the fashionable set and became a fixture of Montparnasse's cafés. In Paris he also made the most innovative work of his career, including his experimental Rayographs.
Man Ray eventually became one of the leading visual artists of the French Surrealist movement. To earn a living, he did work for fashion magazines and took portraits of artists and luminaries. Pablo Picasso, James Joyce, Jean Cocteau, Joan Miró, and Gertrude Stein all sat in front of Man Ray's camera.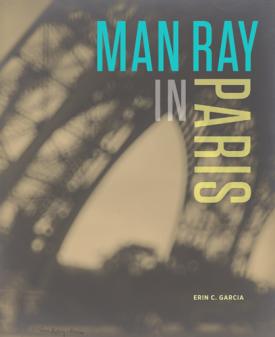 Interestingly, Man Ray's commercial endeavors had little effect on his credibility among his Surrealist associates. From all sides, he was able to maintain his independence. Even in his choice of media, Man Ray crossed boundaries and moved easily between painting, collage, sculpture, film, and photography. When many of his Parisian colleagues fled to New York during World War II, Man Ray settled in California.
Man Ray continues to be one of the most compelling artists of the 20th century perhaps because he carved out such a unique identity for himself. He was a person with big aspirations and a mind of his own. He discovered himself and made his own name. Man Ray in Paris, the new book that tells this story, is just one small window onto Man Ray's unique life and career.
Text of this post © Erin Garcia. All rights reserved.