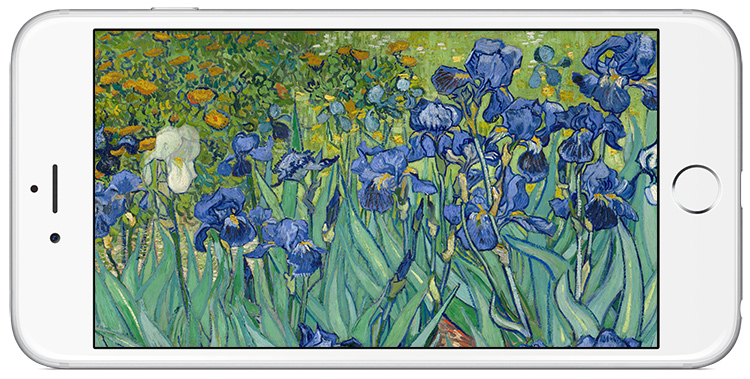 Vincent van Gogh's Irises makes for a beautiful background!
You may have noticed that the @GettyMuseum has been pretty busy on social media the past few days. We've been participating in the Twitter initiative #MuseumWeek, joining over 3,000 museums worldwide in celebrating all the things we love about our art and institution.
Each day of #MuseumWeek has had a theme, and today's is #loveMW. We're big fans of our collection (unsurprisingly!), and we want to share it with you. Below, you'll find links to downloadable wallpapers of three of the most beloved paintings in our collection—Vincent van Gogh's Irises, Claude Monet's Wheatstacks, Snow Effect, Morning, and William Adolphe Bouguereau's A Young Girl Defending Herself Against Eros.
These images plus thousands more (over 101,000 and counting) are available to download for free from our website through our Open Content Program.
You can use these wallpapers for most standard-sized desktops and phones (including Android), so download away. (Right-click and "save as" on desktop, or press and hold on phones.)
Enjoy!
#loveMW,
Team @GettyMuseum
Irises, Vincent van Gogh
Desktop:
1024 x 768
1280 x 1024
1920 x 1080
iPhone:
iPhone 6 Plus
iPhone 6
iPhone 5
iPhone 4
Wheatstacks, Snow Effect, Morning, Claude Monet
Desktop:
1024 x 768
1280 x 1024
1920 x 1080
iPhone:
iPhone 6 Plus
iPhone 6
iPhone 5
iPhone 4
A Young Girl Defending Herself Against Eros, William Adolphe Bouguereau
Desktop:
568 x 768
717 x 1024
760 x 1080
iPhone:
iPhone 6 Plus
iPhone 6
iPhone 5
iPhone 4