Extended evening hours begin May 8, including our first-ever late Sundays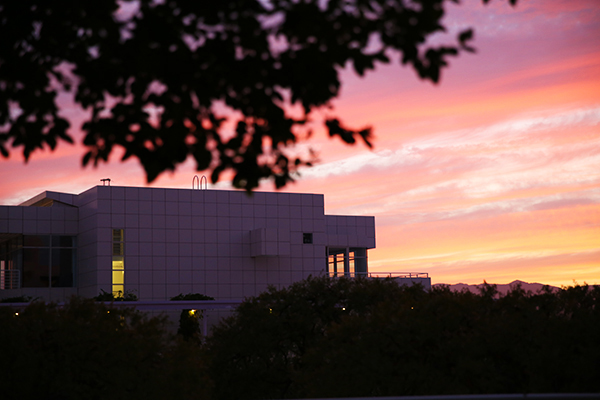 Late nights at the Getty are back! The Getty Center will be open till 9pm on Fridays and Saturdays, and till 7pm on Sundays starting May 8. Full details on our summer hours below.
The Getty Villa will be open till 9pm on Saturdays starting May 28 as well. The Villa will also be open on Monday, May 30 (Memorial Day), and Monday, July 4 (Independence Day). The Getty Center will be closed both of these days.
Linger in the galleries and enjoy twilight in the gardens. In addition to our summer exhibitions, enjoy an assortment of events for all ages and interests.
Summer Events at the Getty Center
A new season on Saturdays Off the 405 kicks off May 21. Enjoy outdoor music and evening views of the city and drink in the summer exhibitions in a casual and spontaneous atmosphere. The evenings feature performances by your soon-to-be favorite bands, along with DJ sets to open and close the night. Dates are May 21, June 18, July 9, July 23, and August 27. See the lineup here.
Friday Flights kicks off June 10, bringing together a wide range of Los Angeles –based creative thinkers working across artistic mediums for a vibrant evening of sounds and sights. An inter-disciplinary series of happenings spanning contemporary classical music, artist-made interventions, electronic music, sound-based installations, poetry, dance, film, and more spreads out across the Getty Center from galleries to gardens. Dates for Friday Flights are June 10, July 15, July 29, and August 26, with performers to be announced.
On June 11, navigate the myriad cultures of the Silk Road and beyond in a Family Festival inspired by the exhibitions Cave Temples of Dunhuang: Buddhist Art on China's Silk Road and Traversing the Globe through Illuminated Manuscripts. With hands-on workshops and interactive events, you can make your own book, write Chinese characters, witness the beauty of calligraphy from the Middle Kingdom, be entranced by stories of Buddha in animal forms, and feel the world's interconnectedness through music and dance from China to Iran.
Visit the Restaurant on Fridays and Saturdays from 4:00 -8:00pm. They will be serving limited availability wines paired with small bites, including, shrimp cocktails and cilantro hummus.Now through August 27.
Summer Events at the Getty Villa
June 11, 18, and 25 at the Villa, join L.A.-based artist Alan Nakagawa for Myth Not Myth, a presentation of interactive sculptures created in response to your input and conversations with a Getty conservator, curator, and educator about mythology and misperceptions about the study of antiquities.
Every Thursday and Saturday from 1 to 2pm, enjoy Tea by the Sea, a special dining experience inspired by the Mediterranean herbs, vegetables, and fruits that grow in the gardens at the Villa. After tea, you can tour the Villa's re-created first-century Roman gardens with knowledgeable docents. Reserve in advance—call (800) 369-3059 to reserve or email BonAppetitReservations@getty.edu.
Last but not least, take advantage of the "Pay Once, Park Twice" program. Visit the Getty Villa and the Getty Center the same day and pay only once for parking.
Getty Summer Hours at Glance
Getty Center, May 8–September 4, 2016
Tuesday, Wednesday, Thursday: 10:00 a.m.–5:30 p.m.
Friday and Saturday: 10:00 a.m.–9:00 p.m.
Sunday: 10:00 a.m.–7:00 p.m.
Monday: Closed
Complete Getty Center visitor info »
Getty Villa, May 28–August 27, 2016
Monday, Wednesday*, Thursday, Friday: 10:00 a.m.–5:00 p.m.
Saturday: 10:00 a.m.–9:00 p.m.
Sunday: 10:00 a.m.–5:00 p.m.
Tuesday: Closed
Complete Getty Villa visitor info »
*The Getty Villa will be closed on Wednesday, August 31, to accommodate preparations for the annual Outdoor Classical Theater production.