Enjoy dramatic sunsets, art, architecture, and gardens this summer at both Getty locations, which are also open July 4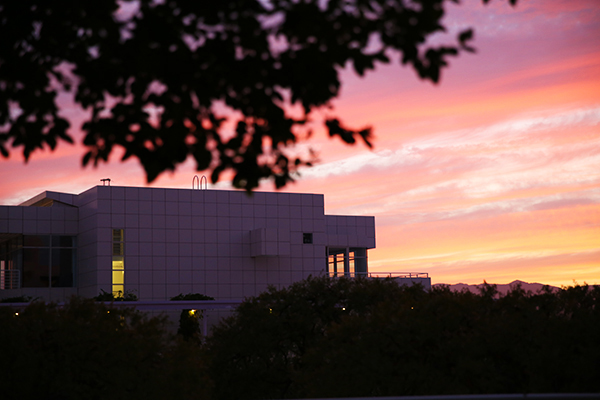 Late Getty nights are back! The Getty Center is open till 9 on Fridays and Saturdays this summer, starting May 30. The Getty Villa is open till 9 on Saturdays starting May 31, and both locations are open on July 4—for the first time ever. Full details on our summer hours below.
Browse the galleries, see the architecture and gardens transform with the setting sun, and be part of these special programs:
Scandal After Dark
Catch The Scandalous Art of James Ensor at the Getty Center, featuring the wild, weird, and wicked art of Belgian artist James Ensor. The exhibition reveals how Ensor transformed from traditional art student to artistic radical, exploring the story behind the painting Christ's Entry into Brussels in 1889.
Evenings, Curated
Join us for a new season of Friday Flights at the Getty Center, monthly events that mix music, art, discussion, and dance kicking off May 30. Each event is curated by an L.A. creative, and inspired by an exhibition.
May 17 marks the return of our free outdoor music series Saturdays Off the 405, with artists including Jonathan Wilson, KiT, and Chicano Batman.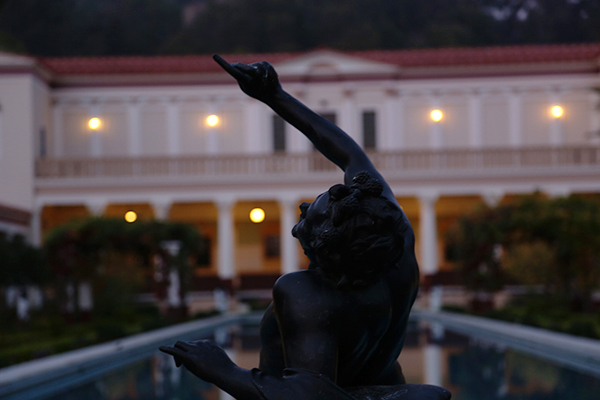 Heaven by Night
The Getty Villa is open till 9 on Saturdays, a perfect time to bask in the golden glory of Heaven and Earth: Art of Byzantium from Greek Collections, featuring 200 dazzling objects loaned from museums in Greece.
Tip: If you're ambitious, take advantage of the "Pay Once, Park Twice" program. Visit the Getty Villa and the Getty Center the same day and pay only once for parking—a pretty good deal for 8,000 years of art.
Getty Summer Hours at a Glance
Getty Center, May 30–August 29, 2014
Tuesday, Wednesday, Thursday: 10:00 a.m.–5:30 p.m.
Friday and Saturday: 10:00 a.m.–9:00 p.m.
Sunday: 10:00 a.m.–5:30 p.m.
Monday: Closed
Complete Getty Center visitor info »
Getty Villa, May 31–August 23, 2014
Monday, Wednesday, Thursday, Friday: 10:00 a.m.–5:00 p.m.
Saturday: 10:00 a.m.–9:00 p.m.*
Sunday: 10:00 a.m.–5:00 p.m.
Tuesday: Closed
*Closes at 5:00 p.m. on July 19 only to accommodate a special evening event