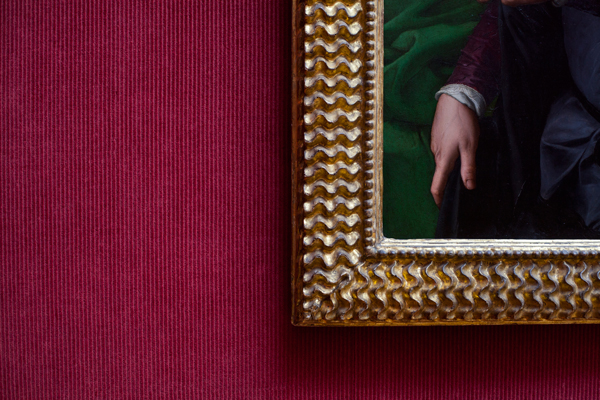 If Gene Karraker does his job, you'll never see his work.
That's how Gene, 20 years at the Getty Museum, prefers it. A frame conservator, he plays ultimate matchmaker between painting and frame—not an easy feat at the Getty, which has over 300 paintings on display.
While frames are works of art themselves, they should never overshadow or overpower the painting. That's just one of many things Gene considers when a frameless painting enters the collection.
So, how do you frame a painting? In "Looking at European Frames: A Guide to Terms, Styles, and Techniques," Karraker outlines three things to consider when matching an antique frame with a work of art.
1. Period/Date: Matching a frame to the time period in which the artwork was created is a great way to contextualize both painting and frame. French frames from the 18th century were heavily ornamental, detailed, and, to put it mildly, super fancy. Nothing says you've won wars better than a gilded cartouche.
But dates are only the beginning when considering a frame.
2. Country/Region of Origin: Once the time period is pinned down, finding the geographical homes of the framework and the artwork is another task. Flash and dazzle weren't exactly in style in Protestant Northern Europe, and it showed. Works by Dutch artists Vermeer or Rembrandt are often framed by simple but elegant wooden frames. The elegant curves in the polished wood would catch the light from a 17th-century home lit by candles. But don't be fooled by the simplicity: the wood on such frames was expensive and therefore hard to come by. Case in point: ebony.
3. The Artist: I'm going to call this the Claude Clause. Presumably, the French impressionist Claude Monet wasn't impressed by the frames of his time. He opted instead for frames made some 200 years prior to display his series of paintings of Rouen Cathedral in Morning Light. Indeed, Gene and other frame experts have to grapple with an artist's choice of frames too, especially when they challenge the first two rules for framing.
Paintings often don't come with their original frames. Why? Collectors often do away with the originals and opt for ones that fit their private collections or that match their preferences or the style of the times. Still, there do remain many paintings in their original frames, including many here at the Getty.
Where there is a masterpiece without the perfect way to display it, Gene is your man. But like any good frame, the arduous work is done quietly in the background.