Marbles Jumbo Radio is a dancer and performance artist based in Northern California. taisha paggett invited them to collaborate on "Mountain, Fire, Holding Still.", a performance that took place in the Getty Villa's Outer Peristyle on August 27th. Here, Marbles describes the process of collaboration and their simultaneous 10-hour performance with taisha on that day.
Developing the Project
I have a faith in movement, faith that it can be an agent of perspective. The body has a mind, the tissue and fascia hold memory and activate vision.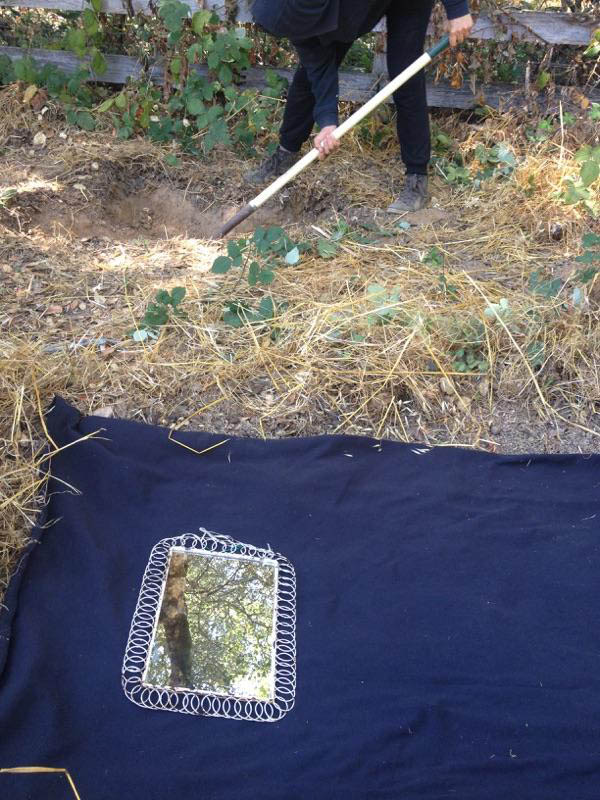 What brings taisha and I together is a shared interest in what agency and luminosity ideas gain when researched through body-based learning. taisha's invitation to be part of "Mountain, Fire, Holding Still." came after we had sat a weeklong silent meditation retreat for People of Color in the wake of personal grief and loss, and shortly after the attack on the Pulse nightclub in Orlando. Amid the modern epidemic of violence on Black lives, the experience of spending a duration of time in the practice of body-based awareness in communion with other People of Color was profoundly healing and transformational. Embarking on the creation of "Mountain, Fire, Holding Still.," we applied that experience to our improvisational movement practices and allowed the concept of holding vigil for these lives and deaths to extend into our work as dance artists and movement thinkers.
Our research through movement and choreographic concepts developed out of cultivating attention to that which we want to transform. My role was to work with taisha, from my home in rural Northern California, as a sort-of satellite explorer. I had no direct correspondence with the other collaborating artists, Greg or Yann, but got all the information about the project through taisha. We sent each other notes, images, and video documentation from our respective processes, and from there further practices developed.
We asked ourselves the question, who is not represented here? And who are we performing for? How might we make the unseen visible? How might we tune our perceptive capacities to be able to see the unseen? We kept returning to the commitment to the practice to direct us in this process.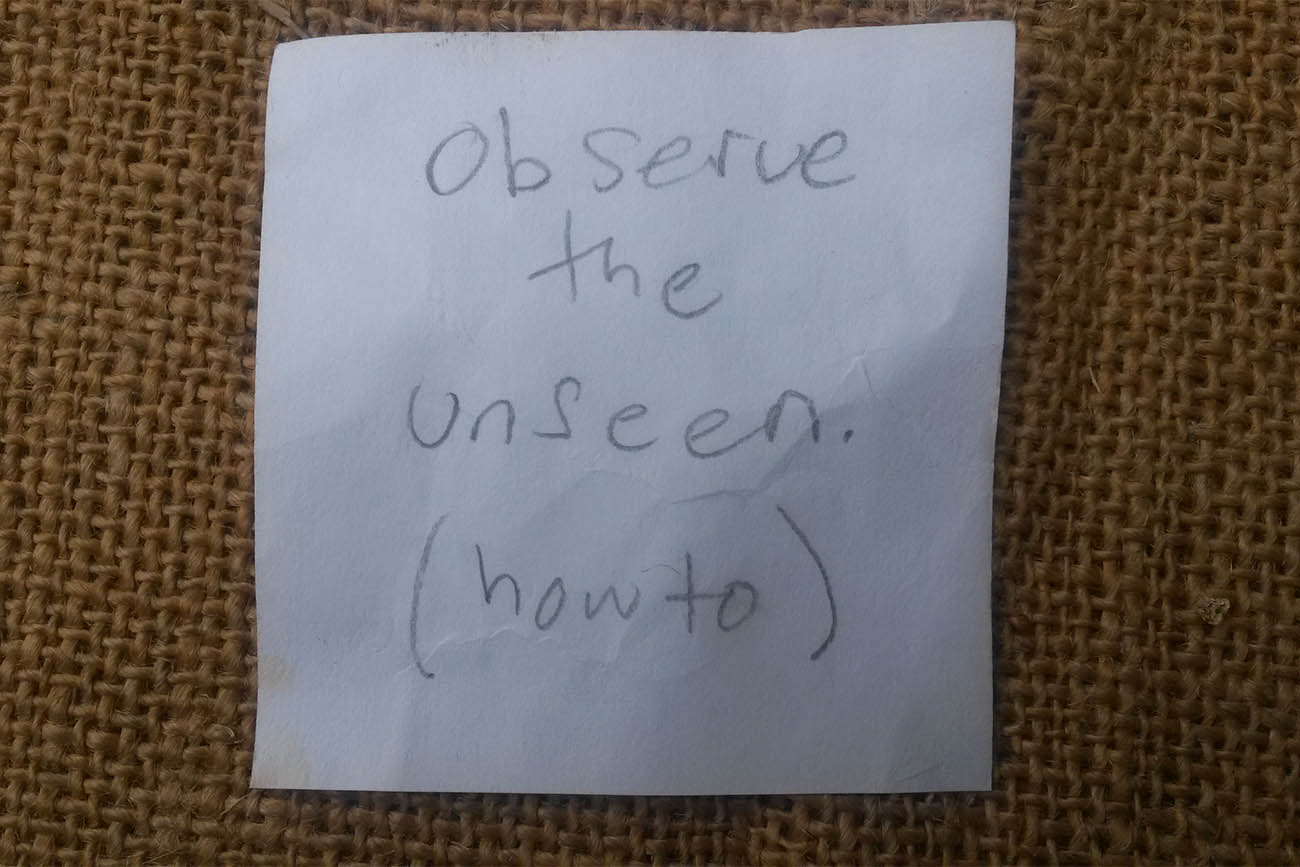 The Performance
On August 27th, we simultaneously held a ten-hour performance/vigil. taisha's took place at the Getty Villa during museum hours, and mine at the same time in the rural environs surrounding my home and studio in the North Bay. (Another perspective on my performance is offered in this video.)
In exploring the notion of black across time, as both a color and a concept, there is death and loss, violence and grief; it's immediate, personal, and collective. The Villa and my land became sites of vigil for commemorating the losses we presently and historically hold wakefulness for.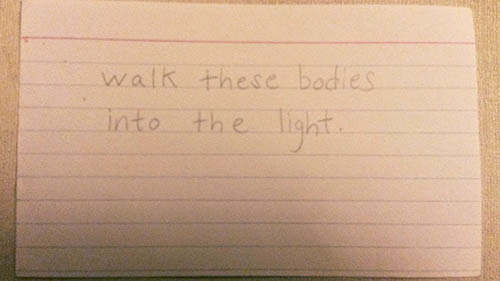 I read a landscape for the stories it holds: there is an "over-story" and then there's the "under-story." In the Villa, there's an over-story that is curated, but also an under-story that is present, but perhaps less seen. In this sense, the raw land I worked on offered something through which to reflect and represent the land upon which the Getty Villa was built and now resides.
We worked a lot within scores (sets of movement practices) that were about slowing down time, such as, move at the rate of stone. There is a personal—indeed, poetic—necessity to grow the capacity to hold still in order to grieve lost loved ones, and also to face/bear in our awareness the current epidemic of violence on black lives.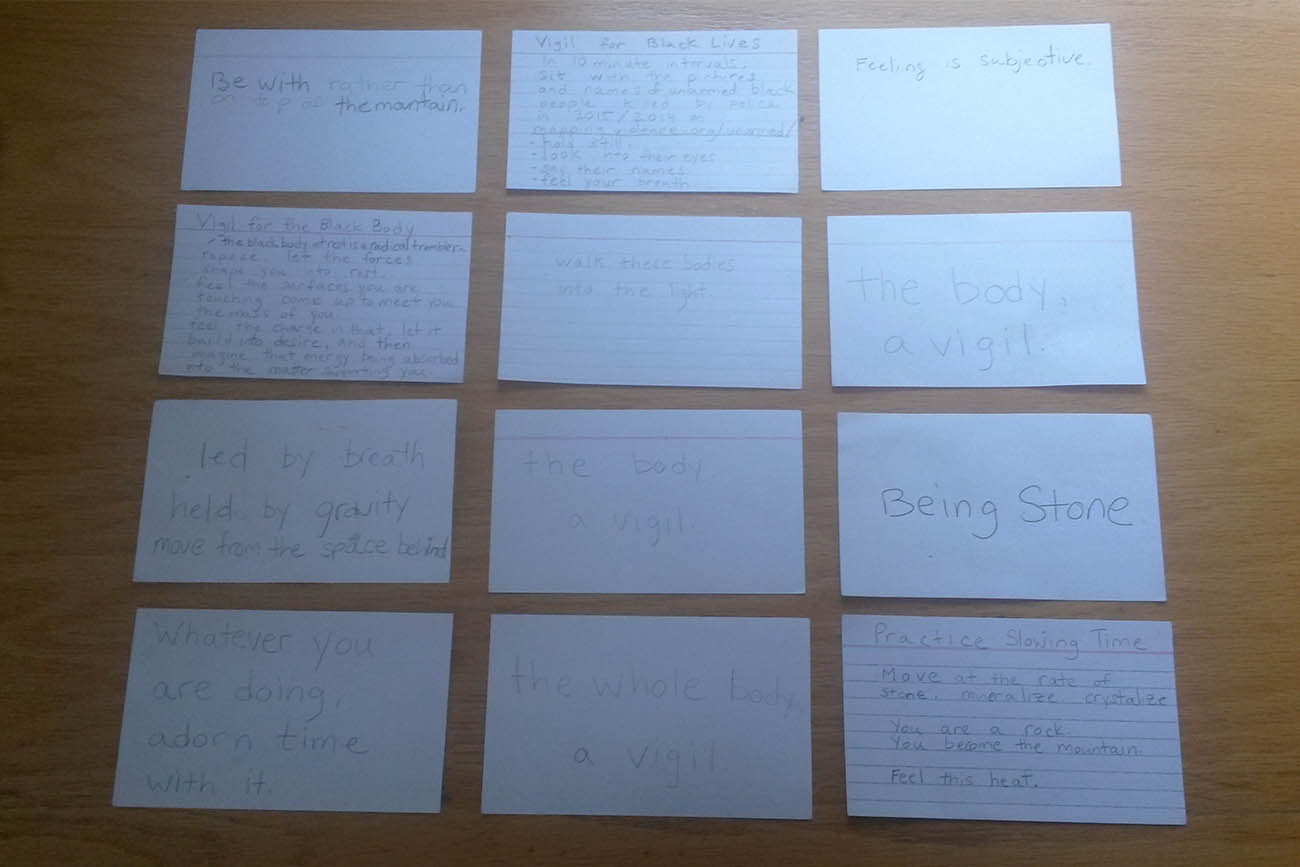 Knowing taisha would be observed by many over the course of the day at the Villa while my contrasting setting would be not public and on undeveloped land, I worked to juxtapose ideas of surveillance and intimacy. It was also my intention to suggest and challenge normative White notions of freedom and privacy that have been often associated with the wilderness, and to suggest a different reality that attends to histories of violence, oppression, and omission.
I set up my camera to look out the window of my studio to the landscape where I performed. I dressed in the symbol now associated with being of a Person of Color and being in danger: a black hoodie. I also concealed my face and, at times, the shape of my human form in a bundle of tangled black fabric, echoing the "literal weight" Gregory Barnett had designed for taisha's performance and creating a silhouette in the landscape.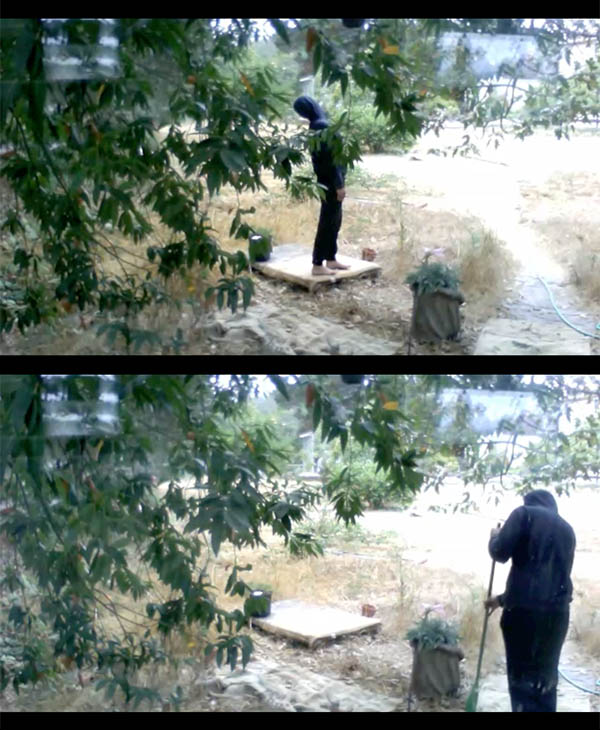 Tying these symbols to notions of belonging to the land—in life and death, I performed our set of practices over the course of the day within a larger context of land-based work that included digging, raking, sweeping, and watering. The land and my bodily connection to it was at once an expression of historical and contemporary grief and loss, and a site for seeding radical growth and change.
These selected photographs share a sense of where taisha and I went with the ideas we developed.

Text of this post © Marbles Jumbo Radio. All rights reserved.
_____
"Mountain, Fire, Holding Still." was a durational performance/installation by dance artist taisha paggett and sound artist Yann Novak created in collaboration with visual artist Gregory Barnett and movement artist Marbles Jumbo Radio. Presented in the Outer Peristyle of the Getty Villa, it was a meditation on death, labor and blackness in antiquity as it relates to the contemporary body, and a performance-as-vigil for past and future lives. The performance took place on Saturday, August 27, 2016 from 10 a.m.-8 p.m.
Related Posts
Exploring Blackness in Antiquity Through Movement and Sound