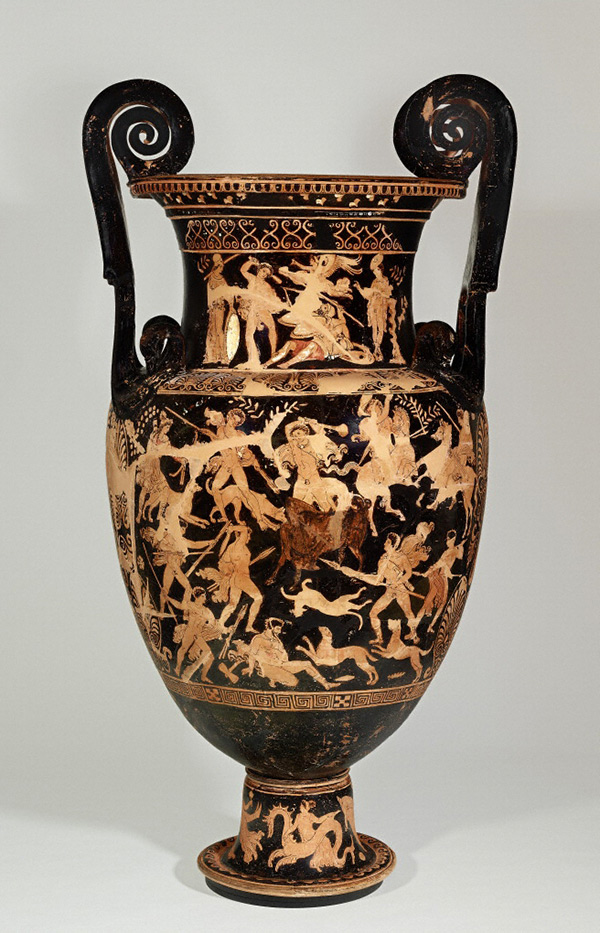 Funerary Vessel with Herakles Slaying Geryon; the Calydonian Boar Hunt; and Nereids, 340–310 B.C., attributed to the Phrixos Group, made in Ceglie del Campo, Italy, Apulia. Terracotta, 46 7/8 in. Antikensammlung, Staatliche Museen zu Berlin. © Staatliche Museen zu Berlin, Antikensammlung. Photo: Johannes Laurentius
The exhibition Dangerous Perfection: Funerary Vases from Southern Italy opens today. The culmination of a six-year-long collaborative project to research and conserve a group of monumental ancient vases from the region of Apulia in south Italy, the exhibition reveals changing attitudes toward the conservation of antiquities and explores these vessels' role in funerary customs and beliefs about death and the afterlife.
These are grand and imposing vessels, mostly around a meter high, and exuberantly decorated with an array of mythological tales. Many of your favorite heroes and heroines of Greek myth are here—Herakles, Antigone, Paris, Jason—and many monsters too, including the Calydonian Boar, the Chimaera, and the fearsome Geryon.
Look closely at these richly adorned vases, and you'll find numerous delightful details. For our car-obsessed city in particular, they offer some intriguing suggestions for alternate modes of travel.
If you're coming to the Getty Villa, why not leave the gas guzzler at home and:
1. Surf a Dolphin
Take the marine route and surf dolphins. That's how one of the Nereids—a sea-nymph, daughter of the sea-god Nereus—gets about on an amphora (tall handled jar) that shows Europa's abduction by Zeus. He appears in the form of a bull and whisks Europa off on his back; not a recommended form of transport, all told. The Nereid next to her travels by sea-dragon, but parking's a hassle.
2. Hitch a Ride on a Flying Ram
Or you can travel by air, ram-style. That's how the hero Phrixos was rescued from impending death, courtesy of his mother, the cloud nymph Nephele. Make sure to hold on tight, though. Phrixos's sister Helle didn't and fell into the sea (although the Hellespont was named after her mishap, which might offer some consolation).
3. Grab a Seat in a Panther-Chariot
For those who prefer to travel on land, though, why not do as Dionysos does? Panther-chariot is the way to arrive in style, especially when it's to a wedding on Mt. Olympus. No need for headlights, incidentally, as one of his entourage, Euthumie, leads the way with a flaming torch.
Whichever beast you drive, I look forward to seeing you in the exhibition.