Hundreds of thousands of artworks, objects, books, and records in the Getty's collections have been photographed and posted online. But how do objects go from the physical world to your screen? People. Holly McGee is one of them. Here's what a typical day in her life at work is like.
A trained librarian and archivist, on any given day Holly is either photographing a single book or performing image processing. She can typically digitize two books a week from cover to cover. On photography days she meticulously sets up her station, checking the camera's focal range and performing a color calibration, and then gets to work shooting hundreds of pages.
Thanks to a generous grant from the National Endowment for the Humanities, Holly has been hard at work on the letter copying books of M. Knoedler & Co., which fill 205 volumes and span six decades, from 1878 to 1940. These books are a spyglass into the inner workings of one of America's preeminent art galleries at the height of its influence. But with crumbling leather bindings and pages as thin as insect wings, the books have been deemed too fragile to be handled by researchers—so it's up to digitization assistants to translate every outgoing letter into digital facsimiles for scholars to virtually explore.
Holly graciously invited us to shadow her for a day to see how this work actually gets done.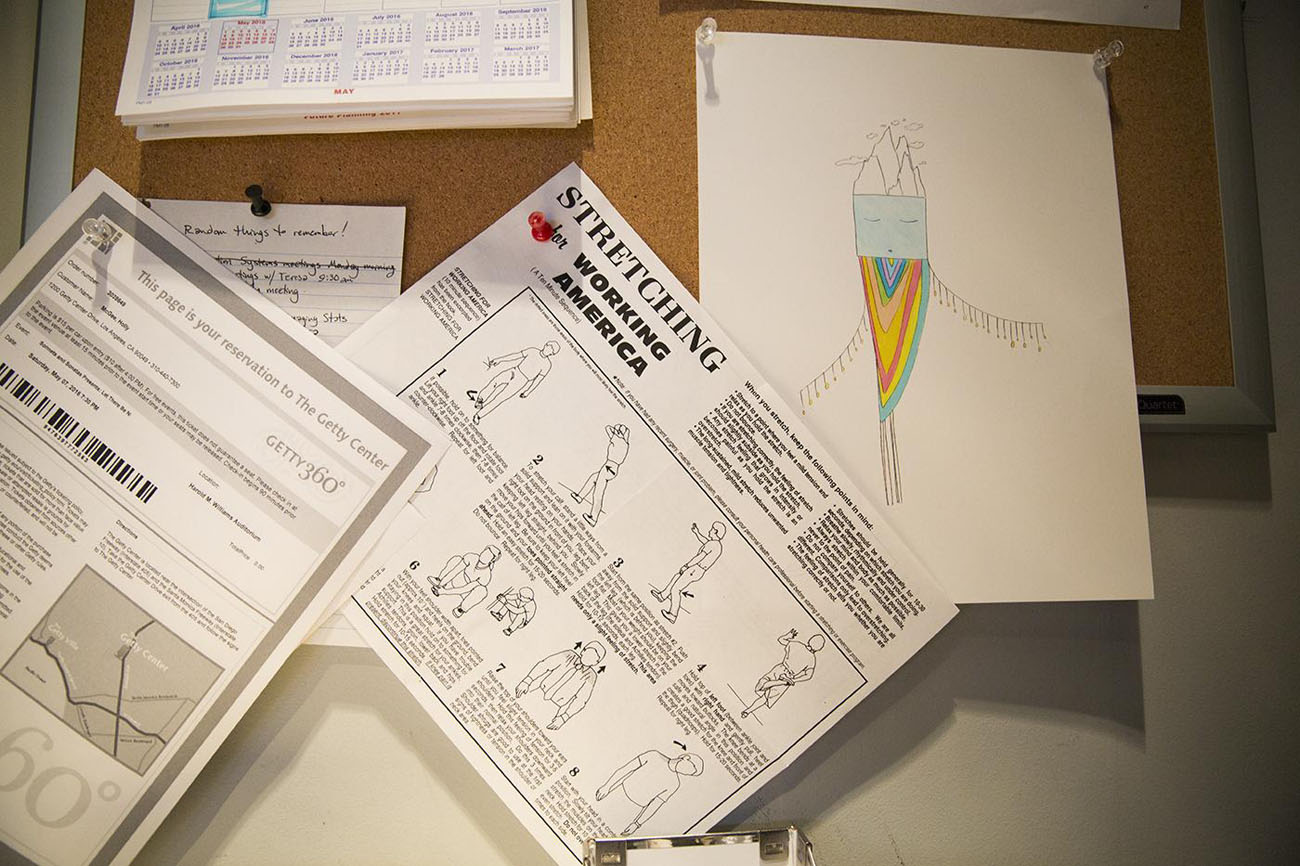 The Setting
Holly sits in a row with other technicians and photographers, all working to capture the Getty Research Institute's archives, books, and special collections to be put online. It's relatively quiet on the lowest floor of the library, except for the occasional click of a camera shutter.
Holly does all her work in a pretty intimate space. This room was formerly used to develop film (if you look up, you can see the remains of vents and tubes in the ceiling) and now fits a desk on wheels, a camera setup, studio lights, and a 12'' x 36'' file cabinet. On the walls are postcards of cars, photographs of artworks from the Research Institute's collection, "how to" stretching diagrams for the workers of America, and an old ticket to a Getty poetry event.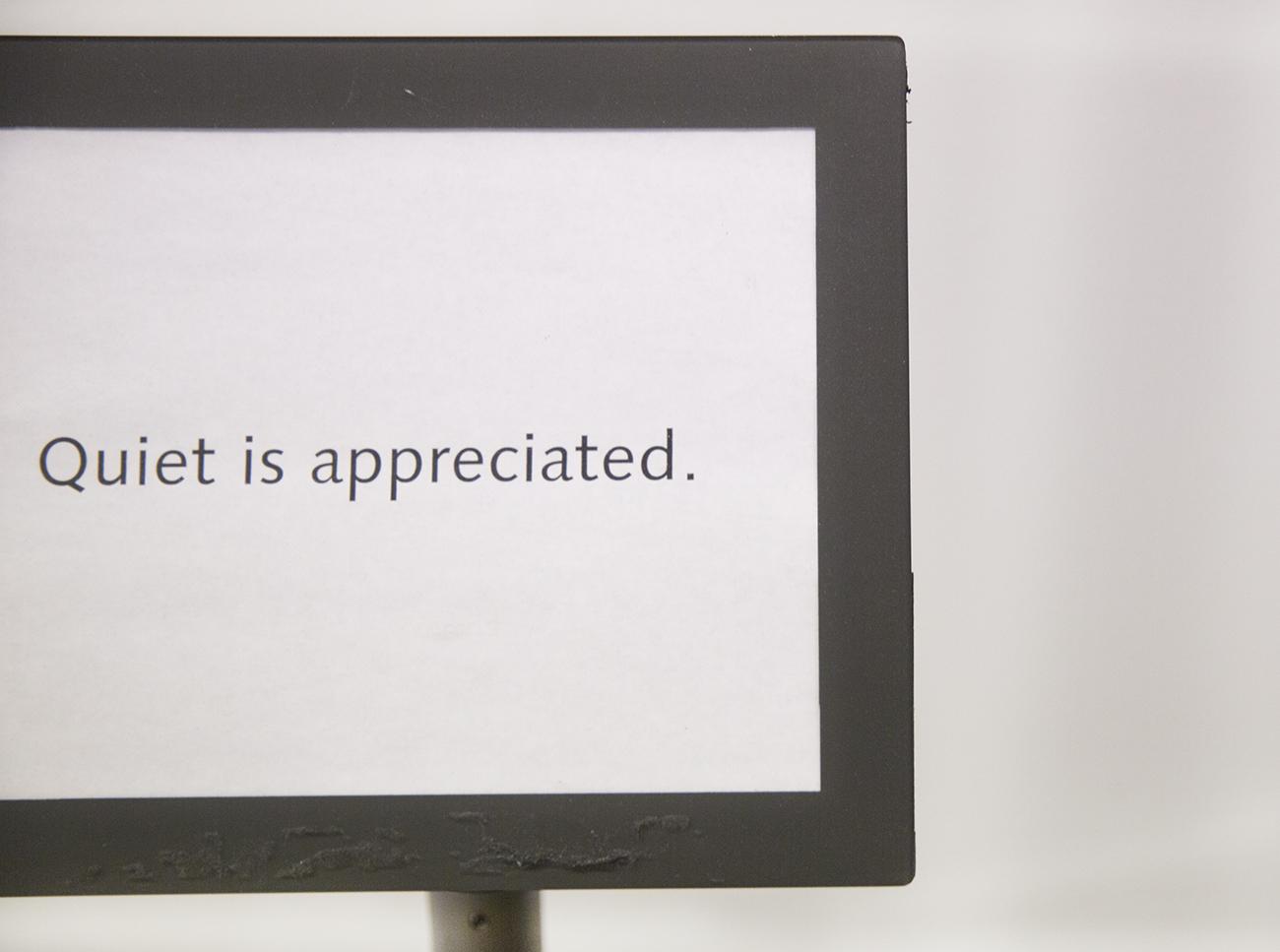 8:03 am
The lower level of the library is used mostly by scholars, curators, and researchers who want an extremely quiet working environment. Anything louder than a whisper is not appreciated.
8:08 am
Holly rushes in to meet me, puts her lunch in the shared office fridge, and sits down with me. "I'm having a bit of a stressful work period," she says, "we've got a new deadline, and I have an additional project to work on."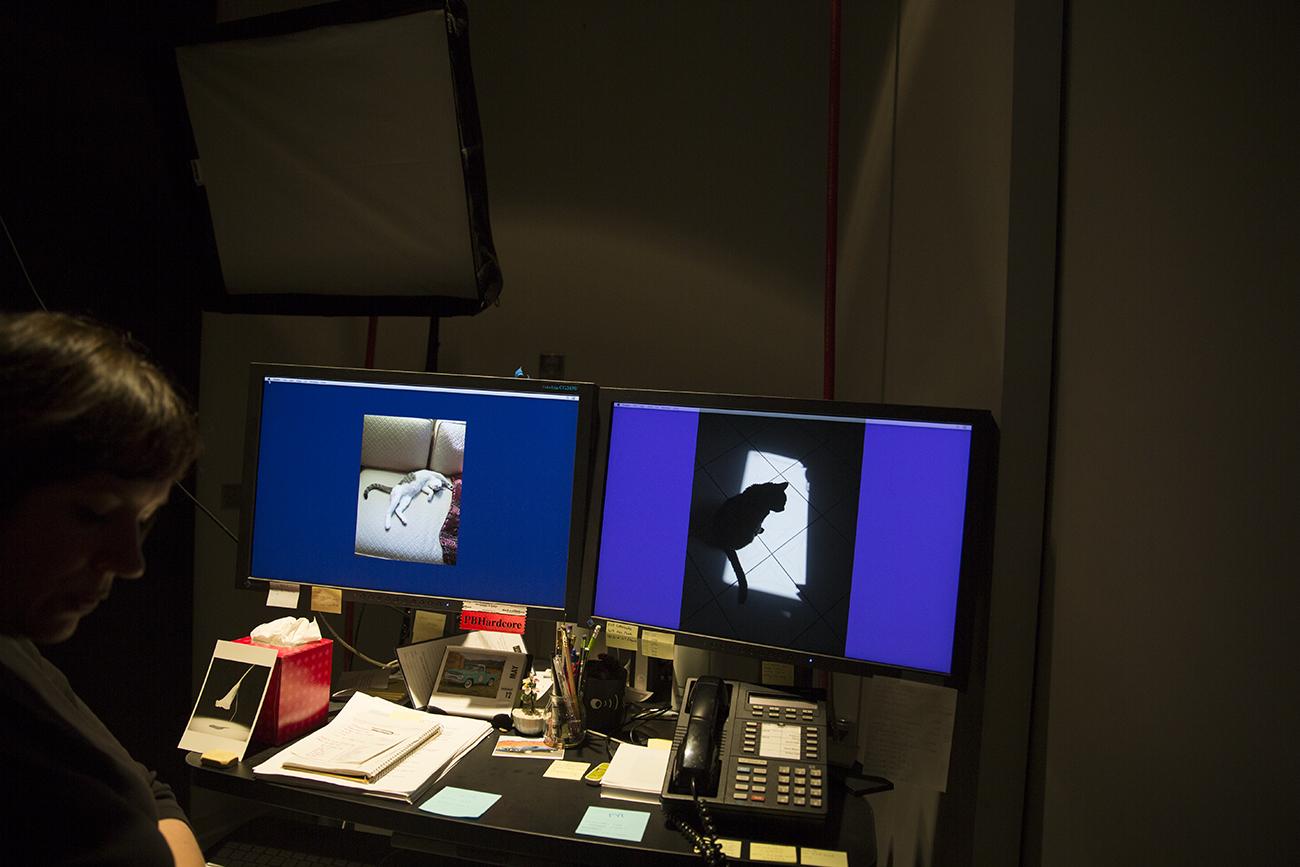 8:15 am
Holly starts up the computer. On her desktop are beautiful photos of her two cats, Liam and Angus. "They make feel happy when I boot up and close down."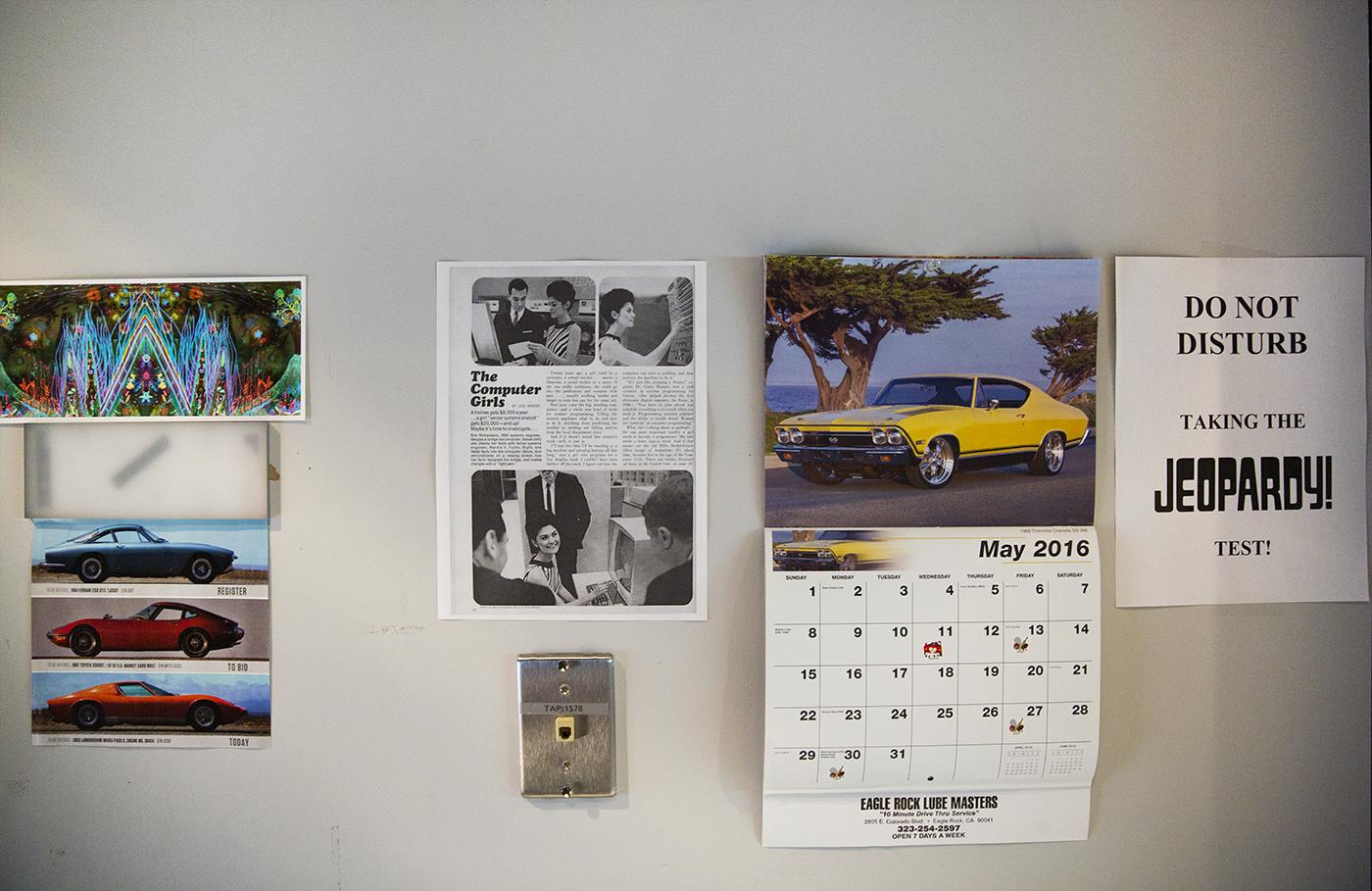 8:35 am
Holly has only 12 unread emails, amazingly. "I'm not an inbox-zero kind of person, but I can respect people who only check email three times a day—must be better for stress. I'm the kind of person who needs to take care of things as soon as they happen."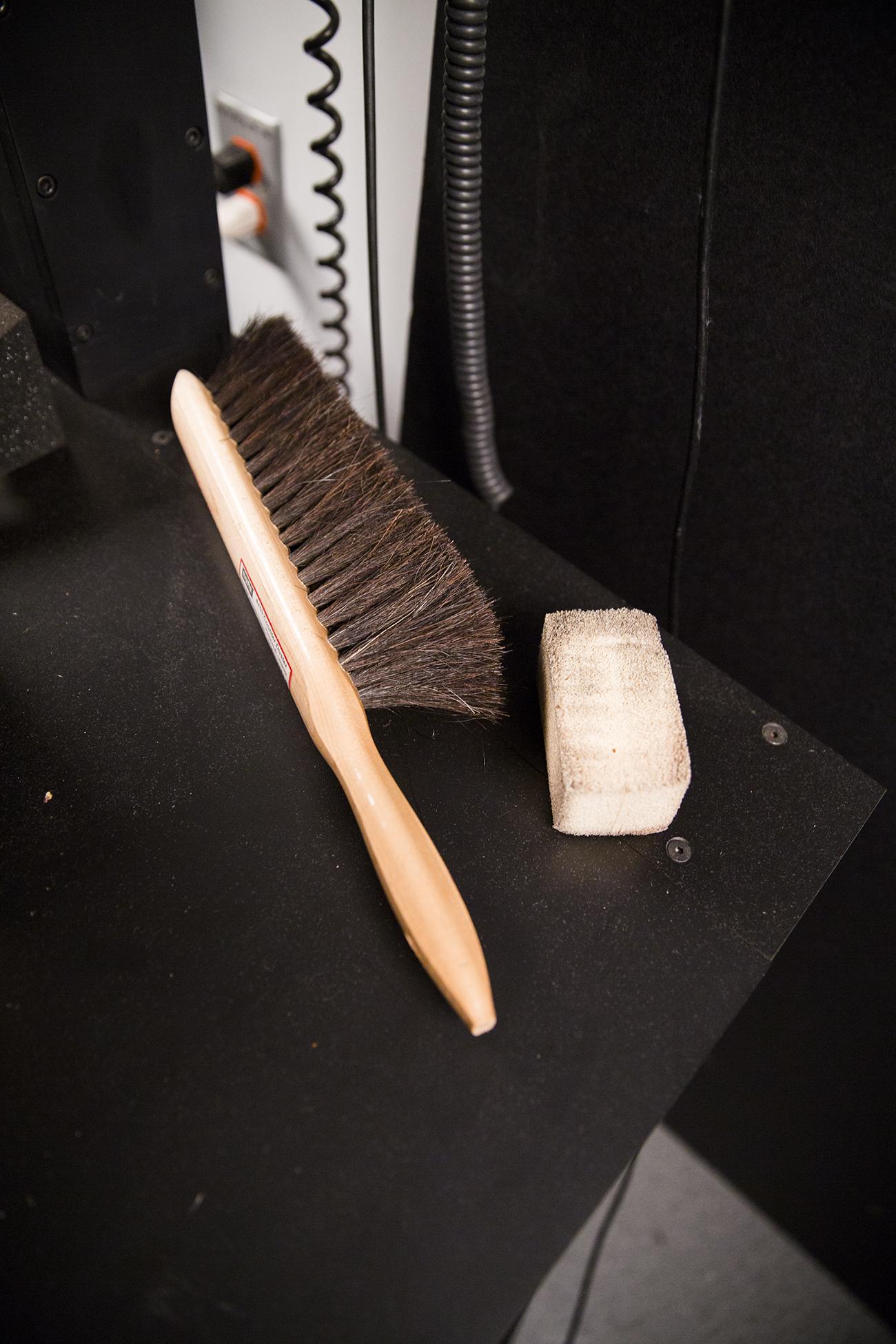 9:10 am
Holly preps her photography station. She brushes off the "red rot," dust that comes off red leather and can smear on precious archival material.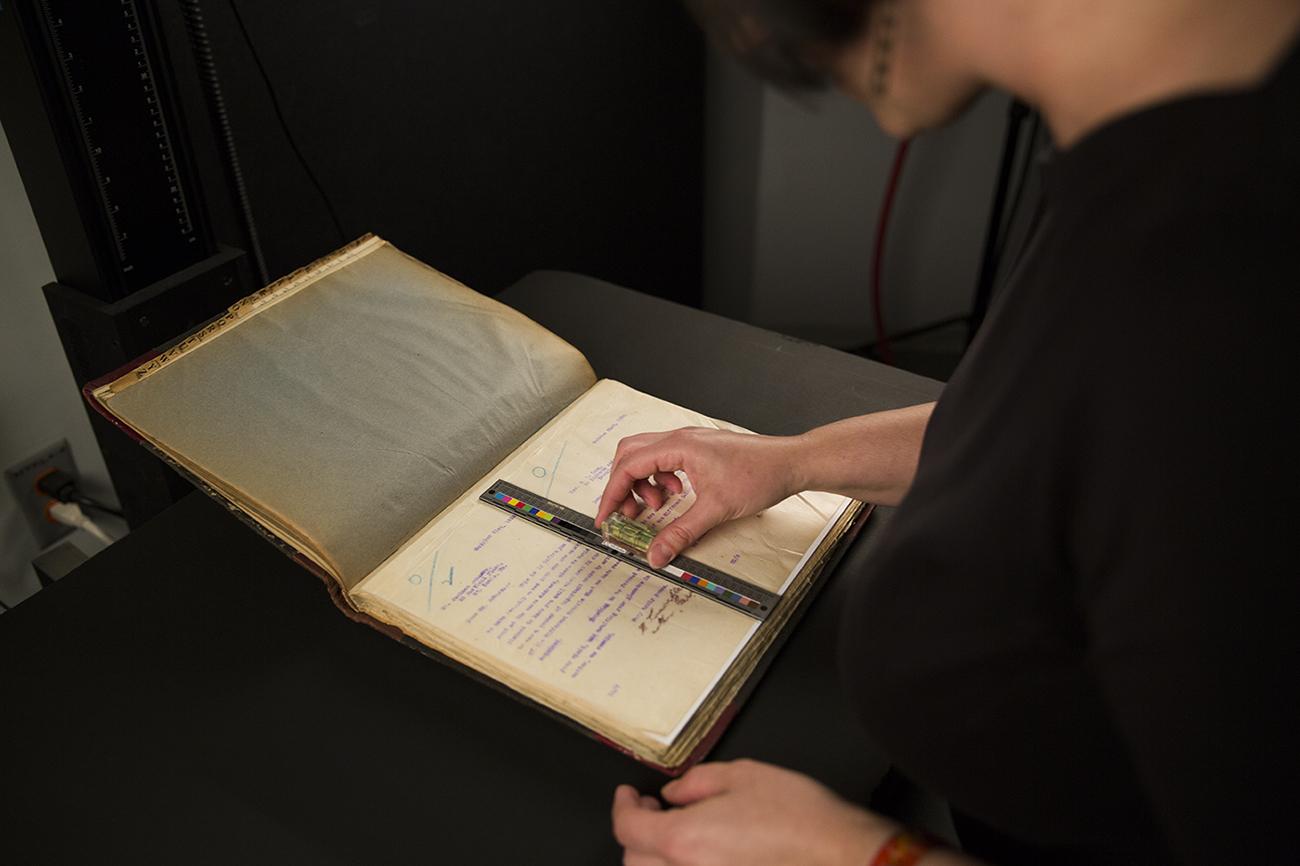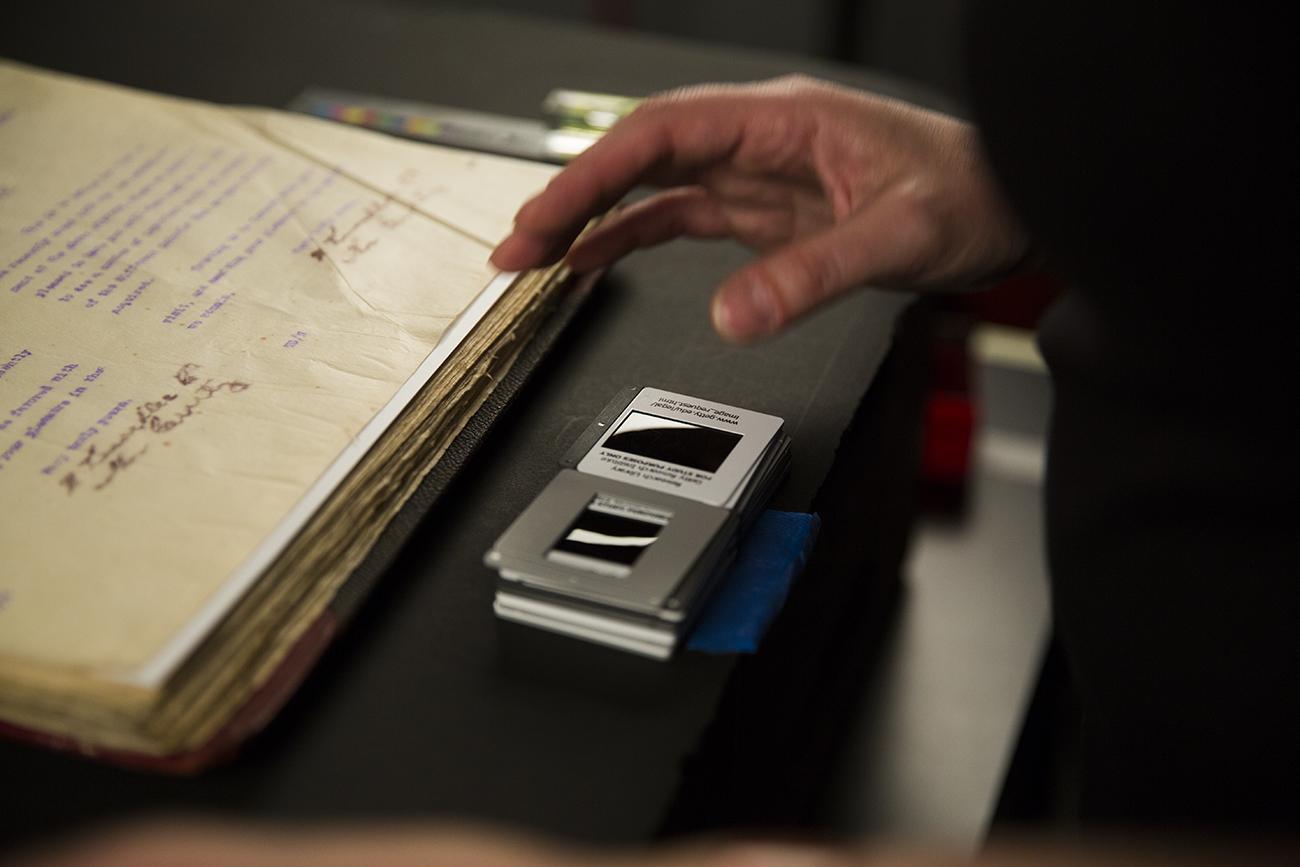 9:25
"This page is a bit warped, so I'm checking to see if everything is flat and level. When I need to adjust height, I use these old slides. They're an outdated technology—I don't even know what's on them—but they do make for the perfect 'making-something-a-tiny-bit-taller' stacking tool."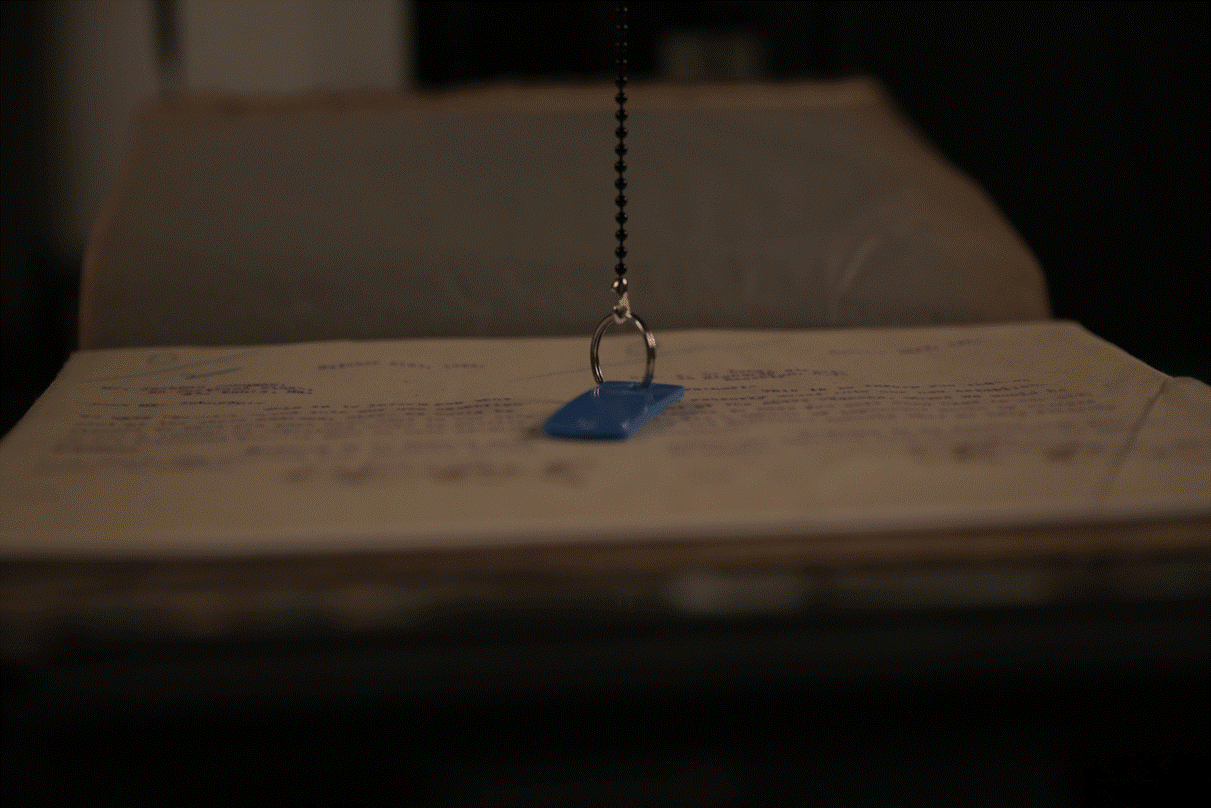 9:28 am
Holly uses a blue tag on a metal string to measure distance from the lens to the paper. This helps her achieve perfect focus.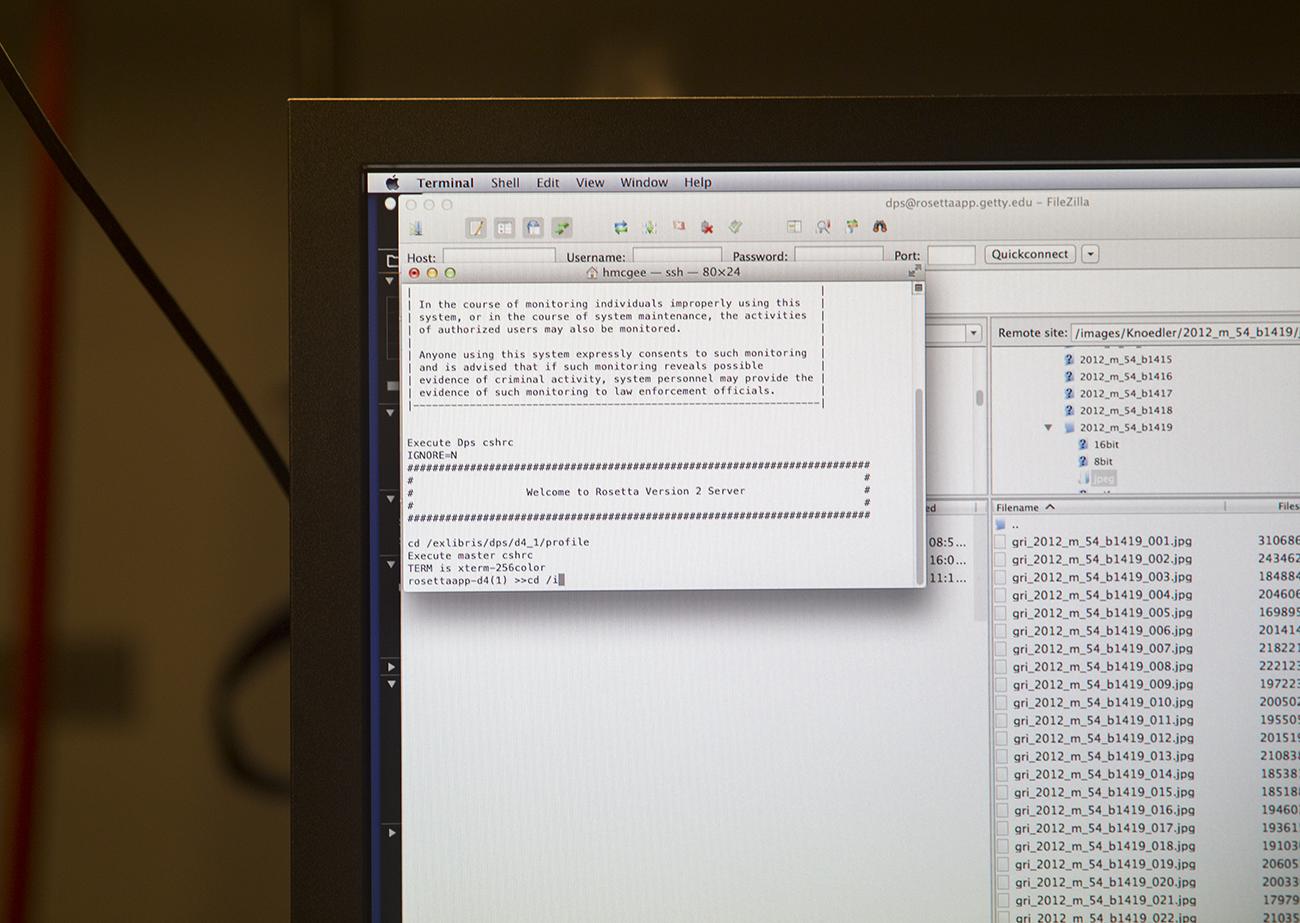 9:50 am
Holly works on preparing an updated shot list. "This is all part of processing. We take the photos, create the shot lists, and throw the images onto the server. Then I talk to the computer. It makes me feel like I'm in Tron. I did take some programming classes in library school, but I never thought I'd be able to do this stuff!
"The language is code line. Basically, the program makes a copy of all the JPGs and uploads them to a new server. Then I use an app called Page Check written by Lawrence Olliffe that allows us to go in and match up the photos with the correct record information. Sometimes we have multiple photographs that go with one page, which can affect labeling.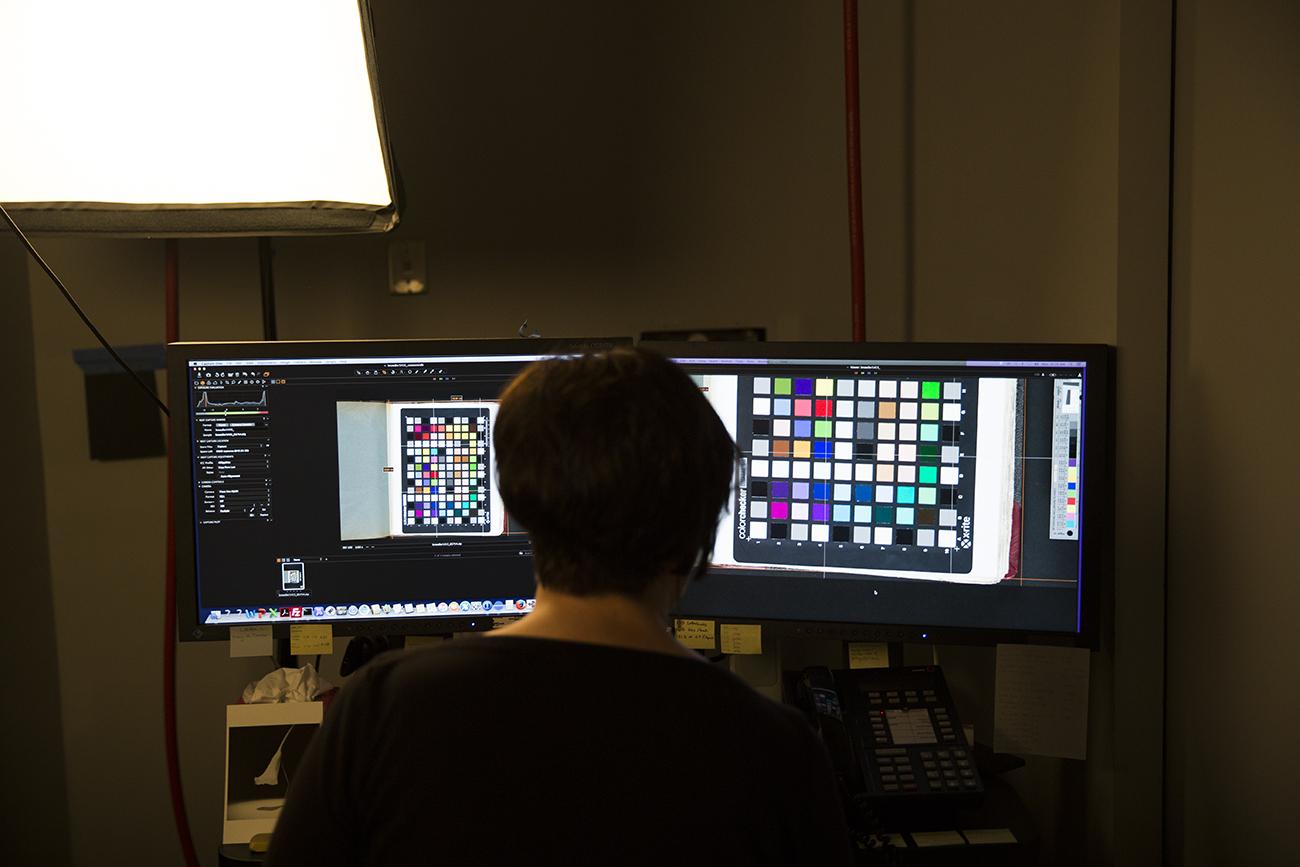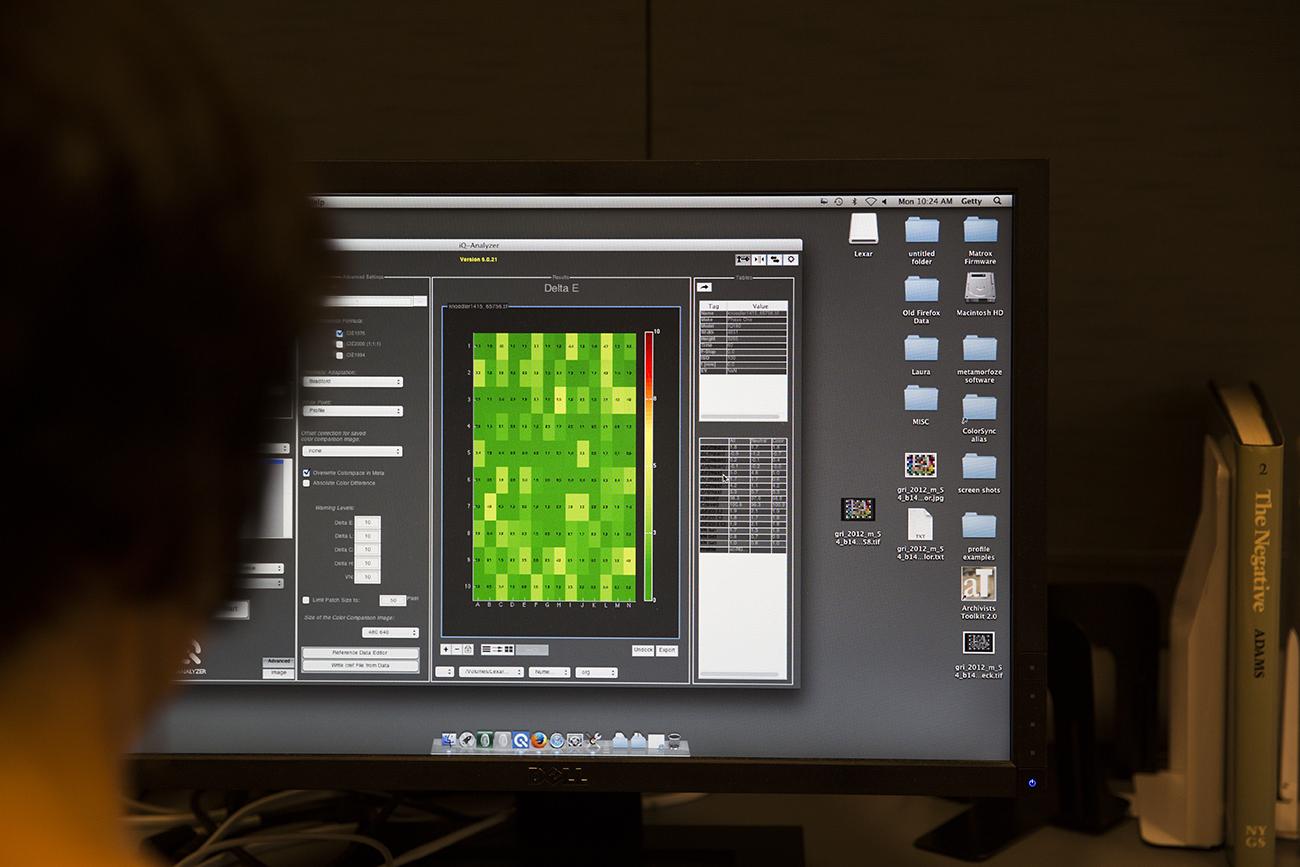 10:05 am
Holly shoots the color card, which helps create accurate white balance. She then puts that image into a program that checks to see if Holly's color-temperature estimation was accurate. All green on the screen means she's good to start shooting.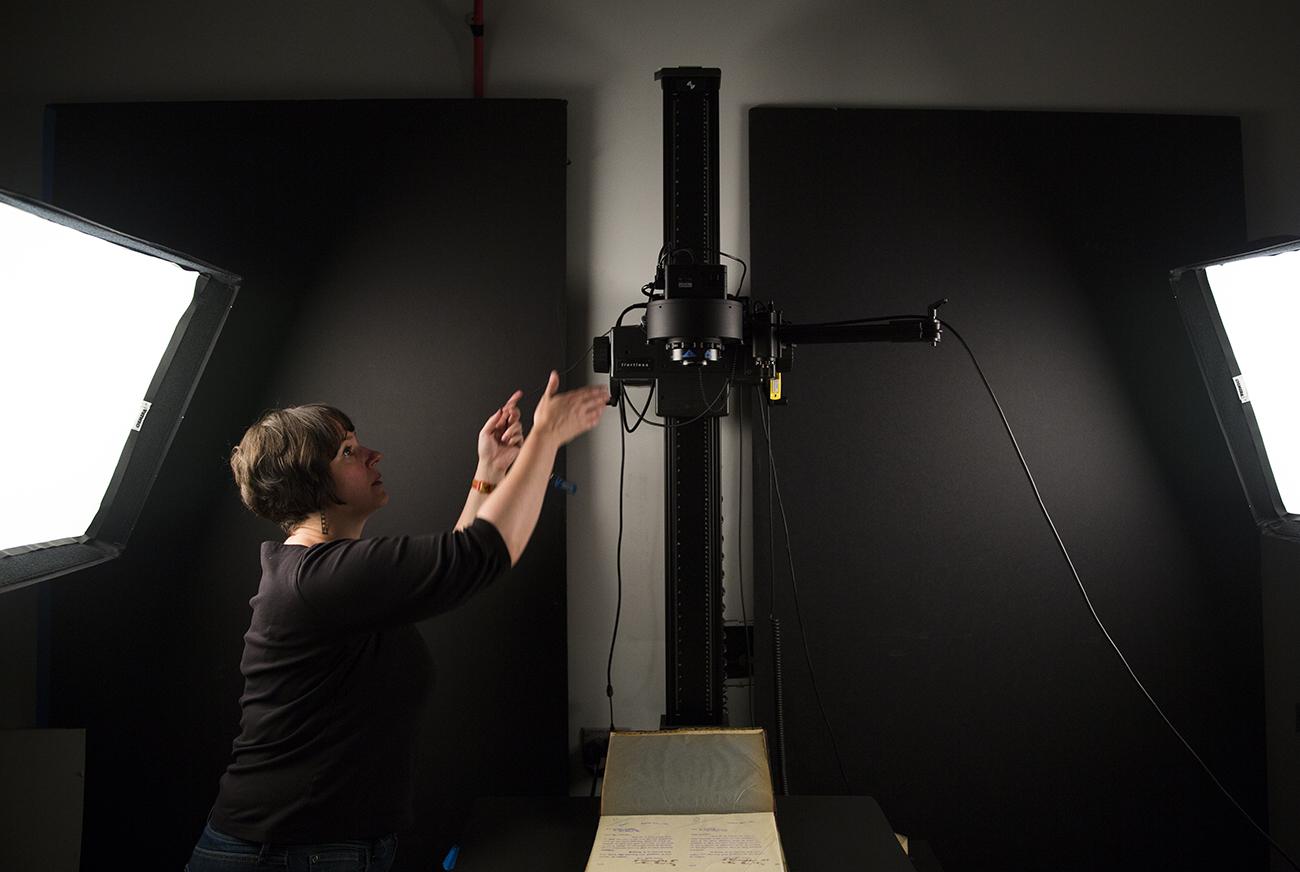 10:12 am
Holly starts shooting, page by page. "I can trigger the shutter in a few ways. I can use the keyboard, or this little device my colleague, John Kiffe, rigged up for me. I used to have a pedal, too, but when you're taking 500 photos a day, it hurts your calf and hip after a while."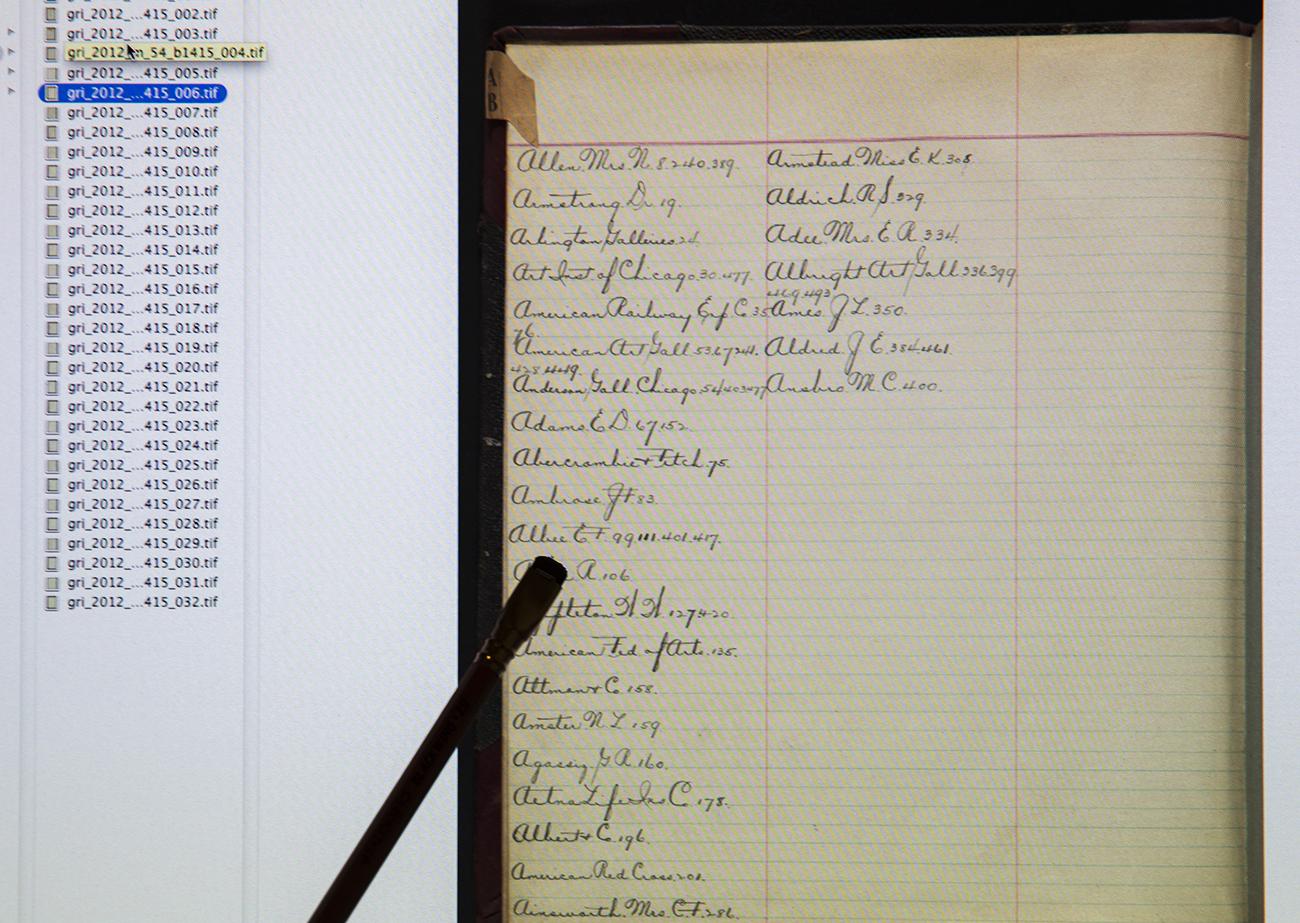 10:30 am
"I like to check the index pages to see if anything interesting comes up. Every piece of correspondence that was sent from the Knoedler office was logged onto these index pages, from Knoedler's ongoing battle with a dry cleaner, to deaths on the Titanic affecting business, to slightly loftier dealings that helped shape the American art scene. On this page you can see Edward Albee's name. He was the grandfather of the famous playwright of the same name and became a customer of Knoedler in the 1920s. He pops up in the stock books from time to time."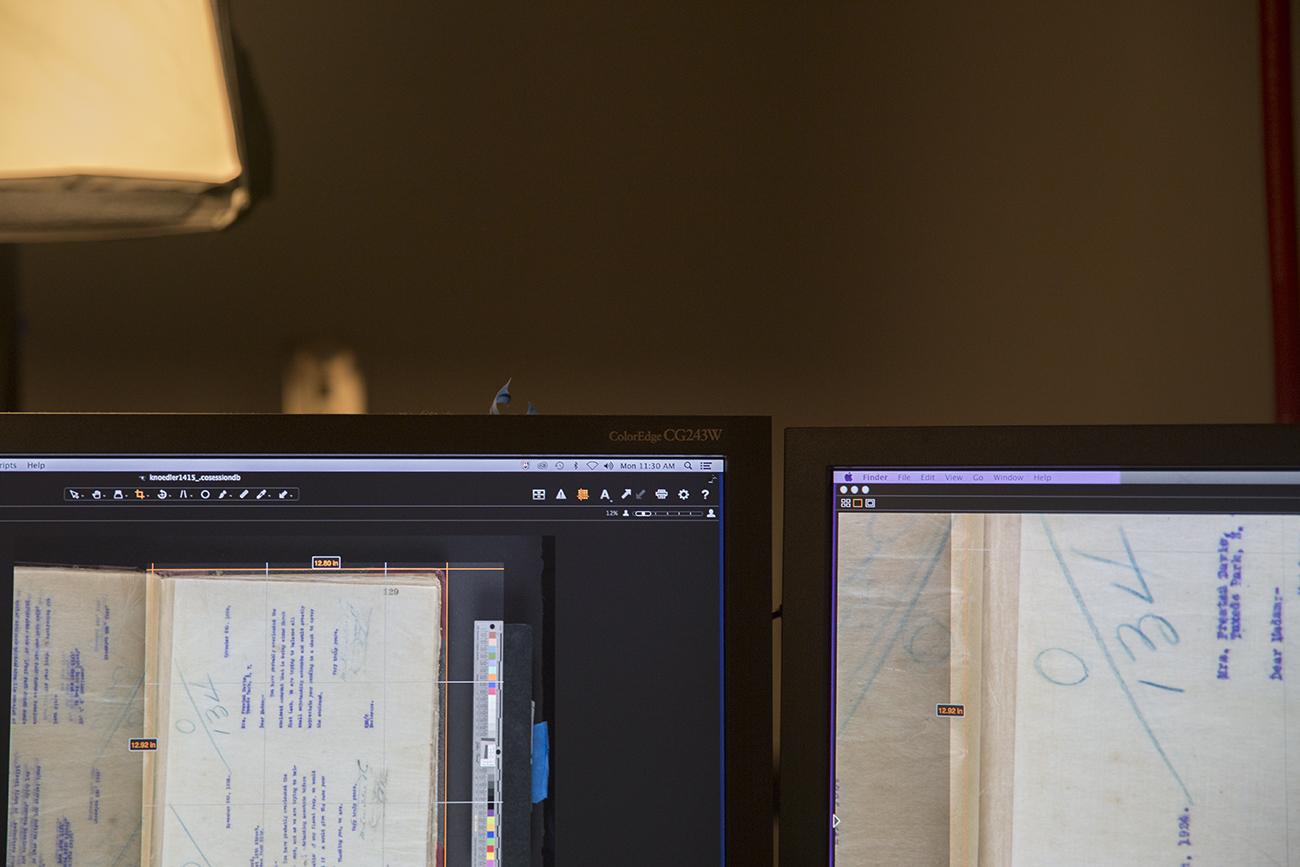 10:40 am
"I like to shoot it in crop; it saves time on the editing front. I really just want to be sure that everything is crisp and in focus. These books are so old and warped that the crop will never be perfectly aligned, so I have to let that go!"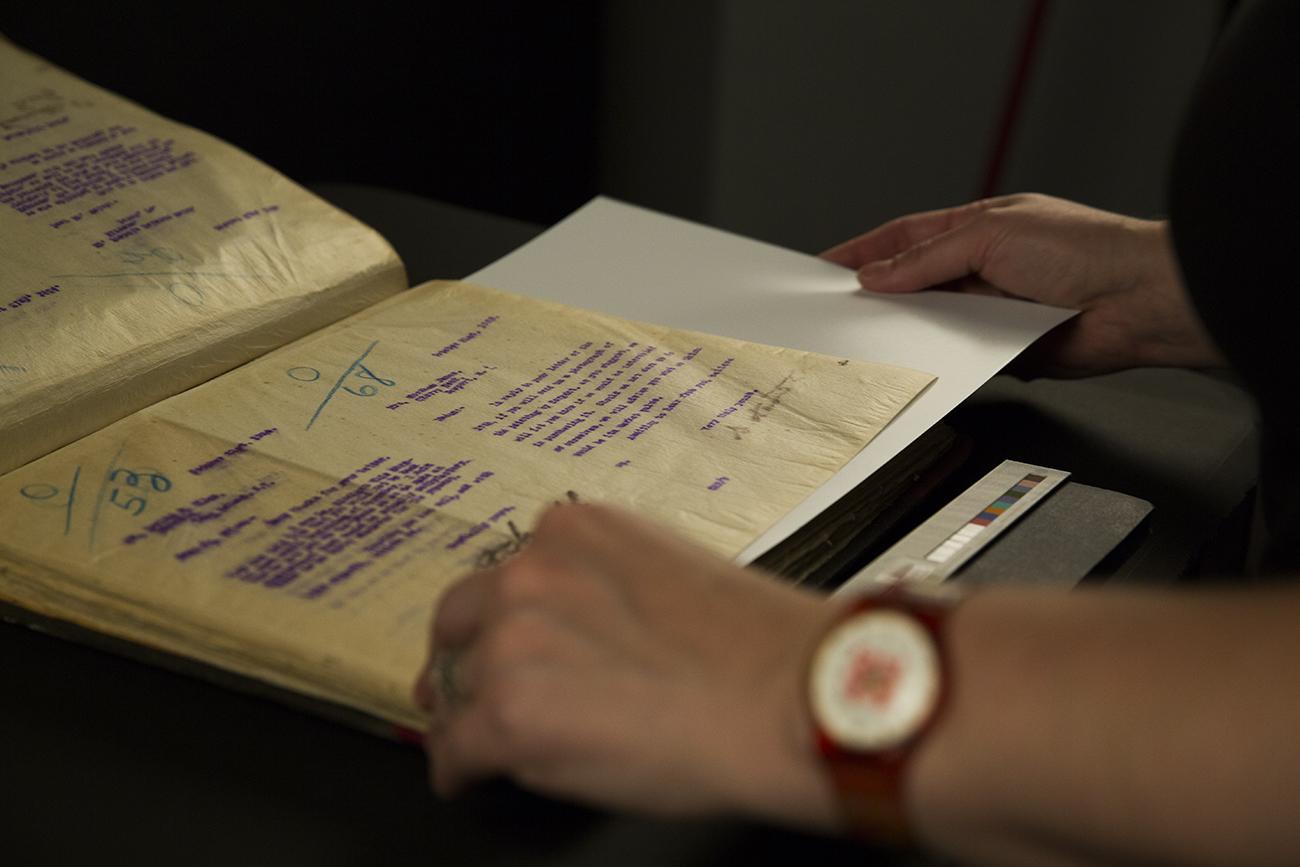 10:45 am
All of these stock books are on onion skin paper. It's really thin, wrinkled, and transparent. I use a piece of white paper behind each page to make the words easier to read. I'm not sure what onion paper is made of precisely, but I know that it's definitely not onions!"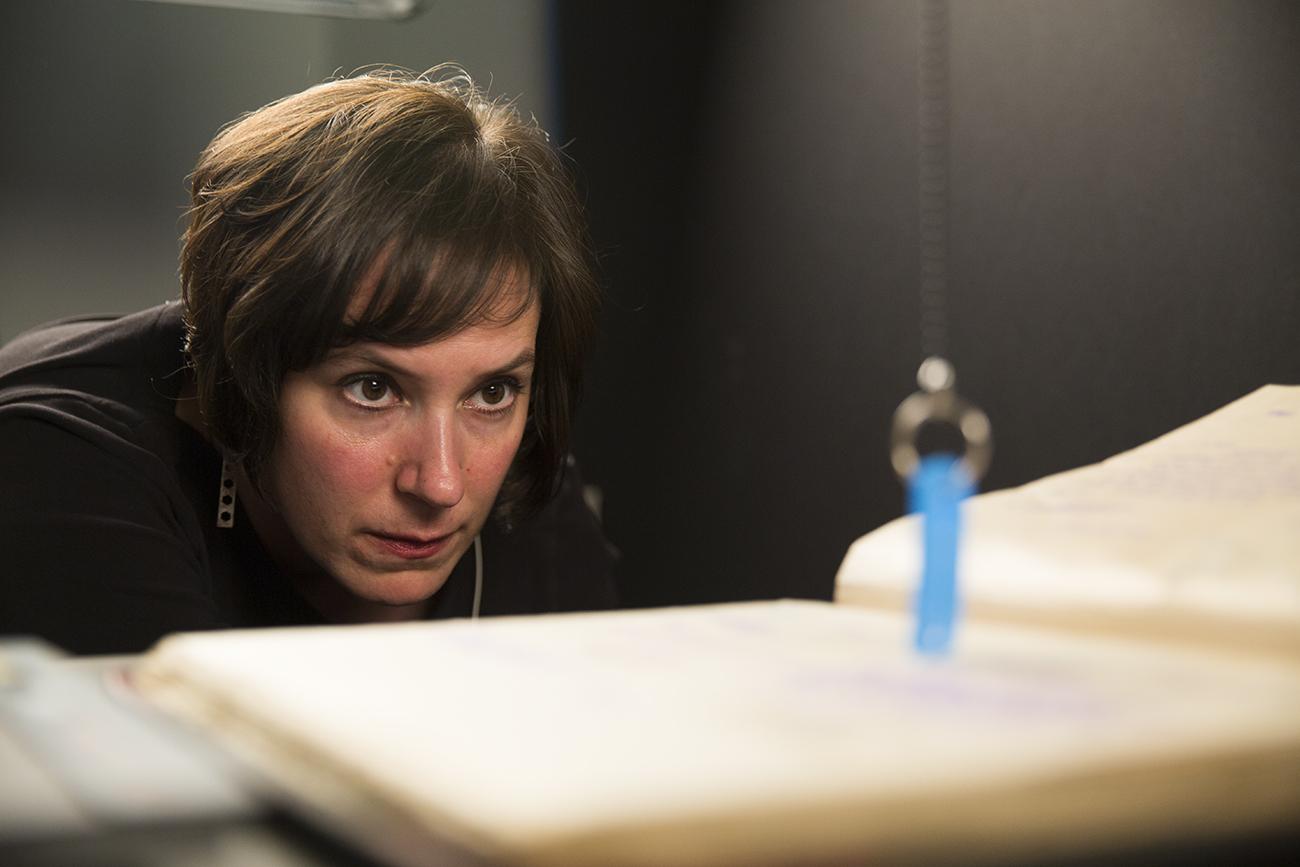 11:00 am
Holly continues to shoot. She's in a rhythm now. Every 75 pages or so, she stops to recheck focus. "Things shift, and I have to keep readjusting focus to make sure the images aren't soft."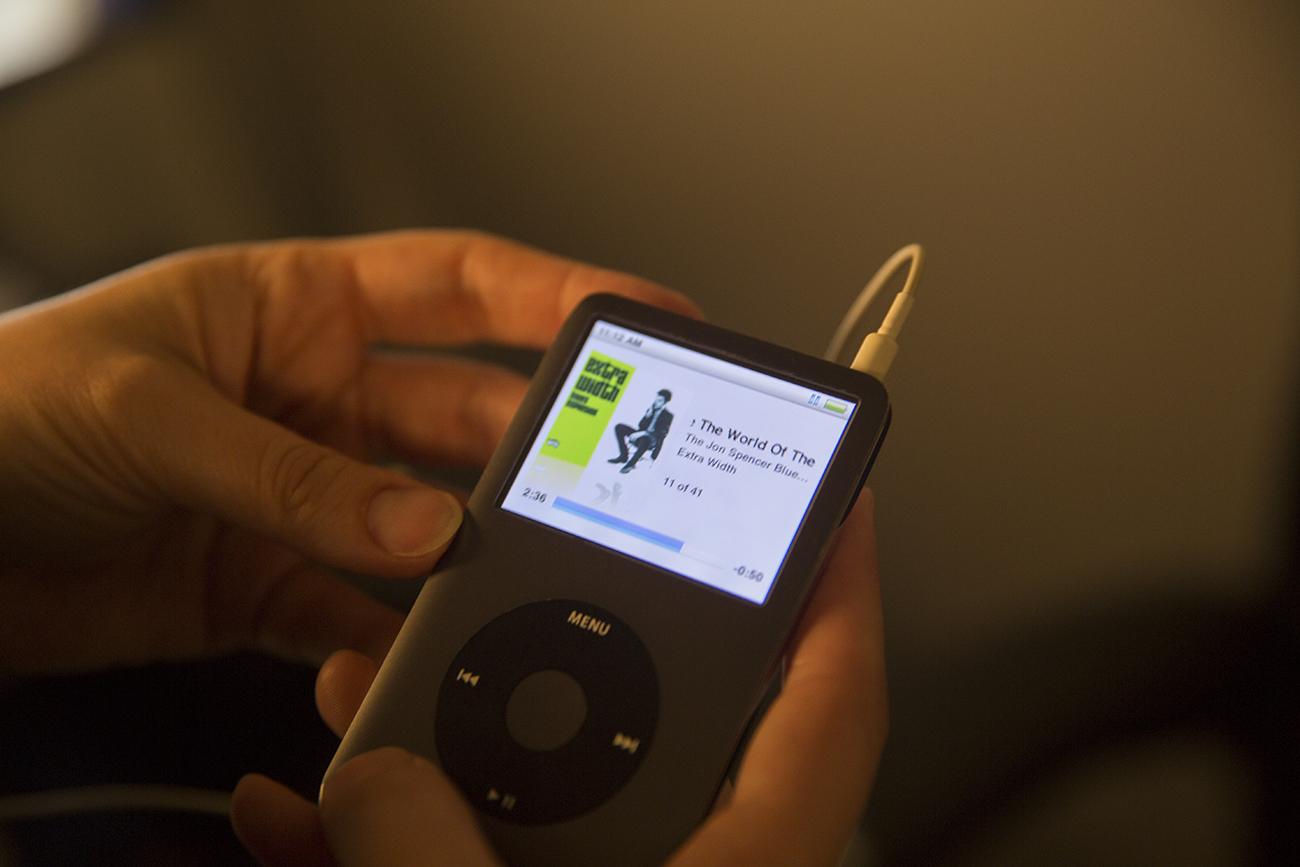 11:14 am
Holly puts in some headphones and connects to her iPod. Currently listening to: Jon Spencer Blues Explosion.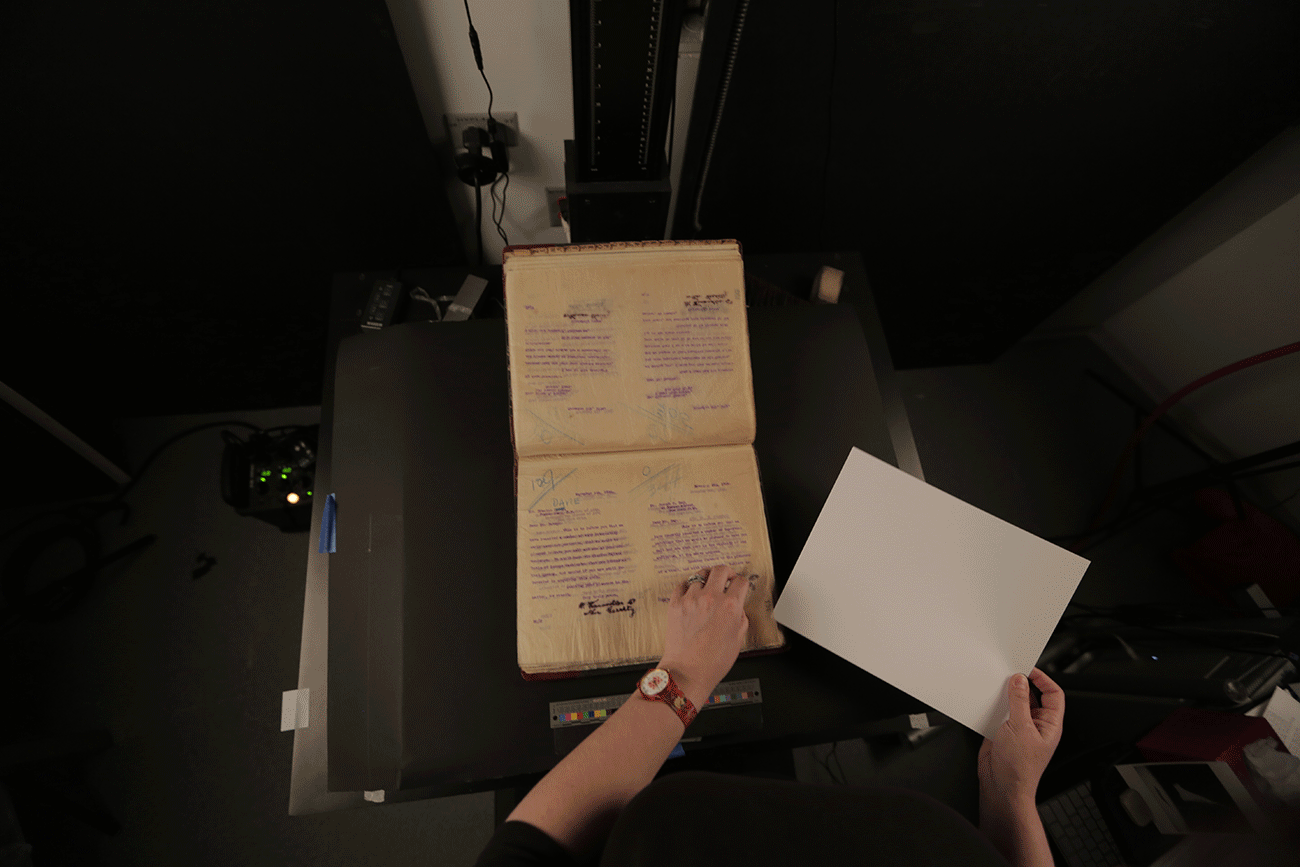 11:20 am
It takes Holly approximately seven seconds to shoot, flip the page, put the white paper beneath the onion paper, smooth it out, and shoot again. Sometimes she pauses to double-check if an image with a folded edge or extra deep crinkle looked okay in Capture One. Sometimes she'll reshoot if she's not happy with it. And occasionally she'll shake out the white paper she uses between the pages.
11:23 am
"Oh, this is cool! Here, I'll use my microspatula. Looks like Albee wanted to know when some paintings were painted, some provenance info. Also, there's correspondence about the American Reflector Company. This is 1924, not everybody has electricity, so sometimes people would have mirrors set up around an artwork to get the best amount of light on it."
"In this letter to Albee, it seems like they are going to hang the pictures for him, get his approval, and then set up the reflectors for optimum light. Do the reflectors stay up forever? How big were they? I want somebody to research that."
Knoedler convinced enormously wealthy, successful industrialists in America that they should put their money into cultural heritage. It's clear from these books that he was going after the richest clients possible and was really trying to show them that the best use of their excess money was investing in art. I'm not sure who then suggested to these people that they should open museums, but we got the National Gallery of Art and the Frick, which came from these personal collections, and they started because of Knoedler."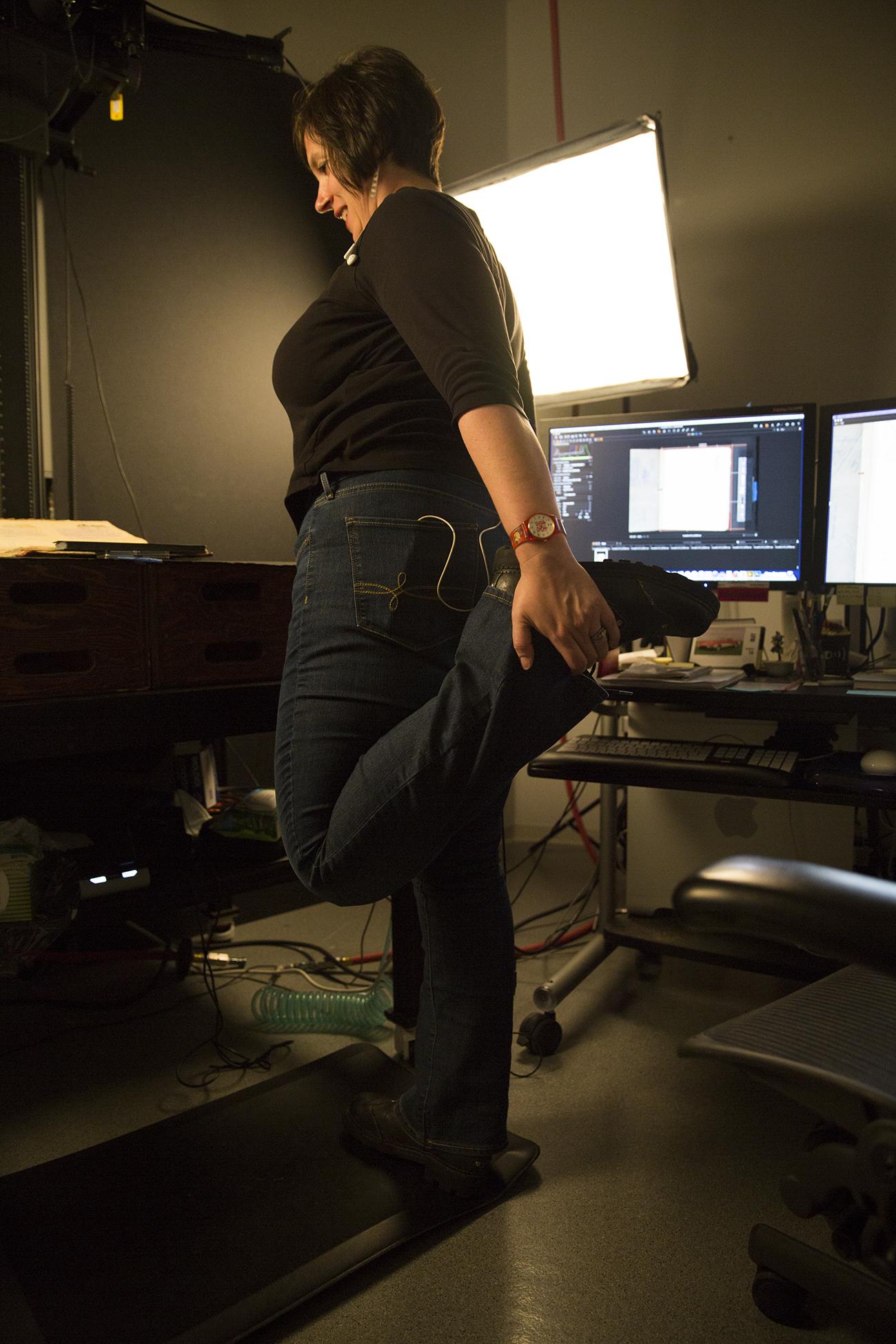 11:37 am
Holly takes a break and does some stretching. "When you're standing so long and focusing on this task, sometimes you forget to even breathe."
11:46 am
"Half of this page is faded away. We're not doing any Photoshop enhancement on any of these; it's shot to be as if you're in the reading room looking at the book with your own eyes."
12:00 pm
Lunch break. Holly meets up with the Getty's resident knitting club.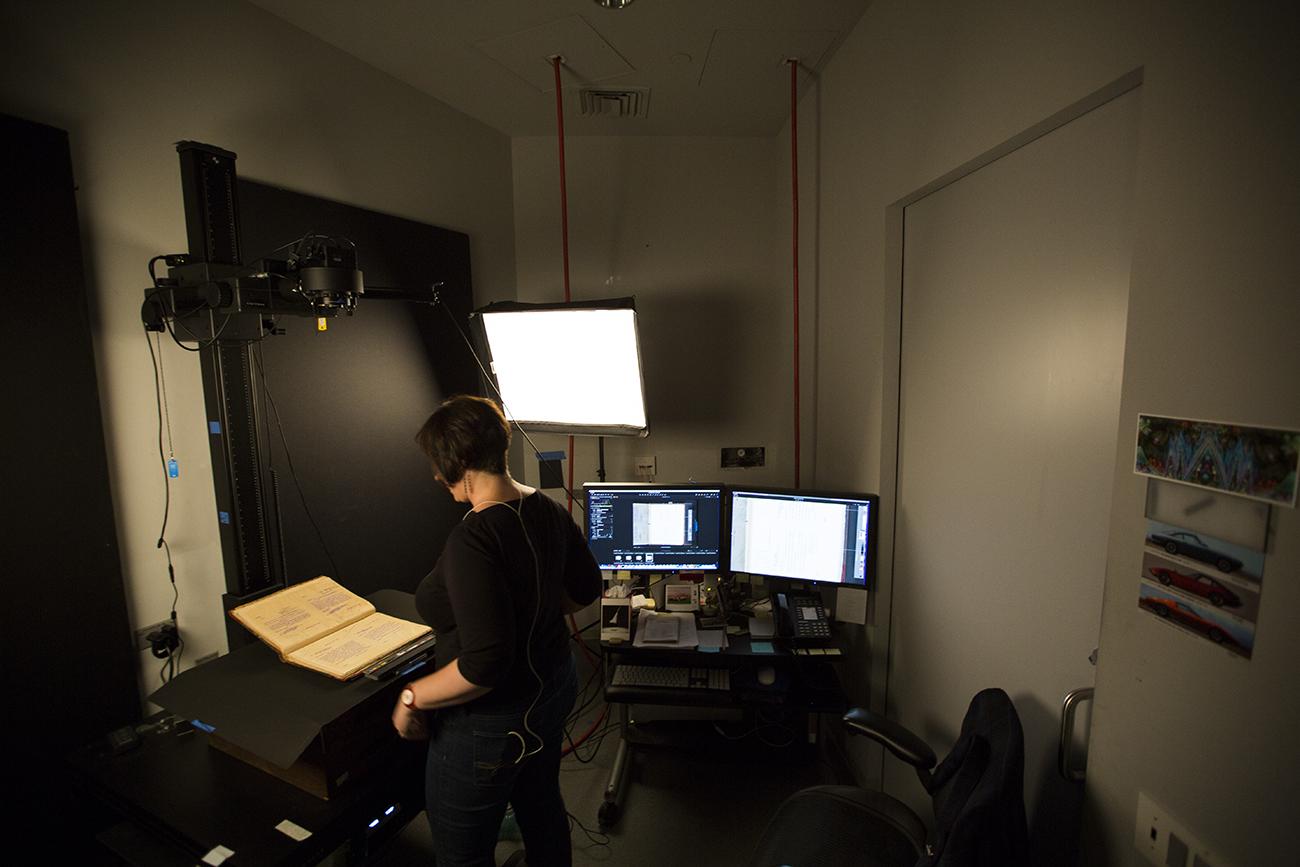 1:00 pm
Holly's back in her office with freshly washed hands. "I don't wear nail polish, and we don't wear lotion or creams when we're shooting. I still wear my wedding ring, but I wash my hands and dry them constantly. I probably wash them seven or eight times a day. That's the most important—is keeping clean, dry hands."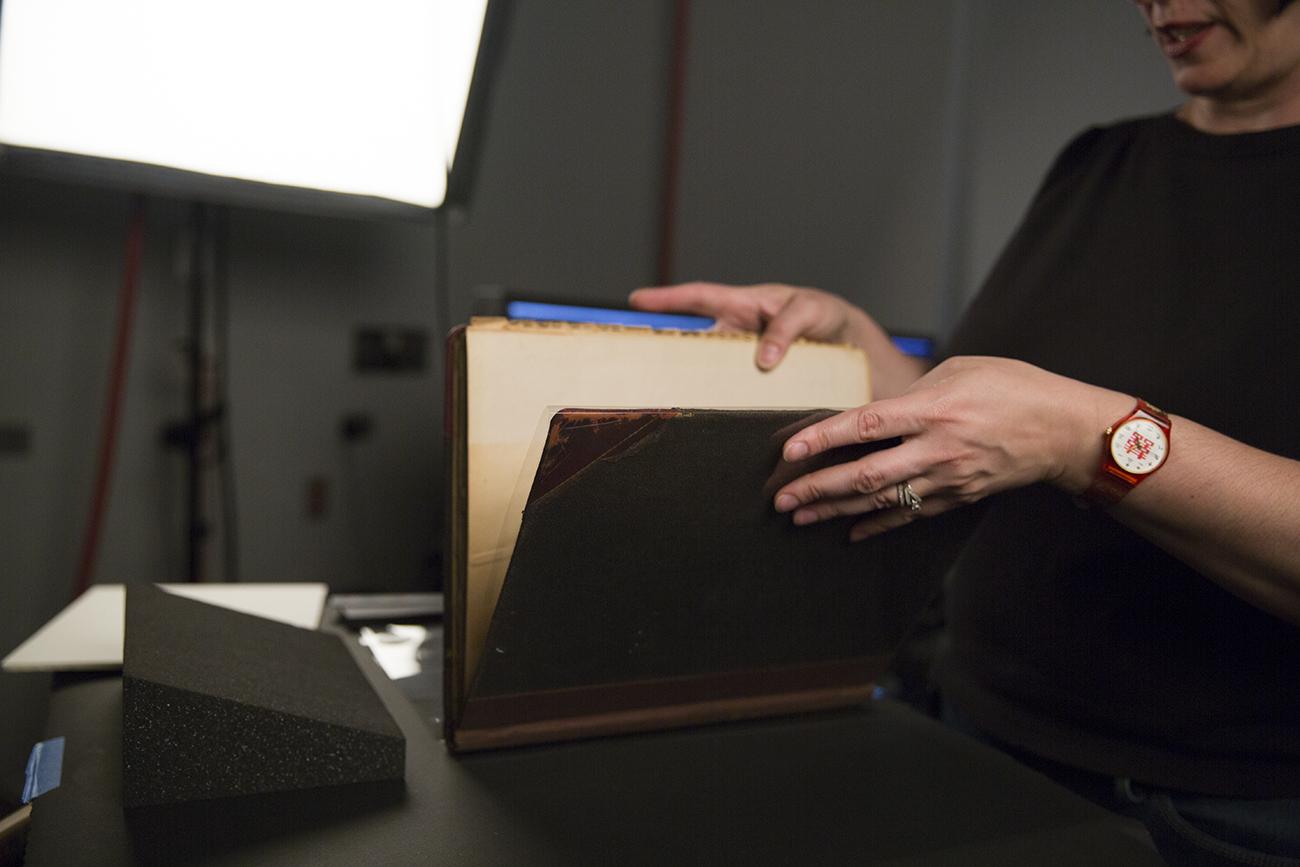 1:25 pm
How long does it take to digitize a book? Usually it's a three-day turnaround. But for today, Holly is at a stopping point with photography. She puts the book back in its Mylar cover, which was hand-built by the Research Institute's conservation team.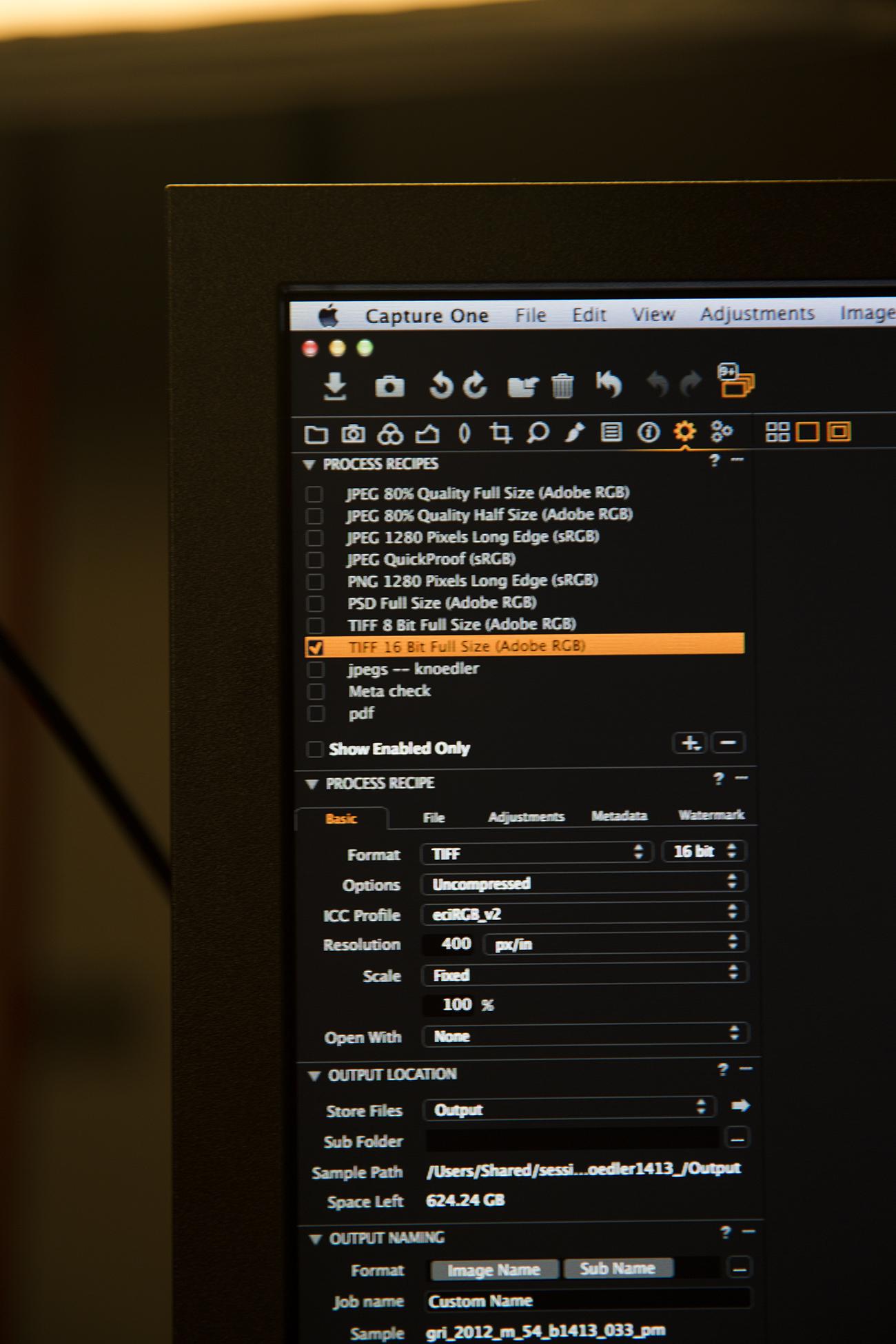 1:30 pm
Now comes an exercise in patience. "We export four sets with different recipes for format, size, and compression, and this can take hours. We create a preservation master (PM) that includes the color target in frame; that's what we keep in the system in case we need the original again. The modified master (MM) is a TIFF with the color target cropped out. The JPEG has the same cropping as the MM, but is more compressed. And lastly, we export the images as TIFs. JPEGs and PDFs made from the TIFs are available for researchers to download online.
1:45pm
While the photographs export, Holly turns her attention to the stock cards that were sent out to be transcribed. There were over 86,000 stock cards in the Knoedler archive, in all kinds of styles. Some are filed by artist name and some by customer. This section—the most robust chunk—is filed by stock number. "The goal for this project is ultimately to have all the cards available online. We're just not sure how yet."
"We want to be sure people can search for an artist or a date or a stock number and get access to the cards. I have to manually adjust metadata at times to help with searchability."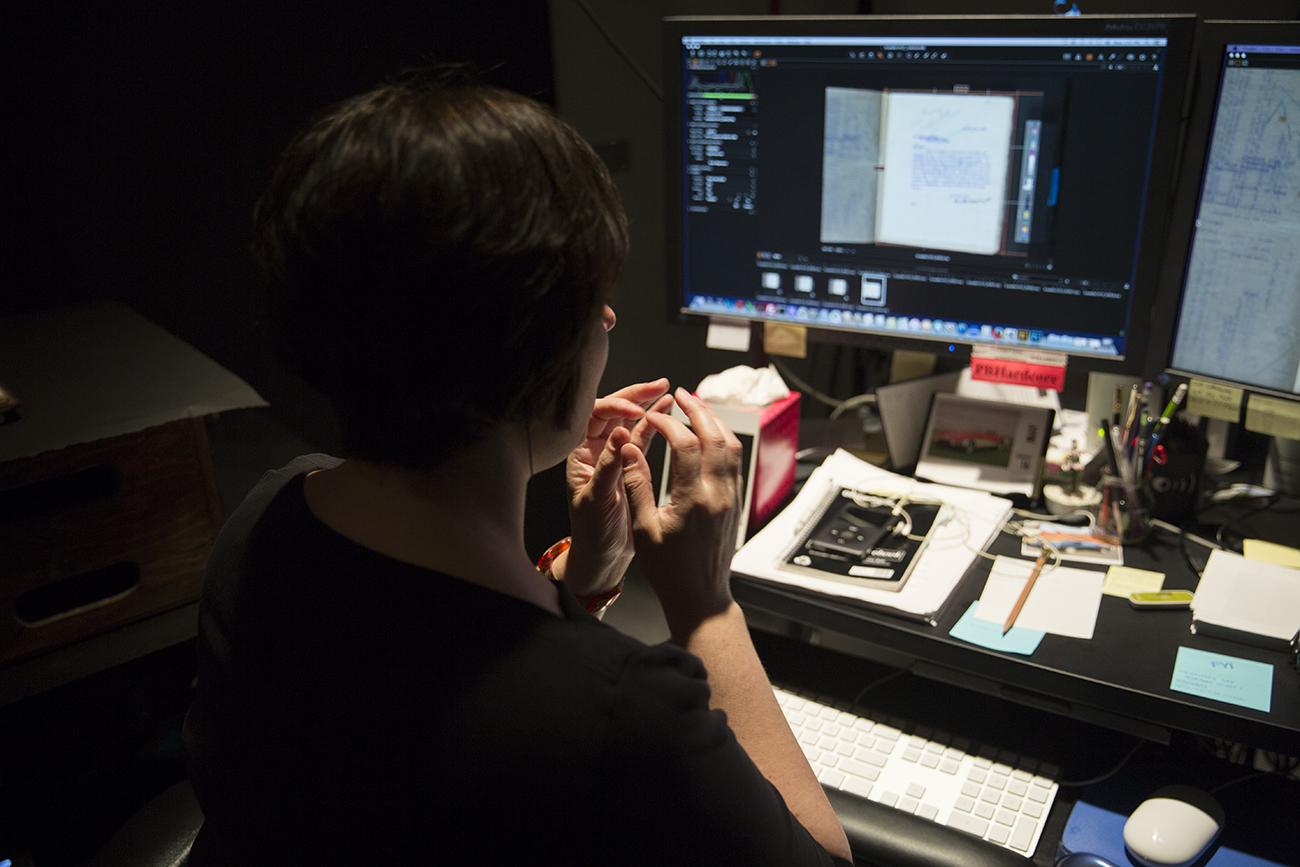 2:15 pm
"We don't delete anything until we get an email days later from our preservation system, and then we delete our local files. Each book is about 121 GB or .11 TB per "deposit," so we have to keep the servers clear and efficient. We have to trust the system, I guess!"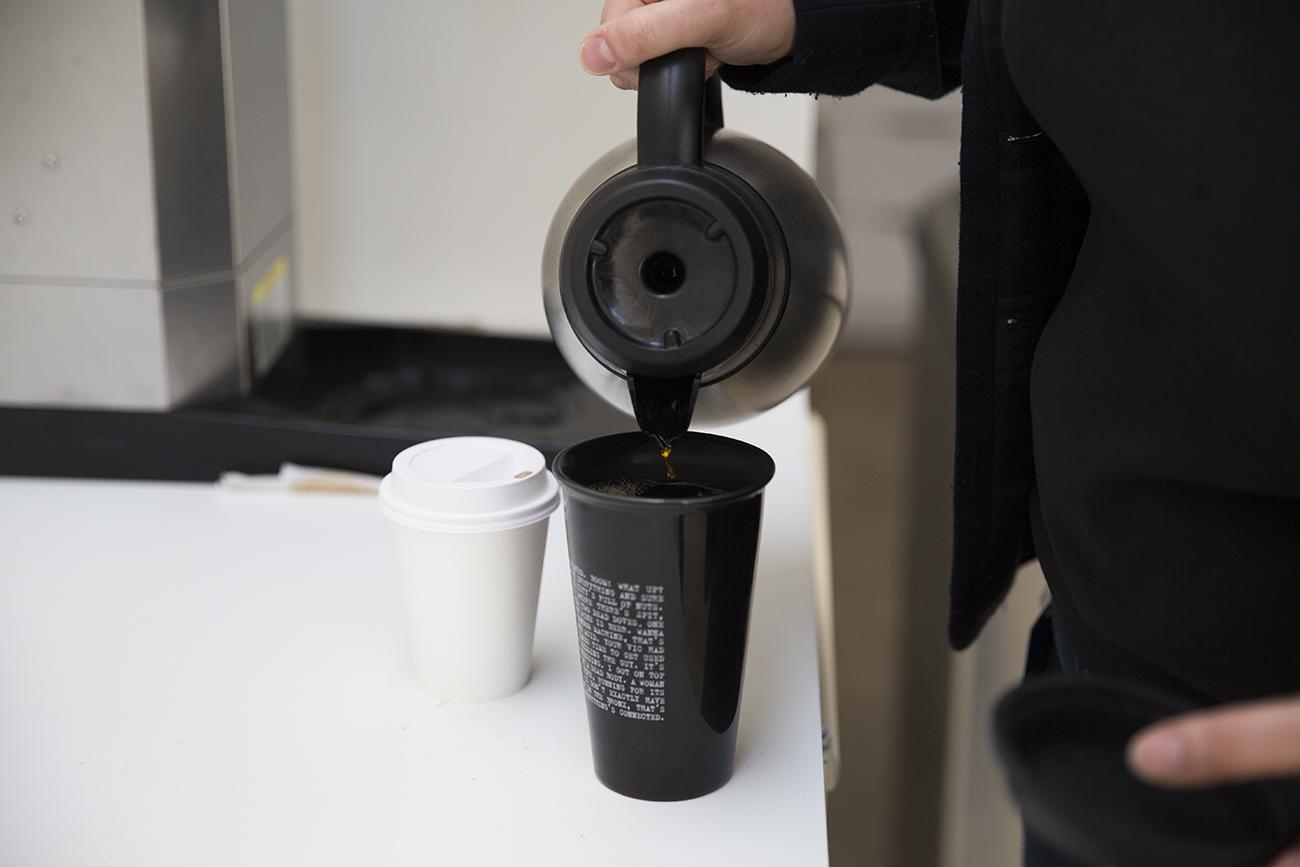 3:00 pm
Holly exports another batch. A perfect time for a coffee break. "We have to leave the photography studio to drink, even water, because we can't have food or drink anywhere near the materials."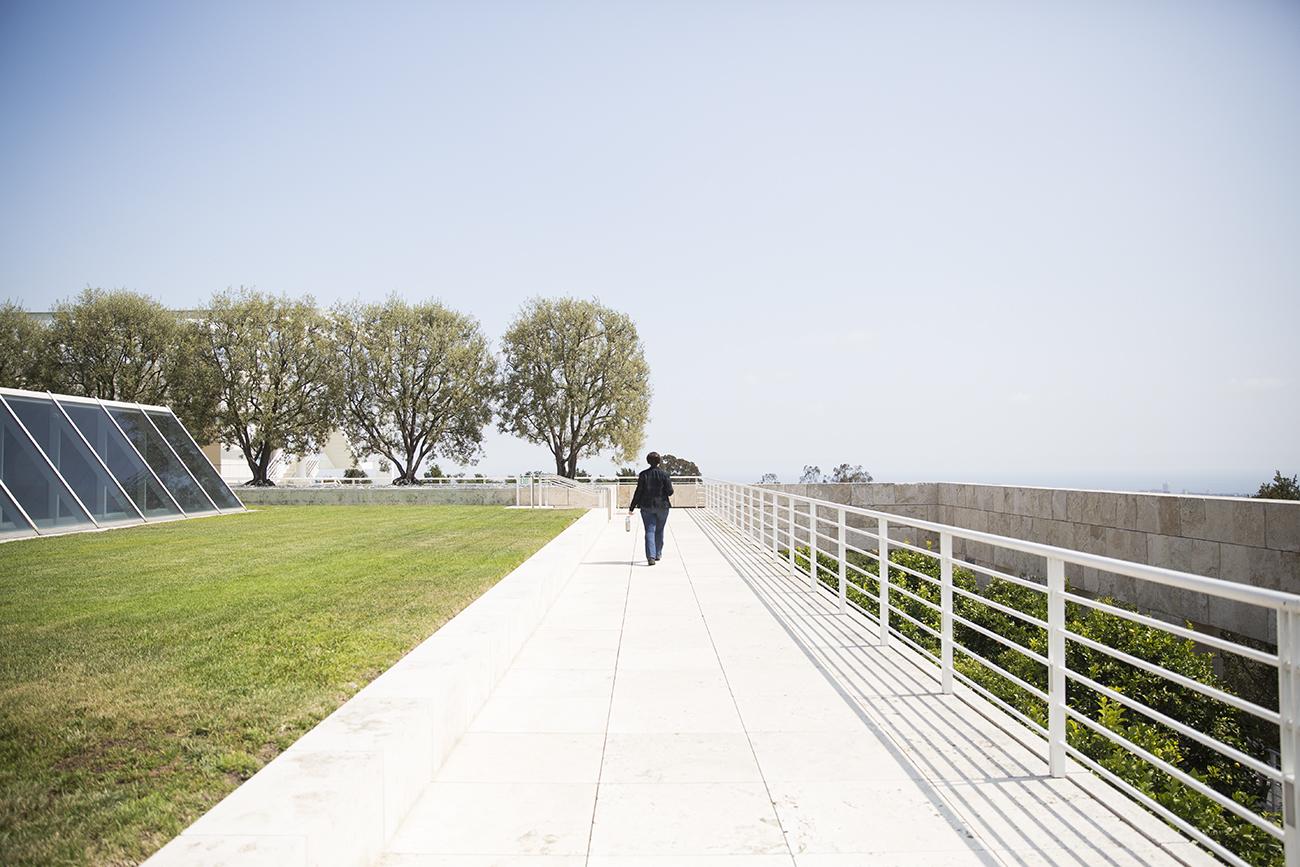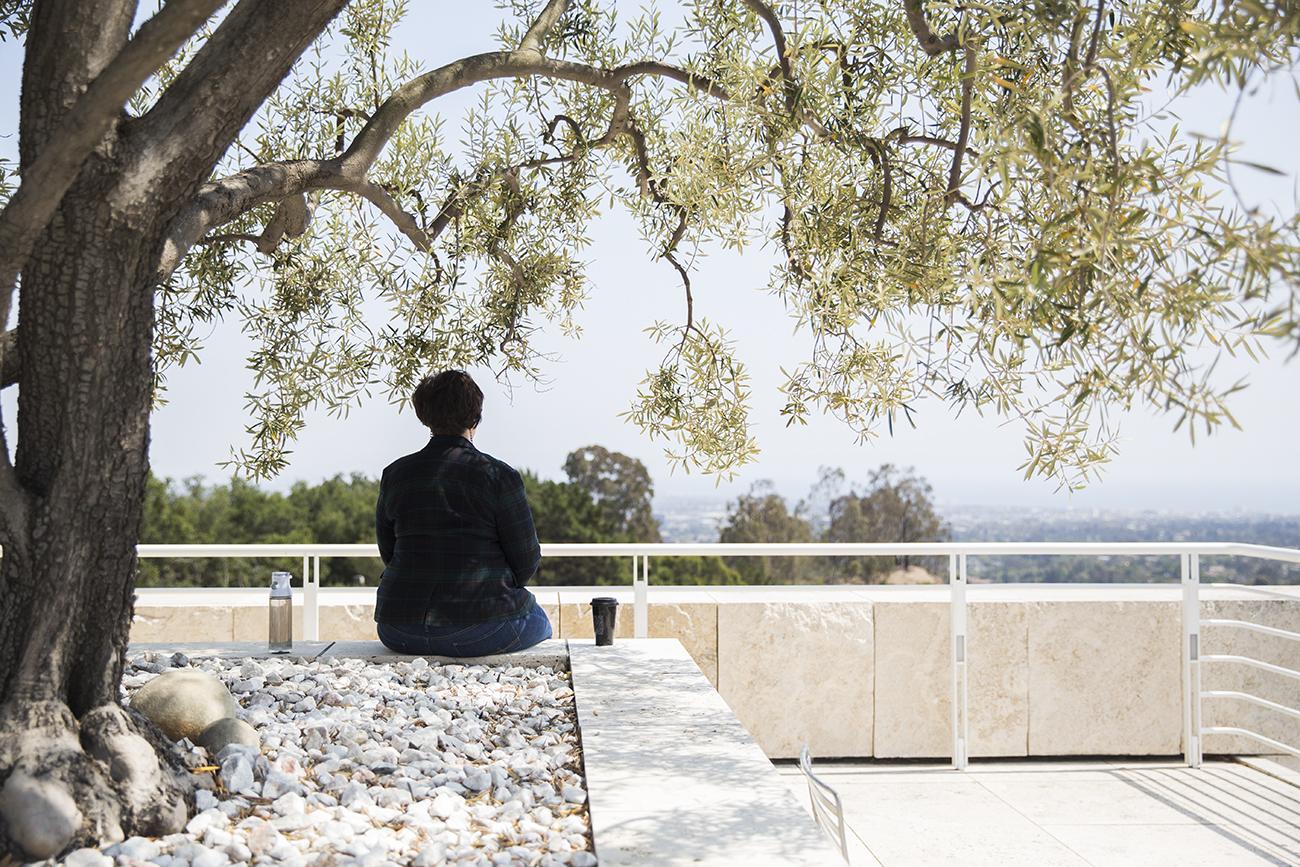 3:15 pm
"I love coming out here to just rest and stretch my eyes. It's bad on the eyes to stare at a computer screen for most of the day. On some days it's windy, and on a clear day you can see waves out on the ocean."
"I have been reading about Scott Kelly who came back from the International Space Station. He was the person who spent the longest time in space. The thing he missed most? The feeling of air moving, of wind. I feel like that sometimes when I'm down in my dark office shooting too long."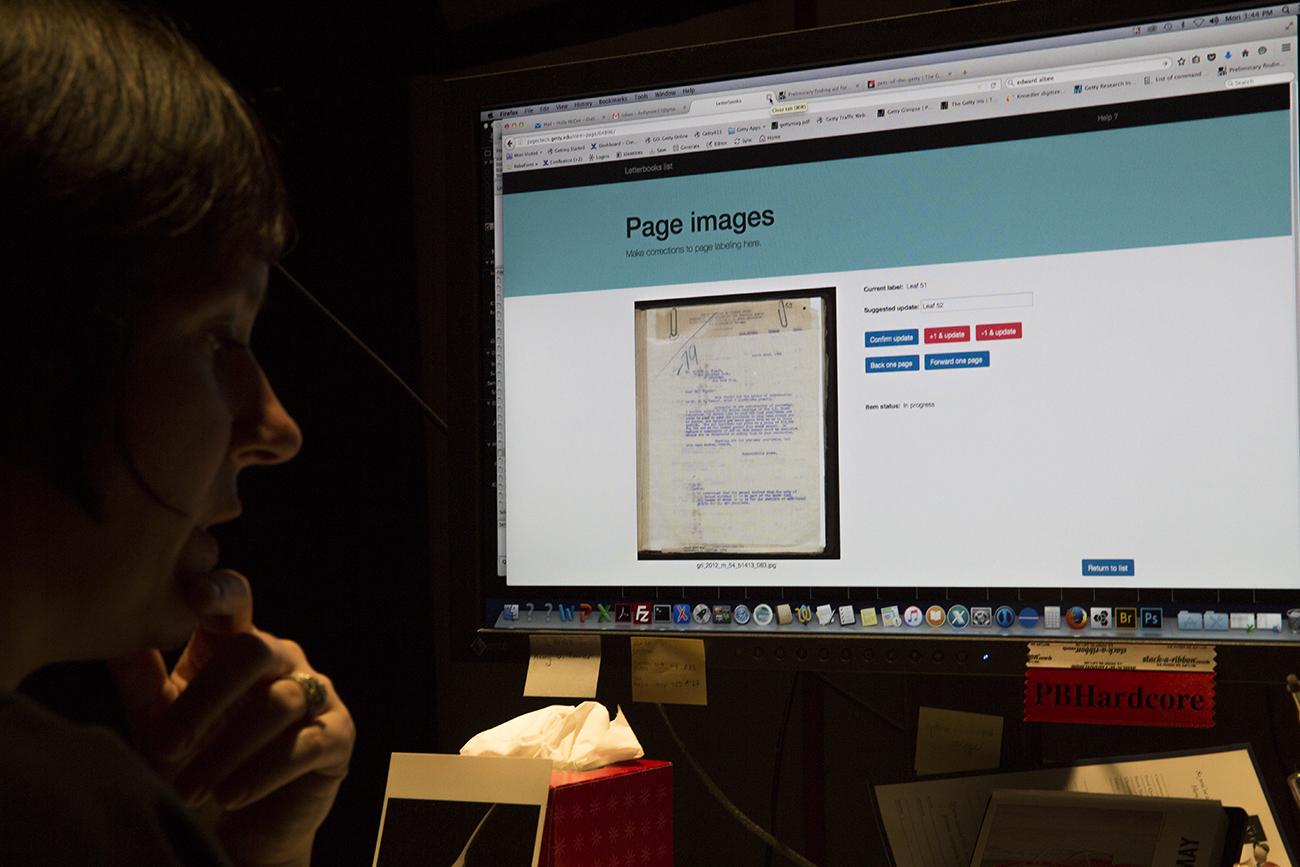 3:30 pm
Back from break—just in time, as the latest round of exports from CaptureOne has 30 seconds left. Holly goes through the photos to double-check the quality.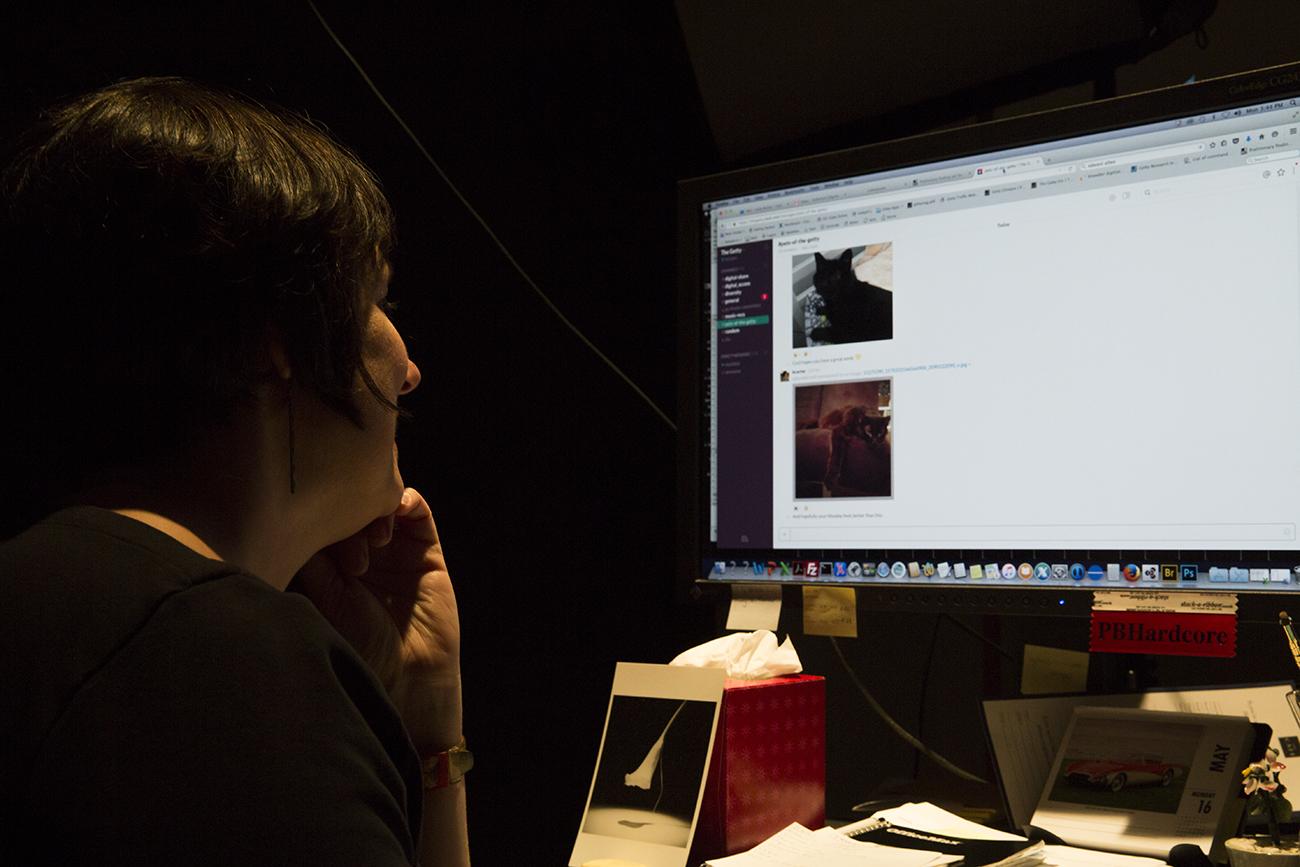 3:34 pm
She stumbles across an image, pauses for a while. Zooms in, zooms out. "Shoot, I want to reshoot this. I don't like this decision I made."
Holly was shooting a book with a loose leaf, but she worries researchers will be confused by the loose paper on top of the image. She'll need to reshoot the pages later this week. "I need to look at cats! *Switches over to Slack channel* "Okay, I will reshoot this. It's the responsible thing to do."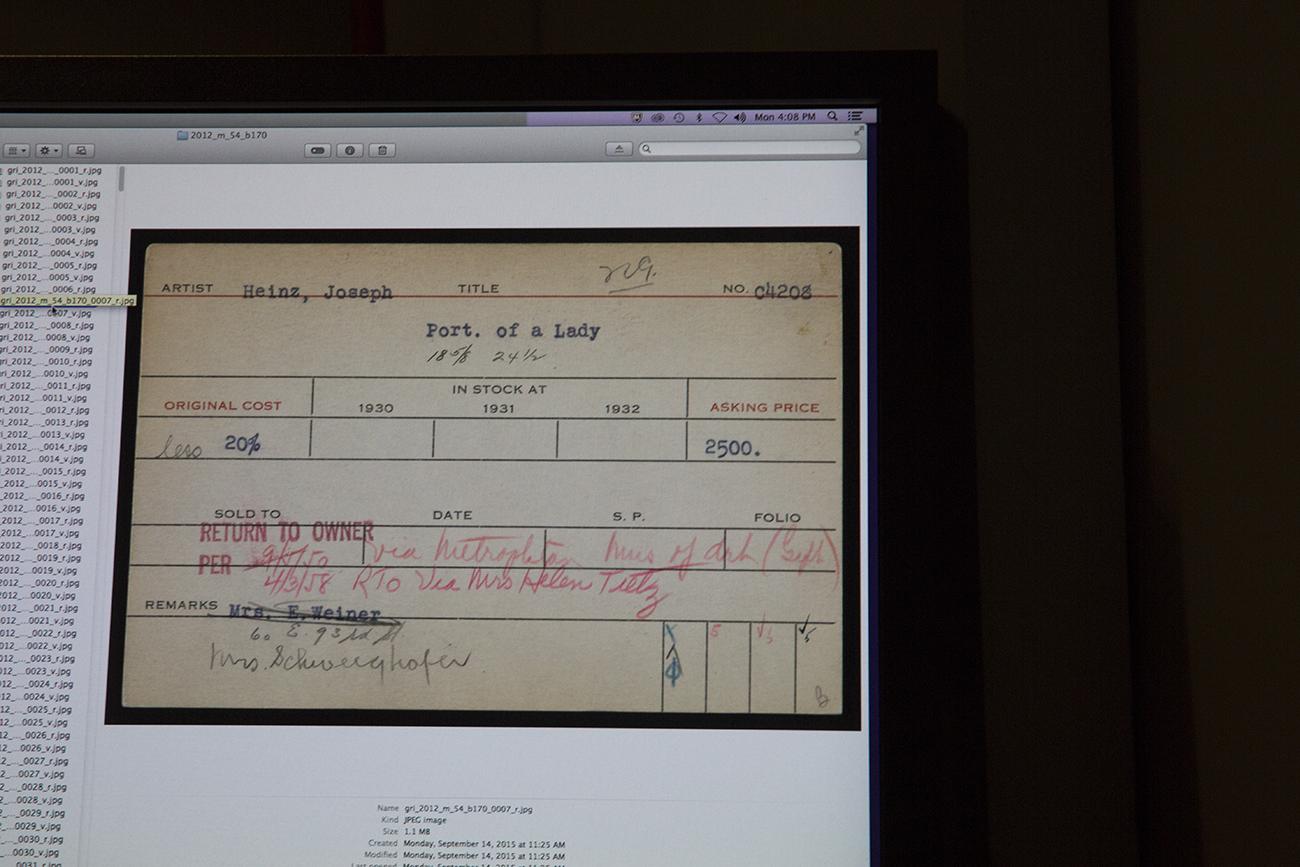 4:05 pm
Holly is meticulously checking the transcription efforts of the contractors. She gently taps her finger on her lip and scrolls down the massive Excel spreadsheet to reveal more stock cards. "I try to decipher anything that the transcription service notes as illegible. I like this part; I'm kind of like a detective." Every few minutes Holly pauses, looks over at the stock card, laughs, and mutters under her breath, "Yeah, totally illegible."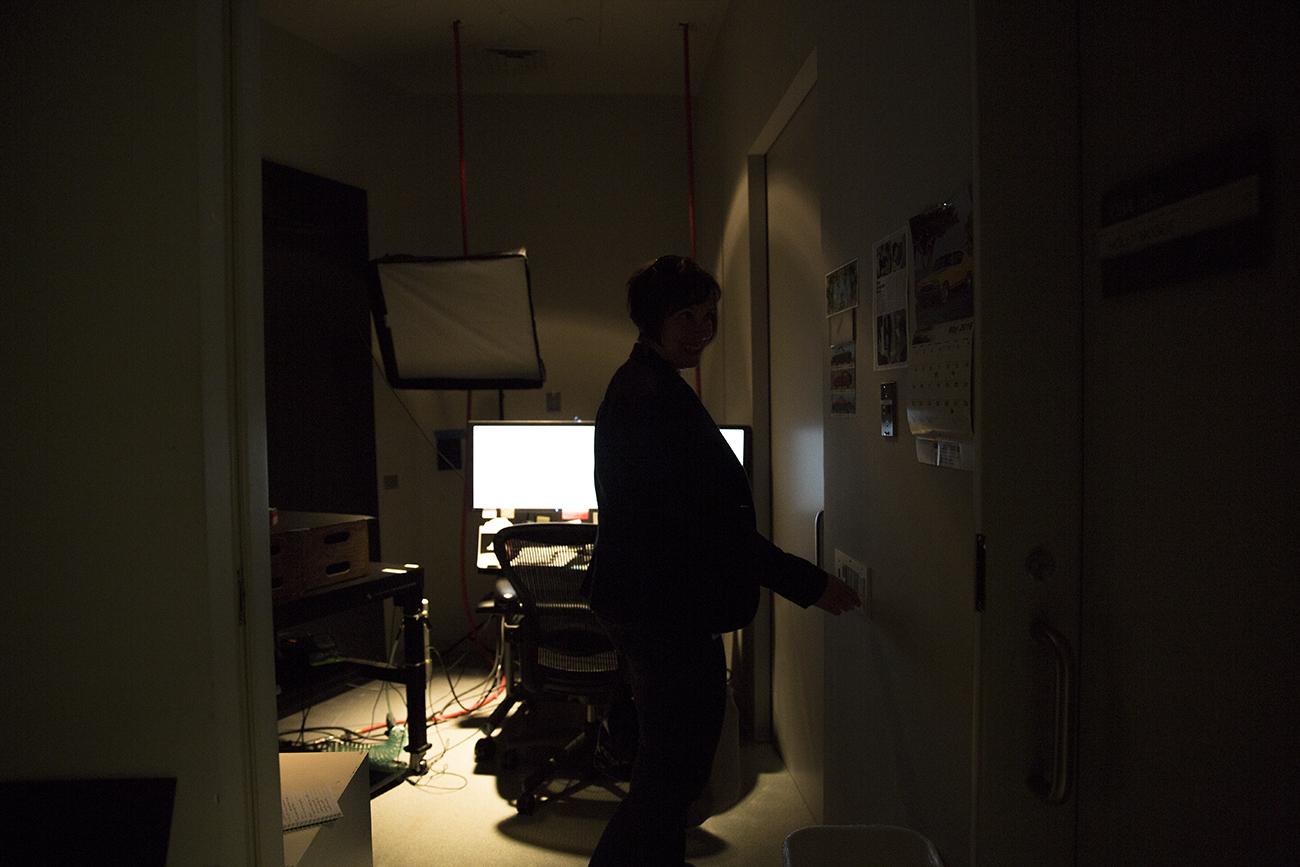 4:45 pm
Holly clears any last emails in her inbox, and now it's back to zero. (And she claims she's not an inbox-zero person.)
She leaves herself a note for tomorrow, checks Google maps, and packs up.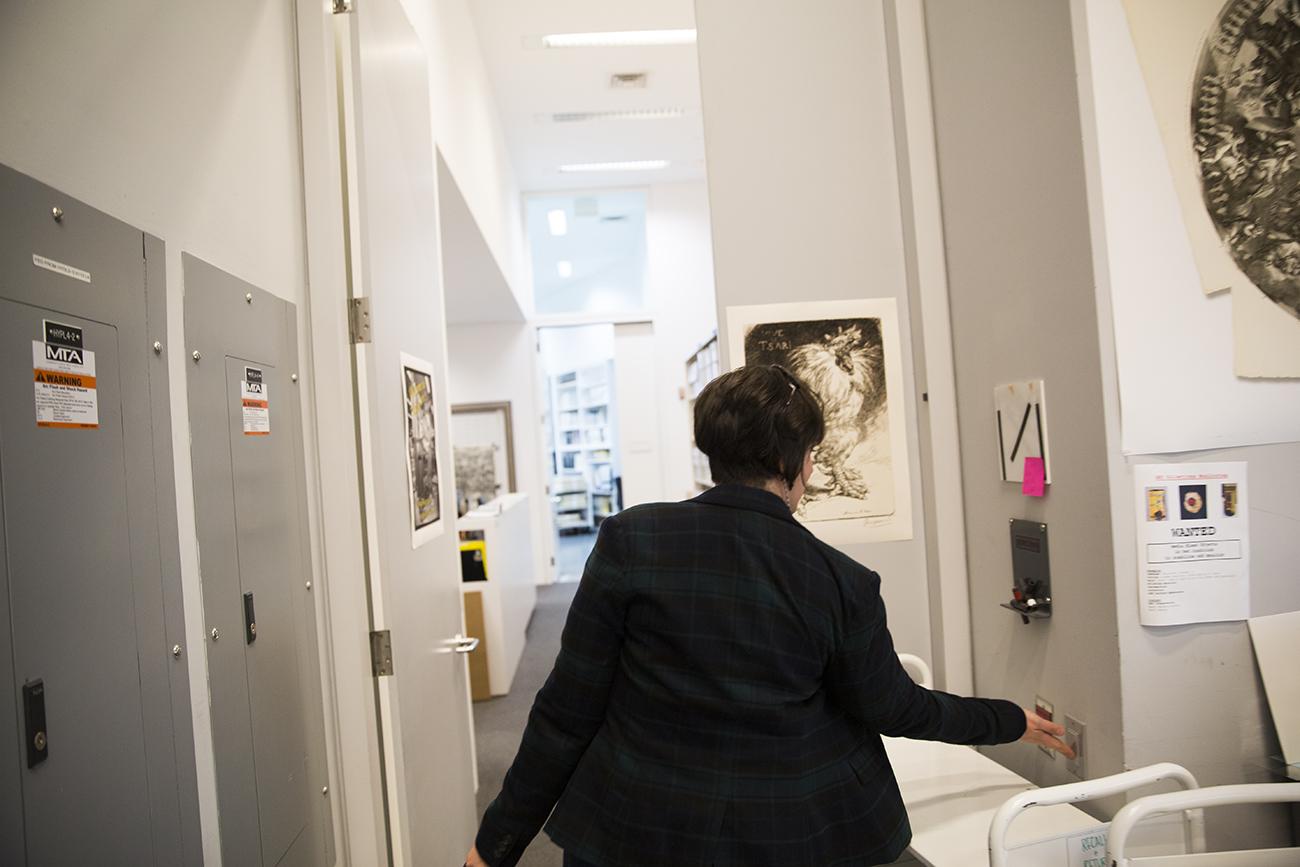 4:55 pm
She's the last in her suite. Most of the photographers get in really early, and wrap up before four.
5:00 pm
Out the doors of the Getty Research Institute. Another day, another 500 photos under her belt, another step closer to making all 205 letter books available online, for free