The St. Albans Psalter is one of the most luxurious books created in medieval Europe—and within it, the most opulent set of pages is the so-called "Picture Cycle," 40 full-page paintings in gold and jewel tones depicting the events of Christ's birth, life, and death.
In the words of curator Kristen Collins, co-curator of the exhibition Canterbury and St. Albans: Treasures from Church and Cloister, these illuminations "functioned as a symbolic bridge" to the Psalms, which follow them in the book. They also acted as aids to private devotion, prompting the reader to recite prayers or recall sacred texts, such as the Gospels.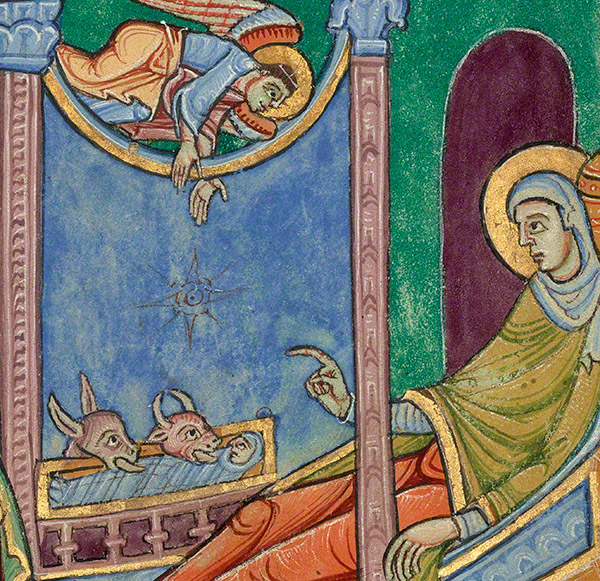 The graceful nativity scene shown above has been on view at the Getty Center since November 26, when the pages of the Psalter were rotated to present fresh images for visitors returning to the exhibition. The tiny swaddled Christ Child is the center of the image, but is easy to miss at first (do you see him?). He is separated from Mary and Joseph by a baldachin, a columned canopy reminiscent of those that topped altars in medieval churches. He and a blessing angel occupying a heavenly blue zone, separate from his parents' earthly purple and green. He is sacred, protected, yet small and vulnerable.
No one knows for sure who originally owned the St. Albans Psalter, though evidence points to medieval holy woman Christina of Marykate. She came to St. Albans Abbey to hide away from a detested arranged marriage and became friend and advisor to its abbot, Geoffrey Gorron, who may have commissioned the book as a gift for her. It's tempting to picture Christina holding the psalter, precious then and even more so now, and being moved by this image on a Christmas long past.