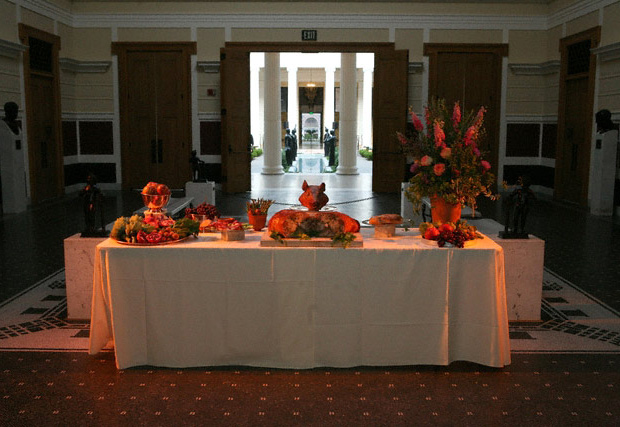 On a recent midsummer's evening, the Getty hosted a program called At the Roman Table: A Culinary Adventure at the Getty Villa. The event drew 160 guests on each of two balmy evenings to Malibu, where we enjoyed a banquet inspired by ancient Roman recipes.
The evening began with an intellectual appetizer: A lecture by food historian Andrew Dalby on luxury dining and exotic ingredients in the age of Caesar. He described what was served at ancient feasts and what was gained through "power dining": the dinner parties and entertainments Caesar provided for his people created a sense of loyalty and even made him more important politically.
After the lecture, we savored a dinner inspired by the ancient Romans and served in the Villa's Inner Peristyle. The four-course meal, prepared under the direction of chef Sally Grainger, featured dishes typical of a celebratory feast. You can download the menu here.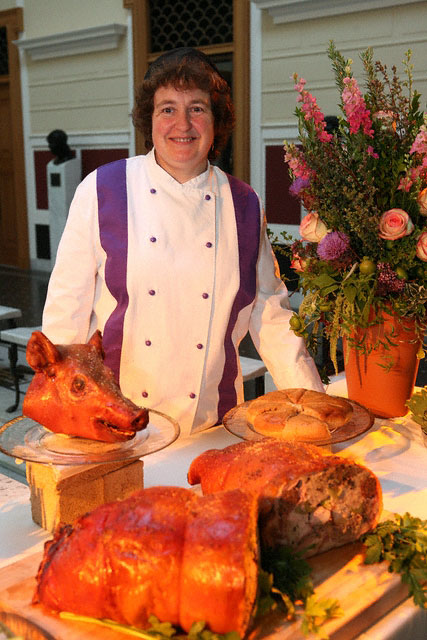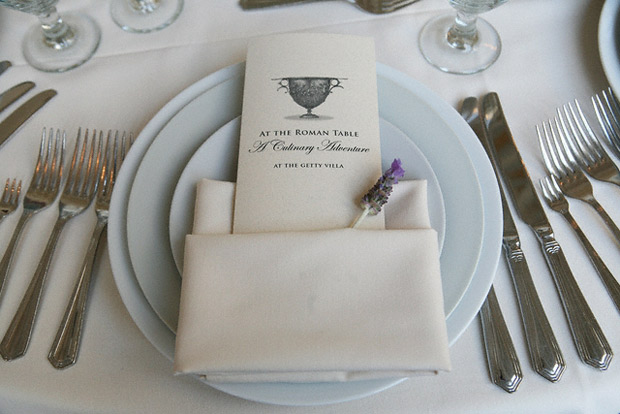 Sally introduced the meal, citing fish sauce as a central ingredient in Roman cuisine, and one that enhances flavor in almost all dishes on the Roman table. Fish sauce provides umami—the fifth taste that combines salty, sweet, sour, and bitter in the mouth at the same time.
The pièce de résistance was a whole deboned and stuffed pig called porcellum hortolanum filled with sausage, duck and pheasant breast, two kinds of stuffing, vegetables, dates, nuts, and eggs all sewn together to resemble the pig it once was, and served with—you guessed it!—fish sauce. (The menu was described as "rich in meats," and it was.)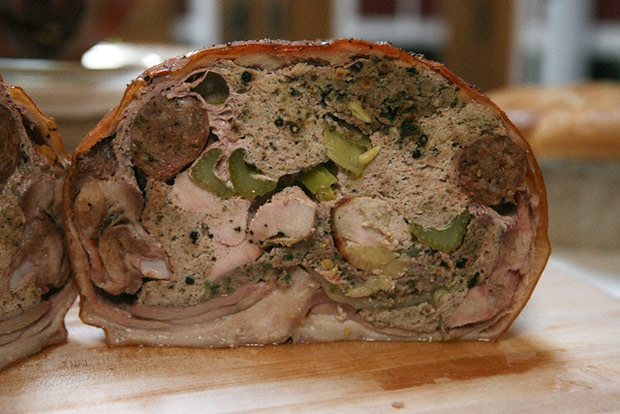 The evening ended with a honey-infused cake with soft fruits, and a bit of Greek sweetmeat—a recipe that dates back to 350 B.C. and that delighted young and old alike throughout the Roman period. Everyone enjoyed the evening, as communal tables let us share dishes (everything was served family-style) and stories, just as in ancient times.