The current exhibition Gothic Grandeur abounds with images in the margin. These charming and often humorous additions, called marginalia (Latin for "things in the margins"), were introduced to manuscript illumination during the Gothic era.
In the lower border of this French Gothic devotional book, three boys play a board game; in the illuminated initial in the page's left column, a soldier prepares to slay a male baby at a king's command—an illustration of the biblical Massacre of the Innocents.
It is difficult to tell what board game the boys in the border play. In the Middle Ages, both strategy games like chess and alquerque (akin to checkers) and games of chance like knucklebones and hazard (both played with a form of dice) were popular.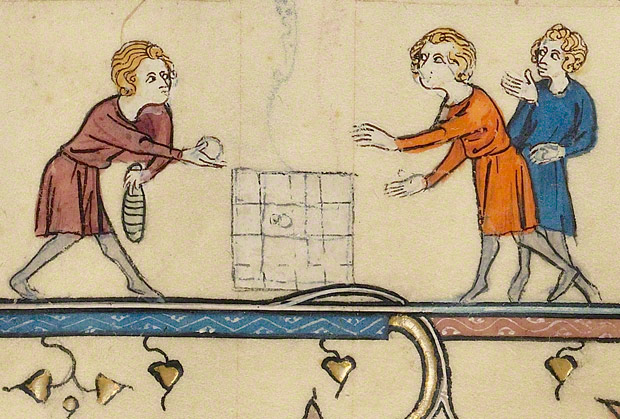 Elsewhere in the borders of other pages in this manuscript, games such as bowling and hide-and-seek can be found, and most seem to have little resonance with other images on the page. Here, however, the pairing of young boys playing a game in the margin with a male child being slaughtered in the initial may have been intended as a purposeful contrast between the innocence that should characterize childhood and the grim reality that sometimes intrudes.