A little less than a year ago, we launched Keeping It Modern, a new grant initiative created to address the considerable conservation challenges of 20th-century architecture. We awarded ten grants, and now architects and conservation specialists are hard at work at Sydney Opera House, Miami Marine Stadium, Luce Memorial Chapel in Taiwan, Paimio Sanatorium in Finland, and The Eames House in Los Angeles, to name but a few. The teams are identifying each building's vulnerabilities, gaining a better understanding of construction materials, and establishing plans to conserve these fabulous sites for years to come.
We are now pleased to announce a second round of Keeping It Modern grants for fourteen outstanding modern buildings in eight different countries. This group extends the initiative's reach to new regions, from Brazil to India, and places continued emphasis on the value of solid conservation planning as a model approach for the preservation of historic properties around the world.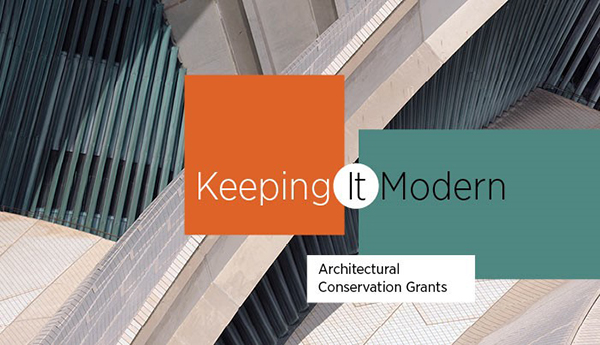 THE NEW PROJECTS
Frank Lloyd Wright's Unity Temple in Oak Park, Illinois
Walter Gropius's residence The Gropius House in Lincoln, Massachusetts
Erich Mendelsohn's Einstein Tower in Potsdam, Germany
Charles Rennie Mackintosh's Hill House in Helensburgh, Scotland
Pierre Jeanneret's Gandhi Bhawan (Gandhi Center) in Chandigarh, India
João Batista Vilanova Artigas and Carlos Cascaldi's School of Architecture and Urbanism at the University of São Paulo (FAUUSP) in São Paulo, Brazil
Marcel Breuer's Saint John's Abbey and University Church in Collegeville, Minnesota
Gerrit Rietveld's Schröder House in Utrecht, The Netherlands
Michel de Klerk's Het Schip in Amsterdam, The Netherlands
George Nakashima's Arts Building and Cloister in New Hope, Pennsylvania
The Giancarlo de Carlo "Collegi" buildings at the Università degli Studi di Urbino in Urbino, Italy
Paul Rudolph's Jewett Arts Center at Wellesley College in Wellesley, Massachusetts
Jorge Ferreira's Arthur Neiva Pavilion in Rio de Janeiro, Brazil
James Strutt's residence 'The Strutt House' in National Capital Area, Canada
As senior program officer managing this grant initiative, I have the great privilege of interacting with many conservation specialists from across the globe and seeing many compelling projects during the review process. As is clear from this grant list, the new projects are some of the finest examples of De Stijl, German expressionism, Bauhaus, and other modern movements, designed by architects who were exploring new forms with innovative building materials and techniques.
With so many beautiful buildings receiving support this year, it is tempting to use an array of superlatives to describe each structure. Erich Mendelsohn's Einstein Tower (shown at the top of this post), for example, is one of the world's most stellar buildings. In fact, I would argue that the solar observatory, which is used for extragalaxic astrophysical research, goes way beyond stellar!
And it does not stop there. In the Netherlands alone there are two fascinating and very different buildings in this year's grants. Gerrit Rietveld's Schröder House is an icon of the important De Stijl movement; its pared-down geometry and austere aesthetic are breathtaking. And on the opposite end of the design spectrum, there is Michel de Klerk's Het Schip or The Ship—a unique example of the "Amsterdam School" style, which uses brick to amazingly expressive ends to create a form that evokes the country's historic position in global maritime trade.
A full list with the descriptions of these and all the other buildings can be found on the Foundation's website.
While the first round of Keeping It Modern grants was by invitation only, the second year featured an open call for proposals, and we were thrilled to receive many high-quality projects for consideration. An international advisory committee helped us by recommending the strongest projects from a large pool of very compelling proposals. These new projects will address a number of pressing concerns in the field, including the continued need for materials research and conservation planning for 20th-century architecture, and the need for models that demonstrate how comprehensive conservation planning and management can inform good stewardship of modern buildings. In addition, many of the Keeping It Modern projects focus on researching the aging properties and treatment protocols of architectural concrete, as this visually striking (and once radical) material has created a unique set of challenges for the conservation field.
While the focus of Keeping It Modern is on conservation planning and research, projects that have the potential to serve as models of best practice for the preservation field were also considered for implementation support. This year the Foundation is supporting a first grant at the implementation level to support the conservation of Frank Lloyd Wright's celebrated Unity Temple in Oak Park, Illinois.
Built between 1906 and 1908, Unity Temple is a bold experiment in religious architecture—it is among the first monumental public buildings in the world to use in-situ cast concrete as an artistic architectural medium. It is also designated a National Historic Landmark, and was recently nominated for listing as a UNESCO World Heritage Site. Getty funds will be applied toward restoring the concrete surfaces of the north façade, the public face of Unity Temple on Lake Street.
Frank Lloyd Wright described Unity Temple as "my contribution to modern architecture," a statement that could have been made by the creators of all 14 of these buildings. We're delighted to play a role in protecting them for future generations, and we look forward to sharing more information with you about the results of this initiative as they develop.

This post is part of the series
Keeping It Modern
, sharing the work of the Getty Foundation's initiative to conserve 20th-century architecture around the world.
See all posts in this series »