Throughout 2013, the Getty community participated in a rotation-curation experiment using the Getty Iris, Twitter, and Facebook. Each week a new staff member took the helm of our social media to chat with you directly and share a passion for a specific topic—from museum education to Renaissance art to web development. Getty Voices concluded in February 2014.

How do you learn to look at a work of art? In this post, join a team from the Getty Museum's Education Department as they plan, film, and edit a video activity about close looking at art for teachers to use in the classroom.—Ed.
Did you know that most museum visitors look at a work of art for less than 30 seconds? That's not very long. Taking the time to look—really look—at a single artwork for an extended period can be both enjoyable and rewarding, yielding insights and building looking skills that are useful in every area of our lives.
Images are all around us, especially online, but analyzing and interpreting those images isn't an innate skill. It's learned, and it takes practice and guidance. If you've never really looked at a painting before, it can be hard to know where to start!
Giving visitors of all ages strategies to look at art is one of the goals of the Getty Museum's Education Department. We serve many different groups, including families, college students, teachers, and adult visitors interested in experiencing art, but one of the biggest is K–12 students. School field trips make up almost 10% of our yearly on-site attendance—that's a lot of kids! When teachers sign up to bring their class to the Getty Center or the Getty Villa, we share many tools to help them prepare their students. For many kids, their visit to the Getty is the first museum visit of their lives. That's why we offer pre-visit activities to help them practice key looking skills such as observing details, learning from what they see, and talking about art with their friends and family. Not to mention museum manners like why we don't touch art work!
One of these activities is something we call "The 30-Second Look."  This short lesson asks students to observe a single artwork for half a minute, then talk to a partner about what they spotted. The exercise allows students to practice visual recall, demonstrates how long 30 seconds is, and helps explain how much (or little) you can see and retain in that stretch of time. As you might imagine, it's usually not much! After the first 30-second sprint and discussion, students' curiosity is piqued. What did they miss? What more is there to discover? Now they can go back to the artwork and look more closely. It's a great way for students to experience how much more they can see, share, and learn through careful looking.
We encourage teachers to do "The 30-Second Look" with students before they come to visit. It's also fun for parents to do with kids—and for adults, too.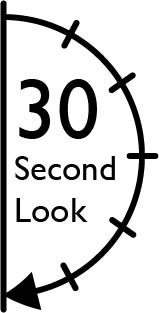 This week on Getty Voices, we'll be exploring this concept of the 30-second look. Come along with a small education team—school programmers Ami Davis and Sandy Rodriguez, docent Jean Vegas, and me—as we turn our existing lesson into a video for teachers to share in the classroom. Ami wrote a preliminary script, and was game to use it for a madcap week of media experimentation. Tomorrow we'll gather to do a read-through, make any tweaks, and plan how we want the video to look and feel. Wednesday we shoot, and Thursday is a long day in the editing chair. We hope to have a finished video (or at least a first draft) ready to share on Friday.
This post is part of the series
Getty Voices
, a yearlong experiment in rotation curation using the Iris, Twitter, and Facebook.
See all posts in this series »