Of all my docent duties, helping visitors in the Getty Center's Sketching Gallery is one of my favorites.
What do we offer? The tangibles are not that much: paper, a few pencils, a place to sit, and some works of art to inspire. It's the intangibles that make this room so much fun. We give any visitor the chance to do what artists have done for centuries—copy from the masters in a friendly, unthreatening space. We offer visitors a moment to try something they might not have ever tried.
We also give visitors a little gift—the gift of looking closely at a work of art. What better way to understand a work of art than to draw it? We hope they'll keep this gift for the rest of their visit and take it on to the next museum.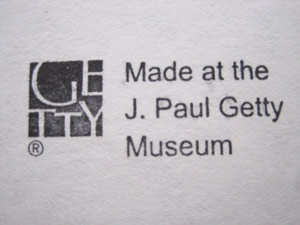 With the variety of visitors that come to the Museum, it follows that we have a variety of experience levels in the gallery. Those confident of their talents will walk right in, assess the options and request materials, while the more timid will poke around a bit and wait for us to offer them a board and pencils. With a little encouragement these timid folk will sit down and give it a try. They are usually so proud of their effort that they take it with them—Oh! but not before we add a stamp that says "Made at the J. Paul Getty Museum."
Every docent has a favorite story from the Sketching Gallery. Mine happened on a quiet winter afternoon. Two young students walked up to me and we started a conversation—their art teacher had told them about our space. When I told them they could sketch as long as they wished, they were amazed. No time limit?
They both chose to draw the plaster cast of Adriaen de Vries' Juggling Man, and I provided them with sketching paper, drawing pencils, and charcoal—yes, it's free. They sat at the art easels and settled in for a long, totally uninhibited drawing session.
In a few minutes I was off to give a tour. About an hour and a half later, I checked back with my two artists and they were just finishing their drawings. They each had a unique style, but what was evident was the great care they took in creating their drawings. When I asked if they'd like to take the drawings, or leave them for us, I was secretly hoping they'd do the latter, so we could pin them on the display board. But I understood when they told me they would submit the drawings to their teacher for extra credit.
Not every visitor stays as long as these students did. Most stay for about 20 minutes; but it's the quality of the time that matters, not the length. Some even leave their work on our board, but not before taking a photo standing next to their artwork "hanging" at the Getty Museum.
On your next visit to the Getty Center, plan a little extra time to sit down and give it a try.
Text of this post © Deborah De Bono. All rights reserved.