Do you love L.A.? Yes? You're in for a treat!
We're gearing up to help celebrate the diverse history of Los Angeles at L.A. as Subject's 6th Annual Archives Bazaar next Saturday, October 22. It runs from 9:00 a.m. to 5:00 p.m. at USC's Doheny Memorial Library.
The event is free and open to all!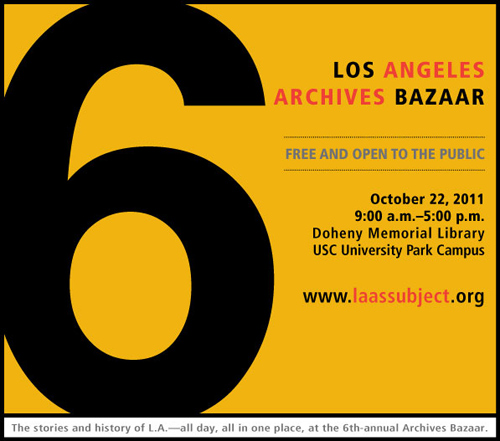 Over 80 local libraries, museums, universities, and community organizations will host tables to showcase their archival collections related to the history of our city. You can learn more about collections from a wide variety of institutions, including the Autry National Center of the American West, ONE National Gay and Lesbian Archives, the California African American Museum, El Pueblo de Los Angeles Historical Monument, the Japanese American National Museum, and many more!
We at the Getty Research Institute look forward to sharing information about our Los Angeles collections, using the Research Library, and events and projects at the Getty Research Institute, as well as the Getty's role in Pacific Standard Time.
In addition to the exhibitor tables, the day includes talks, panels, and film screenings full of how-tos and behind-the-scenes stories. Special guest speaker is Christopher Hawthorne, Los Angeles Times architecture critic and author of the "Reading L.A." online column, on optimistic and apocalyptic visions of L.A.
The Archives Bazaar event page has full details, including the complete program and directions and parking info. (Download the two-page flyer here.) And you can join the conversation, ask questions, and get updates on the Archives Bazaar Facebook page.
We had a great time last year and met hundreds of people at the Research Institute table. We hope to see you next Saturday!