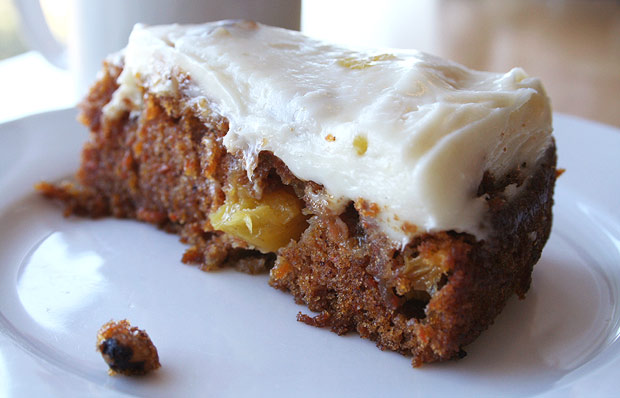 Opening a new museum involves many tasks—and deciding what to display isn't the only one. There's also the matter of how to feed hungry visitors.
When Stephen Garrett became the first director of the Getty Museum after the construction of the Getty Villa, his wife, Jean, quickly assumed the role of director of food services. Her legendary cooking skills live on in her famous carrot cake, which is served in the Villa Cafe and at Tea by the Sea.
How did this come to be? Stephen Garrett explains it like so:
I arrived from England with my wife, Jean, and two small children in September 1973 with the daunting and fascinating task of introducing the newly created Getty Villa to Los Angeles and the world beyond.

It was clear that there would be a great number of occasions when some level of catering would be called for, ranging from providing a welcoming and well-stocked tea room for the public or snack for a visiting scholar to hosting a dinner for 150 museum directors assembled for their annual conference in Los Angeles.

Now while Mr. Getty was extremely generous in creating the Getty Villa and its collections, he was decidedly frugal when it came to its operations. It was here that Jean's skills proved exceptionally useful.

In the years before we left London, Jean had become a highly professional cook—she wrote extensively and lectured throughout England.

Quickly upon our arrival Jean began to assemble a team of volunteers to assist in catering when occasions arose  and, at the same time, experimenting with what might be appropriate recipes. Following Mr. Getty's instructions, the financial support for all this was minimal,  but Jean and her volunteers begged, borrowed, and dug in their own gardens to make sure that all went well.

I'm thrilled to learn that Mrs. Garrett's Carrot Cake is again on the menu at the Villa. For me it is a delightful reminder of the pioneering work that Jean did in the Villa's early days.
To sample Mrs. Garrett's Carrot Cake for yourself, try the recipe below—or drop by the Cafe at the Getty Villa (the Getty Center serves it sometimes, too). And to hear more stories of the Villa's early days from Stephen Garrett, see the panel discussion here.
Mrs. Garrett's Original Carrot Cake

Cake

1 1/2 c. corn oil

2 c. sugar

3 eggs

2 c. flour

2 tsp. cinnamon

2 tsp. soda

2 tsp. vanilla

1 tsp. salt

2 c. shredded carrots

1 c. chopped walnuts

1/2 c. crushed pineapple

Combine oil, sugar, eggs, flour, cinnamon, soda, vanilla, salt, carrots, walnuts, and pineapple in a large bowl. Mix until blended. Pour into a greased 9" x 13" inch pan and bake at 350 degrees for 1 hour. Ice with cream cheese icing.

Cream Cheese Icing

3 oz. pkg. cream cheese

1 1/4 c. confectioners' sugar

1/2 c. butter

1/8 c. crushed pineapple

1/4 c. chopped walnuts

Mix cream cheese, sugar, and butter until fluffy. Add pineapple and walnuts. Mix well.