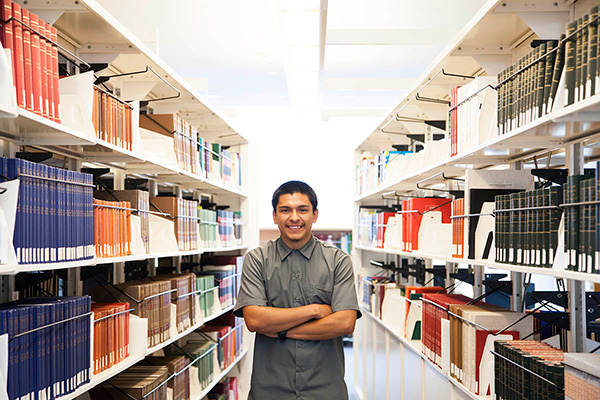 This summer I've been the Multicultural Undergraduate Intern in the Getty Research Institute's curatorial department. My supervisor, curator John Tain, was himself a Getty Intern at the beginning of his career, so it's been a great place to be!
What I like most about my internship is: Being able to work at the Getty Research Institute's special collections reading room and handling the work of artists such as Yoko Ono or Uruguayan correspondence artist Clemente Padin.
One of my favorite things about where I work is the constant trips to the collections vaults. Every time I go into the vaults, it feels as if I'm in a movie scene—but instead of going into a bank's vault, I'm surrounded by an overwhelming amount of books and rare materials!
My project: Deals with American artists like Man Ray and art intellectuals like Annette Michelson who were in Paris during the first half of the twentieth century. This will culminate in an exhibition at the Research Institute.
I'm helping with the processing of the Annette Michelson archive, which consists of her personal and professional papers and ephemera. I've also done archival research in the special collections reading room to identify possible items in the collection for the possible Americans in Paris exhibition.
My background: I'm currently an incoming junior at Cornell University studying American studies and fine arts. Although Cornell has an art history department, my experience as an artist of color was not reflected in the content being taught. Fortunately, I enrolled in an American Studies course taught by Professor Ella Diaz titled Art! Poetry! Power!. The course exposed me to Chicana/o art history, which became the historical grounding for my work as an art major, so I chose declare American studies as a second major. I was also part of the 2014 Office of Academic Diversity and Initiatives' Undergraduate Research Scholars program at Cornell University, which gave me the opportunity to develop research skills, continue my interest in Chicana/o art history, and have the experience of working with Malaquias Montoya, a leading Chicano artist.
My most memorable experience: Working with art objects and special collections items. For example, I recently had the privilege of visiting the Getty Museum's Department of Photographs to examine the work of artist Man Ray up close, something I never imagined I would be doing!
Funniest moment: One of the funniest moments of this summer was the keynote speech by artist Mario Ybarra Jr., whom I'd met on my first week as an intern during a studio visit. It was, hands down, one of the funniest and most rewarding speeches I've ever heard. A contemporary artist, he uses his practice as a way to facilitate growth, development, and empowerment for the youth of his neighborhood.
My secret talent: Russian alphabet drawing skills in Google Translate.
Internship in three words: Unbelievable, engaging, insightful.