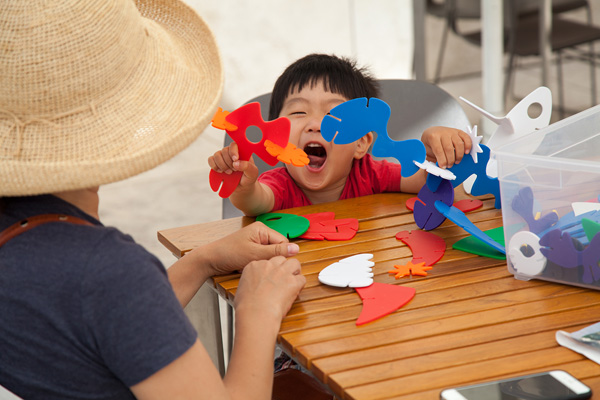 Everyone likes games. Whether video games, board games, sports competitions, or solitaire, games of one type or another are fun for all of us. Many games are also learning media: games can help you learn to fine-tune your physical performance by swinging a golf club, develop your strategic thinking over a game of chess, or improve your memory through concentration. So why not take advantage of the inherent appeal and learning potential of games to add a new dimension to a museum visit?
With this goal in mind, the Getty rolled out Museum Game Zone this summer, creating a space for visitors both young and old to relax, have fun, and learn about art all at one time.
One of the most popular games this summer has been Creature Quest. This riddle game sends players on an adventure through the Museum galleries, where they have to search out specific artworks that contain clues to riddles contained within the quest. After finding the art and completing each riddle, the player must then combine the answers to figure out a code that opens a safebox hidden somewhere on the Getty Center site. And if the quest hasn't been enough, visitors who reach the end are rewarded with a small surprise.
For more leisure-seeking visitors who want to enjoy the outdoors and great architectural setting, Museum Game Zone also offers several sit-and-play games. Visitors particularly love Suspend and Suspend Jr. (a younger-aged version of the same game), and get so involved one can often hear cheering. In this game, players balance colored squiggly forms to create a hanging sculpture. Just like a Mark di Suvero when he was making Gandydancer's Dream (found in the Museum's Lower Terrace Garden), players must think about balance, symmetry, and physics as they take turns building out this hanging sculpture. Occasionally, a group of Suspend players becomes so lively that they amass spectators. And even if you don't win, you still get the satisfaction of having created a one-of-a-kind, albeit ephemeral, sculpture in the process.
And though technically more of an activity than a game (because there's no losing on this one!), we couldn't help but include ShapeScapes at Museum Game Zone for their pure, Calder-esque, building appeal. Though the average person can't cut and paint large pieces of metal to make a sculpture like Calder's Spiny Top, Curly Bottom, with ShapeScapes anyone can create a work not unlike something Alexander Calder might have made himself. Even the youngest participants end up making something wonderful after a short while with ShapeScapes.
To discover these and more games that explore art, visit our last Museum Game Zone for the season on Tuesday, August 11, 2015. And to continue the art gaming throughout the year, check out the Getty's online games at www.getty.edu/gettygames.