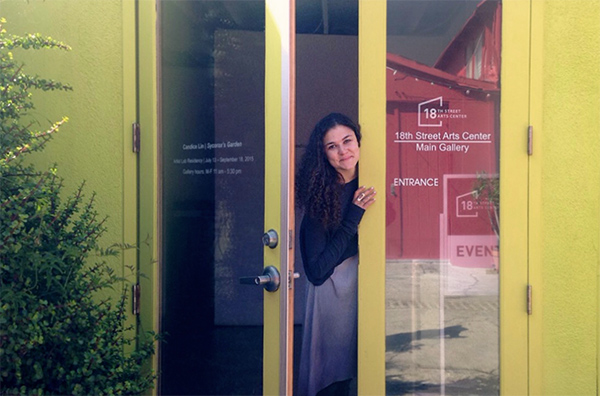 This summer I've been the Multicultural Undergraduate Intern at 18th Street Arts Center, working in the programs and outreach. I'm also an alumna of the program! I worked at the Santa Monica Museum of Art in 2013 as their education intern.
What I like most about my internship: One of the first things I noticed at 18th Street was the way ideas are exchanged. There is a fiery energy and passion from each person working to actualize and marry their personal and organizational missions.
18th Street's mission is to provoke public dialogue, and this comes to life in a different way for each staff member depending on his or her background and role. This can often mean challenging one another to take work one step further. They are a small staff, where each person possesses a drive to do exceptional work. This was inspiring to watch. I was welcomed into the family-like team and treated as a critical thinker and asked to share my thoughts and opinions.
My project: My main project this summer has been 18th Street's Cultural Asset Map. We've worked to build a central, easily accessible website specific to a neighborhood and a community of people that many feel is lost. Through this project I've become familiar with the history of Santa Monica, specifically that of the Pico neighborhood. I've heard what the culture once was, how it has changed, and what it looks like now.
With the construction of the I-10 freeway, many of the African American and Latino families were displaced, and cultural landmarks that once acted as gathering spaces for those communities have been lost. Gentrification continues to shake this neighborhood and Santa Monica as a whole, making this project even more necessary and important.
My background: Is in public policy with a focus on education. It wasn't until I first did the Getty Multicultural Undergraduate Internship at the Santa Monica Museum of Art that I saw what museum education is and has the potential to be. This experience influenced my undergraduate research for the next two years on accessibility and inclusion practices in contemporary art museums, specifically for African American youth.
My most memorable experience: For 18th Street's Cultural Asset Map I have conducted interviews with staff members, resident artists, and community members, and in each one of these conversations I have left holding the words and thoughts of that individual. In the midst of violence and hate, it has brought me some sense of peace to talk with some of the artists at 18th Street. Henriette Brouwers of Los Angeles Poverty Department, who grapples with some of the most upsetting systems in our country, was able to sit with me for nearly two hours and open up with grace and kindness.
My first impression of the Getty Multicultural Internship Program: "Wow, a museum often viewed as inaccessible has a program that gives young people of color knowledge of, experience with, and entrance into art institutions." At first I asked myself, "What does that mean? What is the purpose? How deep does the commitment go?"
After participating in this program twice, I've found that the Getty has a genuine and true commitment to situating young people of color in places where we don't often see people of diverse backgrounds. The program is addressing this imbalance and offering a model that I hope many similar institutions will follow. It's powerful that an organization with such a large presence values our role in the future of these spaces.
Funniest moment: The funniest moment was when we were preparing for the Champagne Social, a free event on 18th Street's campus with studio tours, music, food, and champagne. The night before, two of the other interns, Eunice and Harriet, had brought a gallon of lime green paint back to their studio (where they were staying for the summer) to add a few last-minute touches. As they were carrying the paint back, they dropped the bucket and the lime green paint quickly coated the walkway. They spent the rest of the night frantically cleaning it up. The next day there was no trace of the paint; all they had was a picture of them in their pajamas, hose in hand, standing over a river of green paint running from the office to their studio!
Advice for future interns: This is such a unique experience! Try to soak in every bit of it, the good, the bad, the strange, the unexpected, because it will fly right by.