Paris in the mid-18th century was a time of invention in the culinary arts. Food was an integral part of the fashion and culture of this bustling city. Haute cuisine has its foundations in this time and place.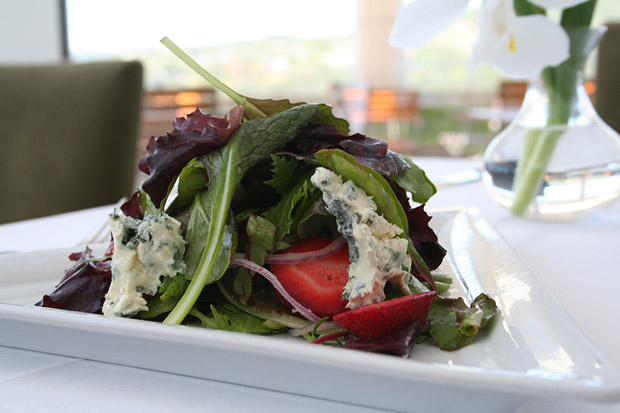 So for us at the Getty Center Restaurant—executive chef Mayet Cristobal, me as general manager, and the rest of our team—the chance to pair culinary experiences with the exhibition Paris: Life & Luxury, which tells the story of luxurious living in the Paris of the mid-to-late 1700s, is a dream come true.
For inspiration, Chef Mayet hit the books, literally. François Pierre de la Varenne is credited with the first French cookbook—one that sparked a culinary revolution, transporting French gastronomy into the modern era. The heavily spiced flavors from the cuisine of the Middle Ages were abandoned, and foods' natural flavors were prized. Exotic spices were replaced by local herbs.  Vegetables like cauliflower, asparagus, peas, cucumber, and artichoke were introduced. Special care was given to the cooking of meat in order to conserve maximum flavor. Vegetables had to be fresh and tender. Fish, with the improvement of transportation, had to be impeccably fresh.
These revolutionary ideas are the basis for the techniques used by our cooking team at the Getty Center every day, where we are proud to bring you culinary creations rich with fresh, local, sustainably grown ingredients.
For the run of Paris: Life & Luxury, we've developed a special Restaurant menu that combines recipes from the past with today's cooking techniques, including a Vichyssoise, a traditional potato soup customarily served in a sterling silver soup tureen such as those found in the exhibition. The lunch menu is served Tuesday through Saturday (we have a special brunch on Sundays).
After meeting with the curator of the exhibition, Charissa Bremer-David, we were inspired to add a bit more luxury with the addition of truffles and Dungeness crab for dinner, offered on Saturday evenings. See the dinner menu here, and the lunch menu here.
After you step into the artistic world of late 18th-century Paris in the galleries, come dine like a Parisian—albeit with panoramic views of the Pacific Ocean and the Santa Monica Mountains.
Not enough time for a decadent Rococo meal? Stop by the Cafe to pick up a "Pique-nique"— a picnic box with a sandwich (jambon and gruyere on French baguette); olive, tomato, and cucumber salad; cheese and fruit; and a chocolate-dipped madeleine.
If you've tried our Restaurant menu or pique-nique, we'd love to hear your thoughts about it, and hear what other artistic visions you'd like to see (and eat) in food form.