The set-up was simple: boards placed on trestles topped with white cloths, wine diluted with water in clay vessels, meats on five-day-old slabs of bread serving as rustic plates. Forks were absent. Meals began and ended with hand-washing and a prayer.
Food and entertainment, however, were lavish. Peacock, heron, and swan were frequently on the aristocrat's menu. Spices from exotic lands, such as saffron, cumin, ginger, nutmeg, cardamom, and cinnamon, reflected hosts' wealth and their ties to far-off realms. Dancing, singing, short plays, and readings from lavish manuscripts full of romantic intrigue and knightly derring-do—such as those featured in the exhibition Imagining the Past in France, 1250–1500—accompanied entremets, or tidbits between courses.
We can learn much about French feasting of the Middle Ages from manuscripts made for the nobility of the day, as gallery teachers Nancy Real and Robin Trento discovered in planning a culinary workshop to complement the exhibition. The workshop was the latest in a series of Museum courses that combine the culinary and the visual arts to explore history through all five senses.
Nancy and Robin are chefs and self-confessed foodies as well as art historians, and the event combined a close look at illuminations in Imagining the Past in France with the cooking and eating of a medieval-inspired feast of marinated leeks, homemade sausage, fava bean soup, quince cakes, and more. The pair devised the menu in collaboration with fellow art historian-educator Maite Gomez-Rejón, who also frequently teaches at the Getty.
"We were looking for authenticity," said the multilingual Nancy and Robin, who delved into historical sources such as Le Ménagier de Paris (available as The Good Wife's Guide: A Medieval Household Book), and The Medieval Kitchen: Recipes from France and Italy in researching the menu, which you can download here.
Though medieval cooking varied across nations, said Nancy, "you keep finding the same ingredients again and again—like fava beans, mutton, pork, peacock." ("We didn't use peacock," Robin quickly added. For that, consult How to Cook a Peacock.)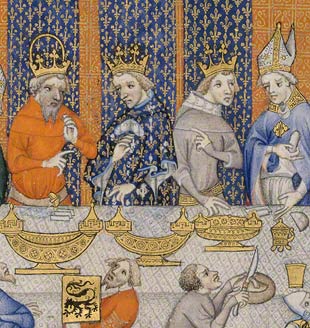 To imagine the scene where such a menu might have been served, Robin singled out the illumination from the late 1300s shown above as "a pretty good snapshot of what a banquet might have looked like in the day."
A crowned and blue-robed Charles V of France and two lofty guests (Holy Roman Emperor Charles IV and his son) are attended by bowing servants offering freshly baked bread. As at a modern dinner theater, the attendees seem more interested in food and conversation than in the entertainment, a spectacular re-enactment of the Crusades complete with a battle scene. On the banquet table sit golden salt cellars so large that they outshine the monarchs' crowns. "The person nearest the salt cellar was at the top of the hierarchy," Nancy explained.
Charles's table is covered with white damask tablecloth—likely more than one, as people who eat with their hands tend to make a mess. Scraps of leftover meat would later go to the servants; scraps of bread, to the poor.
And the food? What stands out about the flavors of the medieval meal recreated by Maite, Robin, and Nancy is the richness of the spice. "Many wonderful spices that we associate with sweets, like cinnamon, nutmeg, and cloves, were typical in savory dishes made for the French upper classes," explained Robin. What about that old belief that medieval Europeans used such pungent spices to disguise the stench of rotten meat? "Certainly not," insisted Nancy. Those who had exotic spices were rich, and the rich were not served spoiled food.
Upper-class medieval eaters were sophisticated, and they prized vividness not only in spice, but also in color. Yellow, for example, came from saffron and egg yolks. Nancy pointed to the vibrantly colored illumination of Adam and Eve on view in Imagining the Past as an artistic parallel. "It's so brilliant visually, it's as if you died and went to heaven."
References to food appear in other unexpected places in Imagining the Past, too. Alexander Exploring Underwater, a whimsical vision of Alexander the Great surveying the oceans in a glass diving bell, features fish like those Frenchmen would have eaten on Fridays and during Lent. "They knew their fish very well," said Robin. "They were looking at real fish and copying them."
Yes, the ocean-dwelling dogs, bighorn sheep, and humans in the image are creations of fancy, but even in the Middle Ages, food was not a matter to be taken lightly.
Four of the recipes from the feast follow—to get all nine, including a medieval coat of arms salad, spinach and fava bean soup, rissoles, spiced honey nut crunch (nucato), and spiced red wine (hippocras), download the full recipe pack with historical notes here.
Marinated Leeks in Mustard Vinaigrette

Leeks were cultivated in medieval Europe as a vegetable both nourishing and stimulating to the "desires of Venus." This thought continued through the Renaissance where they were commonly consumed on wedding nights. Used since antiquity, mustard was highly valued in the Middle Ages. The commercial production of mustard began in the mid-14thth century in Dijon, France.

Recipe by Maite Gomez-Rejón.

For the leeks:
6 to 8 leeks
1 bay leaf
5 parsley branches
4 thyme sprigs
1 carrot, thinly sliced
1 celery rib, thinly sliced

For the mustard vinaigrette:
2 tablespoons lemon juice
1 garlic clove, minced
¼ teaspoon salt
pinch pepper
1 tablespoon Dijon mustard
1 tablespoon plain yogurt
1/3 cup olive oil
1 tablespoon chopped parsley

1. Halve the leeks lengthwise, using only about an inch of the pale green part. Rinse well.
2. Put them, in a single layer, in a large pan with the fresh herbs, carrot, and celery. Add enough water to cover.
3. Simmer until they are tender when pierced with a knife, about 20 minutes.
4. Transfer the leeks to a platter with some of the broth and spoon the vinaigrette over the top.
5. For the vinaigrette, combine the vinegar, salt, and garlic in a small bowl. Let stand for a few minutes then whisk in the mustard, yogurt, and oil until thick and smooth.
6. Add the pepper then stir in the chopped parsley. Taste and adjust seasoning.

Serves 6

Grilled Fish Fillets with Yellow Sauce (Poivre Jaunet)

"Take ginger and saffron, then take bread soaked in broth (or even better, meatless cabbage water) and boil; when it boils, add vinegar" (Ménagier de Paris). In the Middle Ages, this yellow sauce was used with meat as well as with fish.

Recipe by Nancy Real.

For the sauce:
½ cup plain breadcrumbs
2 cups vegetable broth
½ teaspoon saffron threads
½ teaspoon ground ginger
3 cloves garlic, crushed
3 tablespoons white wine vinegar
salt and pepper, to taste

In a 2-quart saucepot, stir to combine the breadcrumbs, broth, saffron, ginger and garlic. Bring the mixture to a boil and stir in the vinegar. Simmer and stir for 2 minutes. Stir in the salt and pepper, to taste. Strain sauce and set aside. Warm up sauce before serving.

Makes 1 cup

For the fish:
5 to 6 tablespoons olive oil
six 5-ounce fish fillets (trout, haddock or red snapper)
salt and pepper, to taste
1 lemon, thinly sliced (for garnish)
6 sprigs of parsley (for garnish)

Heat oil in a 12- or 14-inch nonstick skillet. Add fish fillets and sauté on medium heat 3 to 5 minutes per side or until fish is flaky and cooked through. Serve fish on a platter or in individual dinner plates; spoon some warm sauce over each fish fillet. Garnish with lemon slice and parsley.

Serves 6

French Country Sausage (Saucisse a Cuire)

Sausage making dates to ancient times, evolving as a way to maximize the yield of a hunt and preserve meat that could not be consumed fresh at slaughter. The word sausage derives from the Latin word salsus, which means salted, or preserved. Sausage recipes from around the world reflect local climates, cuisines and ingredients. This recipe combines ingredients that would have been typically used during the Middle Ages in French country cooking. Sausages were traditionally stuffed into casings of animal intestines, or fried as patties, as below.

Recipe by Robin Trento.

1 pound fresh pork (shoulder or Boston butt)
1 pound fresh veal (stew meat or shank)
½ pound slab bacon, rind removed
1 tablespoon each freshly ground pepper and salt
1 teaspoon each of fresh herbs (thyme, sage, marjoram, parsley) all finely chopped
1 teaspoon each of exotic spices (nutmeg, cinnamon, cloves), all ground
¼ cup dry white wine
2 to 4 tablespoons flour (for light dusting of sausage patties before frying)
vegetable oil, as needed (for pan frying)

1. Chop meat, and slab of bacon (with its fat) into coarse pieces. Partially freeze meat.
2. Place these very cold meat chunks (excluding bacon) into a meat grinder on a medium coarse setting and grind them all together.

3. Finely dice the cold bacon pieces (including fat) by hand, and add to ground meat mixture.
4. Mix in the salt, herbs and spices; then pour in white wine. Blend well with fingers. Allow the mixture to rest overnight in a tightly covered bowl in refrigerator so all flavors can mingle.
5. With moistened hands, shape the sausage mixture into round patties about ¾" thick and 2" wide. Lightly dust both sides of the patties with flour prior to frying. Place them in a lightly greased pan set over medium heat. As they cook, gently press the patties with a slotted spatula to squeeze out excess fat. Brown patties 5 to 8 minutes on each side, then drain on paper towels and serve hot.

Makes 20 sausage patties

Spiced Quince Butter Cake

Most spices come from the East and long remained rare and expensive commodities in Europe. Roman food was always liberally spiced and the practice of cooking with spices continued through the Middle Ages and remained common until the 18th century. Because of their rarity and value, spices were highly esteemed gifts during the Middle Ages. In France, it is reported that taxes, ransoms, or customs dues were sometimes paid in spices. Guillaume Taillevent listed ginger, cinnamon, cardamom, and cloves (among others) as necessary in a well-stocked kitchen. Much later, the French gastronome Câreme regarded the abuse of spices as one of the enemies of good cookery!In medieval France, quince was used not only in cooking but perfumery and medicine.

Recipe by Maite Gomez-Rejón.

For the quince:
1 quince, peeled, cored and cut into 16 slices
1 cup water
1 cup sugar
1 cinnamon stick
1 star anise

For the cake:
1 stick butter, cut into pieces
1 1/3 cup confectioner's sugar
½ cup ground almonds
1/3 cup flour
½ teaspoon cinnamon
¼ teaspoon nutmeg
¼ teaspoon ground cardamom
1/8 teaspoon ground cloves
4 egg whites
½ teaspoon orange zest

1. To prepare the quince: In a large saucepan, combine the quince, water, sugar, cinnamon, and star anise. Cover. Bring the mixture to a boil over high heat, then reduce the heat to medium-low and simmer until the quince is tender. Let cool in the poaching liquid, then remove from liquid and pat dry on paper towels.
2. To make the cake: Preheat oven to 400º F. In a large skillet over medium heat, melt the butter. Continue to let the butter heat until the white milk solids fall to the bottom of the skillet and turn a rich hazelnut brown. (This is called brown butter).
3. Separately sift together the confectioner's sugar, ground almonds, flour, and spices in a bowl.
4. On the lowest speed of a kitchen aid or hand blender, whisk in the egg whites and orange zest. Mix until all the dry ingredients are moistened. Increase the speed and stir in the brown butter. Beat until smooth.
5. Butter a 10-inch cake pan, pour in the batter and smooth the top. Arrange the quince slices on the batter and bake 25 to 30 minutes, or until golden brown. Let cool before serving.

Serves 6 to 8