We've just made it easier to find research resources in the collection of the Research Library at the Getty Research Institute, one of the world's largest art libraries.
Last week, we launched a restyled and updated interface for the online catalog of the library's holdings, which include over one million books, periodicals, and auction catalogs, along with extensive special collections and about two million photographs of art and architecture. The Research Library is open to qualified researchers, and an increasing volume of our materials is being digitized and made available online.
By updating the aesthetics and usability of the site, we hope that any seeker—from experienced scholar of art history to casual visitor—will be able to more easily find relevant resources from the GRI's vast collections.
The interface now matches the look and feel of the Getty website. It offers easier navigation, easier-to-use basic and advanced searching, and easier-to-scan search results, including options to print, export, and email all or selected records for sharing or personal use. To better support researchers, bibliographic citations can now be exported in RIS format for use with software such as EndNote® or Zotero.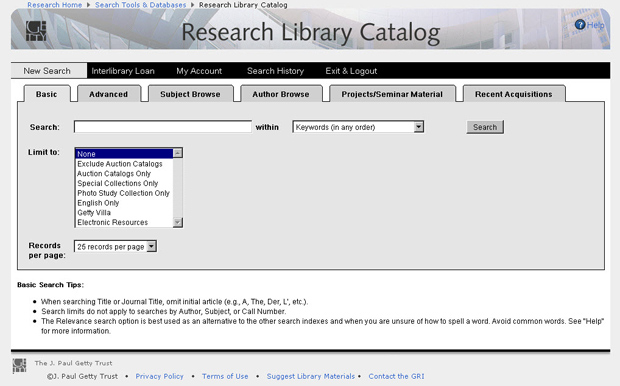 Search results pages, like the one shown below, now include object-type icons to help you readily identify books, periodicals, electronic resources, archives/manuscripts, sound recordings, videos, maps, and other materials.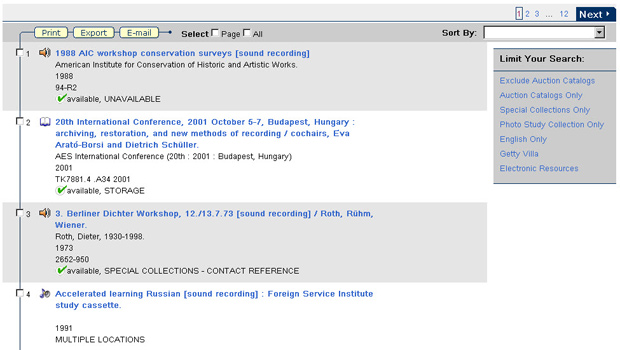 A simple click on any title link in the search results takes you to a detailed view with complete information on that item.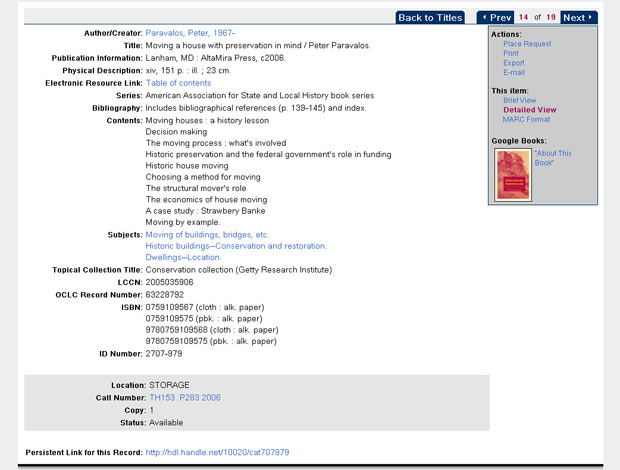 Two features of note:
Book covers from Google Books display where available, and "About This Book" links let you preview them in Google Books.
Persistent links (web addresses that remain unchanged over time) can be used for citing, sharing, and bookmarking items of interest.
To search the library catalog, visit library.getty.edu.
The GRI Library Catalog, which currently uses ExLibris Voyager® software, will continue to be improved as we plan and implement a transition to ExLibris Primo®. Primo will offer a single interface for discovery/access to an integrated set of GRI resources, including books, journals, finding aids, print and electronic articles, digital objects, and other types of resources, with search features such as "did you mean" and more intuitive navigation. Primo will bring the design of the GRI's web offerings more in line with popular site-search tools like those on Amazon.com.
Feedback and suggestions on the new Research Library Catalog interface can be submitted by clicking on "Contact the GRI" at the bottom of any page.
We've also made improvements to the look and functionality of our venerable Photo Study Collection (PSC) database. The Photo Study Collection, housed on-site, contains about two million printed photographs that provide both supplementary and original pictorial research for the study of fine arts from antiquity to the modern period. Over 312,000 of the study photographs are represented by descriptive records in the database; about 4,300 records are also accompanied by images.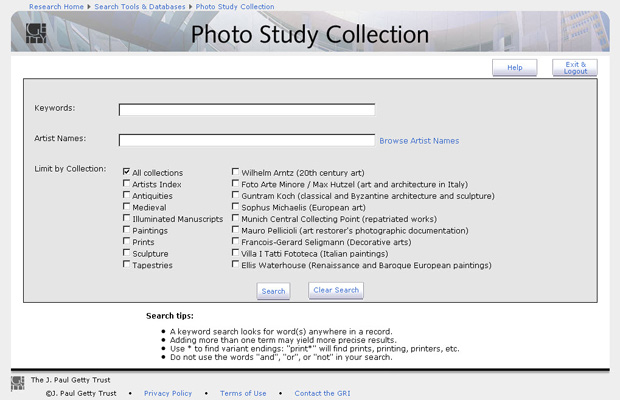 Later this year, when the Research Institute makes about 60,000 images from Max Hutzel's Foto Arte Minore available as a digital collection, PSC users will be able to search the Hutzel collection through PSC and view the images.
The interface makes it easier to identify and select subject areas and selected intact archives through new "Limit by Collection" checkboxes.  You can search a single collection, multiple collections, or all of the collections at once simply by checking the appropriate boxes. A brand-new features lets you view results in PDF format and print, save, or email those results.