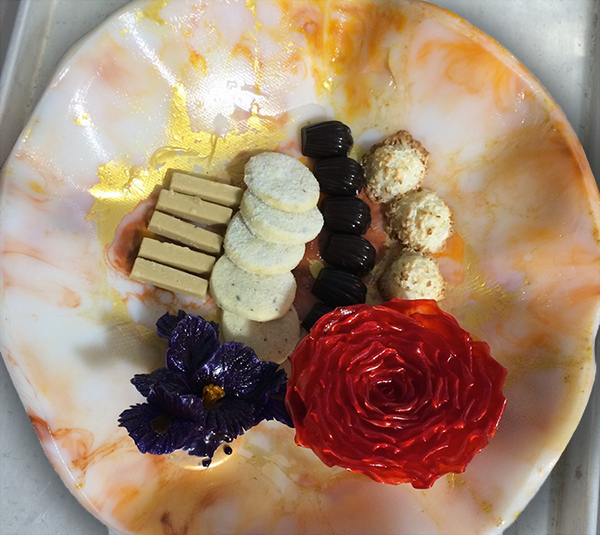 White House chef Bill Yosses's cast sugar plate with hand-pulled sugar flowers and petits fours created for French president François Hollande in 2014. Photo courtesy of Bill Yosses
When President Obama hosted a State dinner for French president François Hollande, White House pastry chef Bill Yosses crafted an amazing spectacle, a marbleized plateau of cast sugar decorated with sugar roses and fleurs-de-lis, with more than 1800 hand-pulled petals.
Such regalement with sugar has a long history. When heated, sugar becomes malleable, so it was a perfect medium for creating luxurious centerpieces—some for entertainment and some to demonstrate power and prestige. One extraordinary banquet was hosted in 1687 by the Earl of Castlemaine to honor Pope Innocent XI. From John Michael Wright's published account we know that an eight-foot-wide table featured "a range of historical figures (almost half as big as life)…made of a kind of sugar-paste, but modeled, to the utmost skill of a statuary."
These sugar sculptures, known as trionfi, depicted mythological figures—Cybele, Juno, Vulcan, and Neptune—representing "the four Elements, as if each of them, had paid a Tribute to the Table." Palm trees were "the Hieroglyphicks of Victory," while nymphs below them signified the "Moral Virtues."
That Italian confectioners should be skilled in sugar isn't surprising, given Venice's leading role in the sugar trade. But looking farther afield, to the Russian court, we glean a fuller sense of sugar's prestige. Sugar was enormously expensive to import. After arriving at the far northern port of Archangel, on the White Sea, sugar had to traverse nearly 1,000 miles by river and land to reach Moscow, a journey entirely dependent on the vagaries of weather. No wonder most Russians didn't taste sugar until the nineteenth century, honey being the traditional sweetener.
So imagine the triumphant celebration held on June 29, 1672, in honor of Peter the Great's baptism. Sadly, no artist was on hand to record the event, but we may imagine the banquet's extravagance from the historian A.V. Tereshchenko's later account. It's helpful to know that the old Russian weight of the pud equals about 36 pounds. The sculptures included:
large, molded sugar confections shaped like eagles with the royal orb, one white and the other red, each weighing 1½ puds; a 2-pud swan of molded sugar; a half-pud sugar duck; a 10-pud sugar parrot and an 8-pud sugar dove; a sugar Kremlin with infantry, cavalry and two towers, with eagles soaring above them, and the city molded into a square surrounded by cannons; two large 15-pound horns made of sugar and flavored with cinnamon, one red and the other white…two candy spires, one red and one white, each weighing 12 pounds; 40 dishes of sugar decorations depicting infantry and cavalry and other figures…
Of special note is the mention of red. The Russian word for red originally meant "beautiful" (hence Red Square, which has no Commie referent). To Russian sensibilities, red and beautiful are synonymous, and the sugar sculptures were all the more stunning in deep crimson achieved from cochineal, an expensive dye produced from the nymphs of a dried and powdered Mexican beetle.
As sugar became ever more widely available, its prestige diminished, and the art of sculpting with sugar receded in importance until being revived by the French chef Antonin Carême. His extraordinary pièces montées represented architectural styles from Greek temples to Chinese pagodas to Moorish pavilions. Of the many designs published in Le pâtissier pittoresque (1815), four were Russian-inspired, including the Hermitage russe shown below. Carême's descriptions allow us to imagine how dazzling these sculptures must have looked on the table. The rockwork for the hermitage was to be orange, the building itself pale green, highlighted with a yellow thatched roof, bell, clock face, and windows. The palm branches and moss (made by rubbing a mixture of almond paste and confectioner's paste through a sieve) were spring green.
Carême almost ended up in Russia as chef to Tsar Alexander I. But after seeing the royal kitchens in St. Petersburg, he declined. As he waited weeks for the next ship home, Carême amused himself by producing an extraordinary portfolio of drawings for monuments befitting an imperial city. Too bad he didn't stay to execute his vision in carmine-colored sugar.
_____
See more books and prints related to the history of food and feasting in The Edible Monument: The Art of Food for Festivals at the Getty Research Institute, October 13, 2015–March 13, 2016.
Hear Darra Goldstein and curator Marcia Reed discuss the new book The Oxford Companion to Sugar and Sweets at the Getty Center on October 21, 2015.