Capturing the spirit of The Irises in over 60 beautiful haiku
To celebrate Vincent van Gogh, who was born on March 30, 1853, we invited visitors to share their thoughts in haiku form.
Haiku are short imagistic poems that, like Van Gogh's paintings, capture a moment in time: sunflowers going to seed, boots untied after a day's labor, irises blooming in a walled hospital garden. And like Van Gogh's paintings, haiku speak to us directly and humbly. "Haiku has 'white space' that invites the reader to have a conversation with the poem," Deborah P. Kolodji, haiku instructor and moderator of the Southern California Haiku Study Group, told me.
Van Gogh was drawn to Japanese art, pinning prints to his studio walls and studying them closely. As he wrote to his brother Theo in 1888, less than a year before entering the asylum where he painted The Irises:
If we study Japanese art, then we see a man, undoubtedly wise and a philosopher and intelligent, who spends his time—on what?—studying the distance from the earth to the moon?—no; studying Bismarck's politics?—no, he studies a single blade of grass.
Haiku are usually described as three-line poems of 5, 7, and 5 syllables, but sharing a feeling, contemplating that blade of grass, is the heart of the form—not counting beats. "What's important is to briefly capture the pure essence of the moment without adding extraneous stuff," Deborah said.
Traditional haiku have a kigo, or "season word," that both describes the time of year and sets the emotional tone of the poem. (In Japanese, a kireji, or "cutting word," separates the kigo from an image or action to which it is juxtaposed.) Deborah suggested the kigo "spring melancholy," which I love for The Irises. She shared:
one white iris

in a mass of blue
spring melancholy
Van Gogh's single white flower calls to many of us—but everyone has a unique take on it. For visiting English teacher Ellen Knopf, it evoked not melancholy, but tongue-in-cheek battle:
arrow of purple
blossoms point toward white leader
advance on orange!
For others, The Irises is intimately bound with Van Gogh's biography. Paintings curator Scott Allan found sadness, but also quiet hope:
in the asylum
Vincent, seeking solace, finds
irises teeming
And visitor Kristin Bader summed up what many of us feel in front of The Irises—wonder:
the more that you see
the less your mind retains, but
art is forever
Spring melancholy, solace, humor, wonder—does Van Gogh's work say this to you? Or does it speak something that only your ear can hear?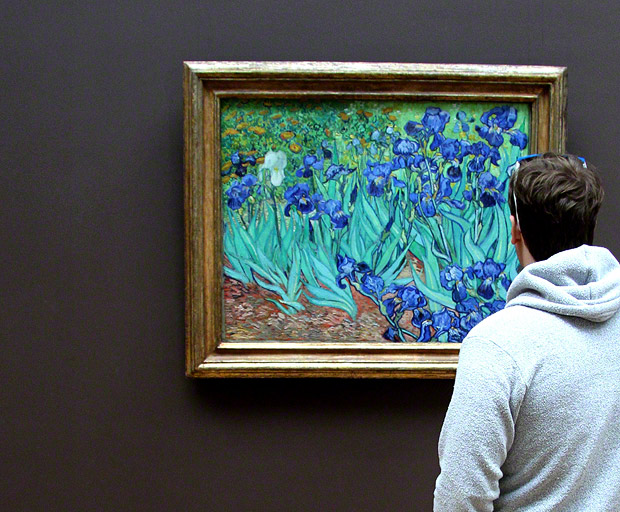 Text of this post © J. Paul Getty Trust. All rights reserved.