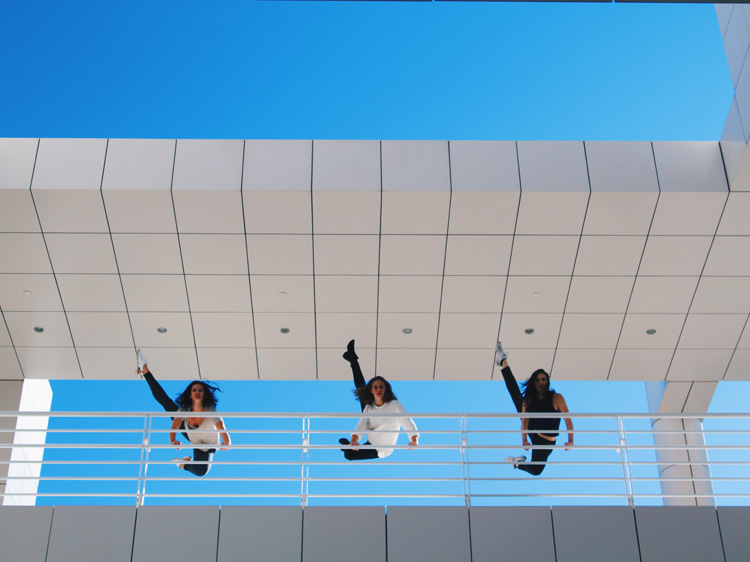 Jill Wilson (center) and dancers from Jacob Jonas The Company at the #CamerasandDancers meetup at the Getty. Photo: Jacob Jonas
Back in December, there was an unusual social media meetup at the Getty organized by the #GettyInspired team and Jacob Jonas, a dancer and artistic director in L.A. Great minds and powerful bodies came together to produce images of dancers in action against the Getty Center's dramatic architecture and the bluer-than-blue L.A. sky.
Last month I talked to Matt Allard, one of the photographers who was part of the event, and this week I got in touch with Jacob Jonas, founder of Jacob Jonas The Company, and Jill Wilson, a dancer for the company and its manager. I asked them about their experience at the Getty and what inspires them to create in new places and with new people.
Tell me about #CamerasandDancers. What is it exactly, and where does it usually take place?
Jacob Jonas: #CamerasandDancers is a monthly and location-specific Instameet by @JacobJonasTheCompany and co-hosted by a social influencer and organization.
How and when did it start?
Jacob: We've been hosting this event for a little over a year now and have put on over 12 meetups working with top cultural institutions, museums, and social influencers around the county including the Getty, Jacob's Pillow Dance, LACMA, Los Angeles City Hall, and the Los Angeles Tourism Board, as well as Dave Krugman, Lauren Randolph, Kyle Huber, Christopher Robinson, Pete Halvorson, Rey Canlas Jr., and more.
#CamerasandDancers is proving to be a great platform to meet inspirational people, discover new locations, and observe the process of beautiful work being created.
What is it about art (whether landscape or paintings or architecture) that inspires your dancers?
Jill Wilson: I love that art takes me out of my natural habits and in their place puts new inspirations. When dancing in a place that's surrounded by art of many forms, like the Getty, it's refreshing to have many ideas influence my movement. I get to discover new parts of myself through someone else's work.
What's a day in the life for a dancer?
Jill: Days are never consistent for me. I dance with Jacob Jonas The Company and am also the company manager. I balance the administrative work with training and rehearsing as a dancer. Some days are more dancing while others are spent in the office, but I have to move every day whether it's a ballet class, yoga class, or stretching at home!
What does your career allow you to do that other careers might not allow?
Jill: Being an artist allows me to experience the world more fully. I'm able to ask questions, discover answers, and engage in my community. As a dancer, I'm not confined to a 9-to-5 routine. I can explore outside the boundaries and push what is known to encourage others to ask questions, find answers, and participate in their communities.
If you weren't a dancer, what would you be?
Jill: If I wasn't dancing right now, I'd probably be working my way to up to be an executive director of an arts nonprofit. I have a passion for administration and like to combine that with the creativity of an organization.
Tell me about a time that you overcame a struggle in your art.
Jill: When we first launched Jacob Jonas The Company we premiered our work in Los Angeles and then toured to New York. It was the first time I had produced a show of this caliber. Jacob and I were problem-solving our way through coordinating dancers and their schedules, creating itineraries, writing press kits, organizing rehearsals, booking a tour — essentially building the start of our company.
I remember after the bows of the first show in New York I was backstage and I just starting crying. I thought, "we did it." I was relieved and felt so rewarded. It was an intense process, but worth every step to be able to perform our work in front of an audience. I learned so much along the way about creating and producing a show and it has set the foundation for where we are now.
Want to see the Jonas Company in action? Check out their Side Door Series this March in West L.A.